2nd Beer Of The Apocalypse Series: Conquest
| Backlash Beer Company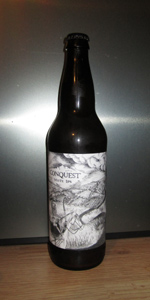 BEER INFO
Brewed by:
Backlash Beer Company
Massachusetts
,
United States
backlashbeer.com
Style:
Belgian IPA
Alcohol by volume (ABV):
5.50%
Availability:
Limited (brewed once)
Notes / Commercial Description:
No notes at this time.
Added by Dope on 09-25-2012
This beer is retired; no longer brewed.
Reviews: 7 | Ratings: 28

3.71
/5
rDev
+3.3%
look: 4 | smell: 3.5 | taste: 3.75 | feel: 3.75 | overall: 3.75
A: Poured from the bomber into a Duvel tulip. Body is clear, bright golden with a half-finger white head. Some splotches of lace left on the glass, though not a lot.
S: Florally hops; perfumey, with a slight musty-ness (mustiness?). Some cereal grains and wheat.
T: Cereal grains and husky grains are there, along with a good lemony bitterness and some citrus peel. Decent wheat twang too. Curious as to what hops they use; they seem light - kind of like Nelson Sauvin, a tad bit lighter than Citra and not as flavorful. Some underlying sweetness coats the mouth into the aftertaste, however, detracting from the "IPA" part of the beer.
M: Call it light-to-medium in heft. Carbonation is prickly on the palate and a tad bit sharp.
O: OK. Not great, not bad. My first beer from these guys, and I'd give them another chance.
829 characters
3.62
/5
rDev
+0.8%
look: 3.5 | smell: 4 | taste: 3.5 | feel: 3.5 | overall: 3.5
A cloudy, pale yellow gold color with a modest white cover but respectable lacing. The nose includes clove-grass hops, a somewhat timid Belgian IPA idea with some skunky wheat. Nice and a bit difference. The flavor degrades a bit to a harsh grassy-lemon hop over crisp wheat and a twisted clove. But this mild Belgian-ish yeast sort of dominates the taste of this fairly light bodied ale with a thin, spritzy feel. With an aggressive (though fine) carbonation and a harsh hop/yeast attack this is an open your eyes brew that won't mix with every situation but is a commendable entry into the world of craftIPA's.
612 characters
3.5
/5
rDev
-2.5%
look: 3.5 | smell: 3.5 | taste: 3.5 | feel: 3.5 | overall: 3.5
Split this with Stopper at cellar temp poured into two snifters.
The beer pours a cloudy gold color with small fizzy bleached white head of 1 cm.
The aroma is some citrus hops and light fruit with scattered hits of grainy malt. Also a little bit of wheat or yeast character for good measure. A decent mix of scents and fairly unique and not overpowering on the nose.
First sip reveals an average body and mild carbonation.
Flavor is mild with some yeasty bread notes and then some citrus fruit and tropical notes, maybe apricot or mango hits. Again the flavor is fairly unique like the nose, it isnt huge or robust but is enjoyable to drink. I didnt get a lot of funky notes from the yeast more like dough or like a scone flavor.
A decent beer, but not something I would track down again.
788 characters

4.22
/5
rDev
+17.5%
look: 3.5 | smell: 4 | taste: 4 | feel: 4.5 | overall: 5
No bottling date...thanks merc for sharing
The beer pours a dull, hazy looking sunset orange with almost no head. The nose presents an amalgam of tropical fruits and yeast. The taste is sweet and wheaty with a lingering bitterness that coats the palate and provides that juicy fruit bite you're expecting. It's about a medium body with a residual, citrusy bitterness. It tastes relatively fresh and does a nice job interpreting the white IPA style. I'd probably consider this beer again in the future.
501 characters
3.37
/5
rDev
-6.1%
look: 3.5 | smell: 4 | taste: 3 | feel: 3 | overall: 3.5
Cloudy gold color. Good initial head that leaves a ring of spotty lace.
Nicely balanced malt and hop. Nothing in the smell is extreme. In fact, I cannot detect "Belgian" elements of yeast or sourness.
More yeasty on the tongue--reminds me of homebrews. Not necessarily Belgian, just yeasty. Plenty of wheat flavor. Relatively thin bodied with an above average carbonation. Not a lot of bitterness to make this an IPA. So, overall, I'd say this is a clear miss to the style. The flavor is okay, but not enough to make this even a superior wheat beer.
551 characters

2.5
/5
rDev
-30.4%
look: 2.5 | smell: 2.5 | taste: 2.5 | feel: 2.5 | overall: 2.5
I'm sorry, I usually love local brews being a Masshole and all but this is freakin' plain jane... I don't know why this is labled as a white IPA, because it's just a highly carbonated witbier with some bitter dryness on the finish. It's like a less cloudy, less fruity Hoegaarden , with a bit more crispness.
Appearance: golden straw yellow, lots of carbination bubbles, thick but light white head to start off that eventually boils down to a thin film, decent lacing at the top of the glass. Nothing special here.
Smell: It really doesn't smell like much at all. If I'm pushing my nose holes to the max and overworking my olfactory I get some citrus fruit, maybe a bit of granny smith apple, but otherwise I smell a standard light witbier.
Taste: It's like hoegaarden as mentioned above. When straight out of the fridge it tastes like bud heavy on steroids and as it warms you get a bit more of the grapefruit that is advertised on the bottle, and maybe a small amount of hops, but otherwise it eventually starts to taste like a hefeweizen/witbier without the banana/sweetness and with a slightly metallic taste. - amendment: now that it's a bit warmer, all I'm getting is a watery Heineken sourness.. it's pretty terrible...
Mouthfeel: A carbonation bomb, it's like a shaken up soda. Thin to medium body, lots of carbonation, goes down easy. So, it's mouthfeel is not great, but it's also pretty drinkable. This is more of a hot summer day beer than anything.
Overall: I don't absolutely hate it, but I don't like it. it's also way overpriced (almost 8 bucks for a 22oz bottle!!!! WTF! I'll pay that for Allagash, not this bier wasser). I won't be buying this again. I will give the brewery a second chance on a totally different kind of beer, but I'm pretty pissed they advertised this as a White "IPA", there's nothing India or Ale about it, it just Pales...
1,867 characters

4
/5
rDev
+11.4%
look: 4 | smell: 4 | taste: 4 | feel: 4 | overall: 4
A: A cloudy golden-orange pour. Good sized fizzy white head. Fades at a moderate pace, leaving decent lacing behind. Nice head retention.
S: Lots of wheat with some heavy piney hops. Nice sweet juicy tropical fruit and a touch of coriander. Kinda witbier/IPA hybrid. Very enjoyable aroma.
T: Loads of juicy tropical fruit and pine up front but fades quickly. Turns a bit bitter in the middle with lots of wheat to boot. Some bitter grapefruit and maybe orange peel in the finish. Bitter, spicy lingering aftertaste (there's the coriander).
M: Medium bodied, a bit drying in the aftertaste.
O: Not sure what the official style of this one is but belgian IPA is pretty close. It's really a hoppy witbier. Nice pine, grapefruit and tropical fruit hop notes but not overpowering. Nice balance and super drinkable for the style.
828 characters
2nd Beer Of The Apocalypse Series: Conquest from Backlash Beer Company
3.59
out of
5
based on
28
ratings.