Dismiss Notice
All Hallowed Ale
| HopDog BeerWorks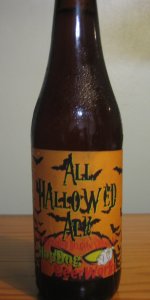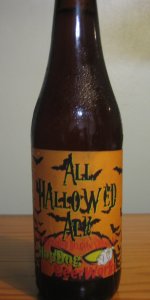 BEER INFO
Brewed by:
HopDog BeerWorks
Australia
hopdog.com.au
Style:
Pumpkin Ale
Alcohol by volume (ABV):
7.30%
Availability:
Limited (brewed once)
Notes / Commercial Description:
No notes at this time.
Added by spicelab on 11-05-2011
This beer is retired; no longer brewed.
HISTOGRAM
Ratings: 13 | Reviews: 9
Reviews by heygeebee:

3.88
/5
rDev
+9.6%
look: 4 | smell: 3.5 | taste: 4 | feel: 4 | overall: 4
From Beer Cartel. 'Bottled on' illegible.
Fills my Duvel tulip with froth from the pour. Sensational looking over orange/amber cloudy body.
Aromas are Belgian yeast, spice.
Taste is quite hoppy but also quite Belgian. Neither wins. Sharp hop bite on back palate is the only negative. Pumpkin also plays second fiddle to yeast, spice, and hop.
Nicely carbonated to me, tho note - actually quite high carbonation to Belgian style. Medium bodied.
On tap was smoother and more rounded and probably a bit more drinkable, but still a solid effort.
547 characters
More User Reviews:

3.68
/5
rDev
+4%
look: 2 | smell: 4 | taste: 4 | feel: 3 | overall: 3.5
Pours hazy light brown with a stupidly large, growing head.
Prominent pumpkin on the nose, followed by some doughy yeast and restrained spices. Also a fair bit of sweet malt. Works very well in combination!
The Belgian phenols carry through very well to impact the flavour, whilst the pumpkin is less noticeable, but does contribute a distinct nutty note. Lots of pear and grape esters, very tripel-like.
Carbonation is too high.
429 characters
3.3
/5
rDev
-6.8%
look: 3.5 | smell: 3.5 | taste: 3 | feel: 3.5 | overall: 3.5
330mL bottle thanks to
[email protected]
Liquor.
Opaque dirty orange. Monstrous white head that falls over 5 minutes or so leaving the odd spot of lace.
Nose is very Belgian, showing hefty phenol and ester sweetness. Boiled candy, musk and pear. There's a musty, vegetal, slightly funky edge to it that seems to be the combined output of the pumpkin in combination with a yeast product.
Pretty similar flavours, but the funkiness doesn't quite come through. Palpably sweet with plenty of herbal and floral spice. Pumpkin is fairly subtle but does a good job in preventing it from becoming cloying, but only just
Very busy carbonation makes for a lively mouthfeel. Seems appropriate for the style.
Nicely crafted Belgian ale with plenty of intrigue from the pumpkin. Only criticism is that the sweetness is a little too overbearing to allow the pumpkin and barnyard character to fully show their wares.
902 characters
4.12
/5
rDev
+16.4%
look: 3.5 | smell: 4 | taste: 4 | feel: 4.5 | overall: 4.5
Ooh, pumpkin Belgian ale. Nice.
Forms an enormous head which took several minutes to settle. Actually, my bad. The label says use a wide mouth goblet and i used a narrow one. The beer itself has an attractive light orange hue. Cloudy from a healthy dose of sediment (with quite a bit left in the bottle). Head is a full frothy white.
Nice aroma. Probably leans more toward the Belgian side but there is a nice hint of pumpkin pie spice. I like pumpkin pie. A lot. This manages to blend the two nicely with neither really dominating or competing with the other. Here they compliment each other and round out the aroma very well.
Hard to pick those same pumpkin characteristics in the glass. Might be easier with a pint or two but from a limited serving I struggle to pick up much. What is there though, is quite nice. Delicate Belgian yeast character with a smooth light malt backing. Very well done. The risk which they have averted is going overboard with one aspect and throwing the whole thing out of balance. So what I am left with is a good Belgian ale with some hints of uncommon spices which don't seem out of place.
Ok, disclaimer. I'm not really judging this as a pumpkin beer. It would probably score much lower if I did. However, I probably wouldn't be enjoying it nearly as much.
1,297 characters

3.78
/5
rDev
+6.8%
look: 4 | smell: 4 | taste: 3.5 | feel: 3.75 | overall: 4
Tried on-tap at Spooning Goats in Sydney during Craft Beer Week.
Pours very clear and very bright, a lovely orange-golden hue with a firm head of white that forms a ring after a while of settling down. Minimal lace. Low carbonation when static, but when the glass is tilted there's plenty of running streams. Liquid golden body. Looks good.
Big sweetness on the nose: pleasant brown sugar notes, rich pumpkin pie characters. There's a hint of pepper and nutmeg, but the spice is subdued in favour of sweetness, which works for me. Like a pleasant pumpkin pie.
Taste is similar, but lighter. Clean and crisp mid-palate with a nice finish. Brown sugar on the front but little body or sweetness. Instead, there's booziness and a slight acidity towards the back. Rounded, slightly Belgian tones come in: there's not a lot of true spice, but the yeast notes give a suggestion of it.
Feel is light, which might be something of a drawback, but it's pleasant enough and helps the drinkability.
Overall, it is indeed a very good pumpkin ale, and one that knows the need for some sweetness in the style. A bit more body as well and it might be truly thick and gorgeously luxurious. It also might ruin it. I'm happy enough where this is.
1,231 characters
3.73
/5
rDev
+5.4%
look: 4 | smell: 3.5 | taste: 4 | feel: 3.5 | overall: 3.5
Another big thanks to MrKennedy for this extra.
A-Hazy golden yellow hue which leaves a two finger creamy head that stays.
S-Spicey pumpkin,fruity belgian esters,spice and alcohol.
T-Starts off fruity with tastes of spicey pumpkin,herbal hops,a touch of citrus and finished with a spicey dryness.
M-Medium bodied and creamy.
O-Nice and different and very sessionable cheers.
379 characters

3.69
/5
rDev
+4.2%
look: 3.75 | smell: 3.5 | taste: 3.75 | feel: 3.75 | overall: 3.75
An interesting beer - mainly savoury but some sweetness to balance it out.
pumpkin soup and dried bacon initially come to mind. This mixes with caramel and a mix of savoury/sweet spice with a slight underlying smokiness to the whole beer. Also has hints of whisky/vanilla.
Not my favourite style of beer but a great effort by hop dog and a nice beer to change things up a bit
377 characters

3.11
/5
rDev
-12.1%
look: 4 | smell: 3 | taste: 3 | feel: 3.5 | overall: 3
Thanks to Adam @ Platinum
Pours a pumpkin colour. Over-jubilant head. Just massively carbed and it goes on and on, including in the bottle. Head does recede to nothing before I've finished drinking though.
Smells like pumpkin juice. Just lots of that fruity pumpkin taste, with some rather appealing hops poking through occasionally. Also a spicy coriander-like quality. No malt to speak of.
In taste and as I start to get through the bottle, I get a more enjoyable fruity, hoppy character coming through.
Mouthfeel is fine really. Very fizzy, bit of bitter body to it. Some alcohol dryness and also some sweetness.
Overall not really a bad beer, just a bit conceptually errant. Still has some nice elements. Next time they could focus on the spices and toasty element more than the pumpkin itself.
803 characters
3.7
/5
rDev
+4.5%
look: 3.5 | smell: 3.5 | taste: 4 | feel: 3.5 | overall: 3.5
Hazy orange colour with a small, short-lasted white head. Poor head but still decent.
Spicy clove on the nose, some lovely dried fruit, bits of citrus. A nice, clean, light Belgian style aroma.
Spicy on the palate. There are bits of sweetness from the pumpkin but the Belgian notes dominate. Some good fruit and a nice, balancing bitterness too. Coriander. Solid.
Medium-light body with high carbonation. Fine.
A delightful beer. The spicing and bitterness is quite high but the pumpkin is identifiable and it is drinkable as hell.
535 characters
All Hallowed Ale from HopDog BeerWorks
Beer rating:
3.54
out of
5
with
13
ratings