Instigator

Phillips Brewing Company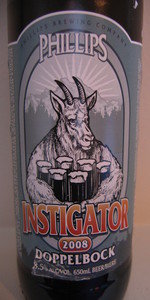 Write a Review
Beer Geek Stats:
| Print Shelf Talker
Style:

ABV:

8.5%

Score:

Avg:

3.87

| pDev:

13.44%

Reviews:

15

Ratings:

From:

Avail:

Fall

Wants

Gots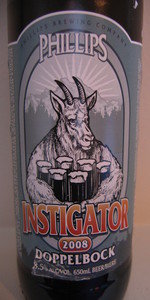 Notes: Doppelbocks were the orignal liquid bread, intended to sustain monks through their fasts of advent and lent. The Instigator has a complex character with toasted flavours, rich aromas, a deep hue and a full body. This time when you open your big mouth, you'll be able to finish what you started!
3.85
/5
rDev
-0.5%
look: 3.75 | smell: 3.75 | taste: 4 | feel: 3.75 | overall: 3.75
This poured a nice orange colour with a thin head. Nice malty nose with a hint of dried fruit. Definite toffee/caramel taste and toasted almost burnt malt taste. The alcohol (8.5%ABV) was pretty well hidden. A nice beverage.
224 characters
3.95
/5
rDev
+2.1%
look: 4 | smell: 4 | taste: 3.75 | feel: 4 | overall: 4.25
341ml bottle, denoted the '2013 Holiday Edition', day 3 of the Phillips Snowcase gift pack, and a verily appropriate offering for this 'advent' season, beer or otherwise. Great name for a doppelbock, especially for a Canadian brewery using the -ator grammar, though in this case, it looks like that beefy goat is instigating an all-around bender!
This beer pours a clear, medium copper amber hue, with one finger of tight, densely foamy ecru head, which leaves some limestone shell lace around the glass as it evenly subsides.
It smells of biscuity caramel malt, toasted dark bread, dried black fruit - raisins and prunes, mostly - black tea leaves, singed brown sugar, and an indistinct warming spiciness. The taste is more of the same - toasted biscuit and caramel malt, dry fruitcake, bread pudding, Canadian Breakfast tea, gritty brown sugar, and weak earthy holiday spices. No sign whatsoever of the 17-proof booze.
The bubbles are there, in a subdued, but well supportive role, the body a heady medium-heavy weight, and simple in its workaday smoothness. It finishes still nice and biscuity in its malt-forward manner, the fruit and spice fading to black.
A pretty solid rendition of the style, nice and warm, without knocking you over the tastebuds about it, and more concentrated on the complex malt than the other essences. Glad to have finally got a chance to try it, in this weird packaging vector - maybe I'll get to enjoy it again on its own come Lent.
1,469 characters
3.5
/5
rDev
-9.6%
look: 3.5 | smell: 3.5 | taste: 3.5 | feel: 3.5 | overall: 3.5
Poured from a 650ml bottle. Pours a golden orangey brown colour with a thin head, indicating a high alcohol content for a doppelbock. The smell offers honey, nutty, malty and floral aromas. Not super traditional. The mouthfeel is creamy, but for such a big beer, it feels a little thin. It's sweet, a bit fruity, with the nutty caramel flavours dominating. Good bit of bitterness on the finish. Interesting take on the doppelbock style. Might need some time in the bottle to integrate.
485 characters

3.21
/5
rDev
-17.1%
look: 4 | smell: 3 | taste: 3 | feel: 3.5 | overall: 3.5
650 mL btl served at 8C into a chalice.
Clear, full filtered ruby pour with a 2 finger head that falls to a thin film with an ample ring and surprisingly complete lacing.
Smells of cleaned toasty malt; sweet toffee and light molasses coating. Seems artificial, engineered and filtered. Not a plus. Browned fruit and notes of cocoa nibs. Seems fake.
Roasty, toasty malt with a medium level of sweetness. Mild nuttiness with a CO2 dry finish. Some citrus and dried fruits. Clean, simple, flat and very engineered.
Mouth feel is smooth and foamy, not quite creamy. Somewhat thin considering they style. (compared to the Germans I've had in the last while) The finish is long, clingy and slightly dry.
Smooth, easy and non-offensive. Made for the masses. OK I guess, but there is no depth, no character and nothing.... some of the productions from phillips are great, but this is marginal at best.
898 characters
4.25
/5
rDev
+9.8%
look: 4 | smell: 4 | taste: 4.5 | feel: 3.5 | overall: 4.5
Opening (In June 2011) a 2008 bottle recently purchased while visiting the brewery.
Appearance: Pours a slightly cloudy reddish-brown with a head that all but dissapears. There is a slight amount of yeast on teh bottom of the galss.
Aroma: Very malty with dried fruits and chocolate.
Taste: Caramel, chocolate, rich dried fruits (raisins, prunes) and spice. There is just a hint of
almost orangy cirtus lifting it up at the end and a slight metallicness.
Mouthfeel: Very smooth and surprisingly not very heavy. I do like a richer feeling beer, but this just to the right side of thin to hold it's own. There is just a touch of heat from the alcohol.
Drinkability: I have to say that this has aged very well. It is, at this point, a beer to sip and savor, either on it's own or over a meal. One of the better "in-province" dark beers I've had. I am looking forward to opening the 2009 bottle soon as well!
912 characters
4.03
/5
rDev
+4.1%
look: 4.5 | smell: 4 | taste: 4 | feel: 4 | overall: 4
Poured from bottle to glass.
Low head retention, fading quickly. Pours a reddy orange. Clean appearance.
Sweet and Malty to the nose, bready, though I did detect a bit of sourness.
Sour fruit flavour dominated my palate. Tastes of pineapple and guava. A big beer, though it hid the alcohol well.
A little unbalanced IMO. Hints of spice and hops were not enough.
Overall, a nice beer, and worth the $5 direct from the brewery's fridge! If you get a chance, the 2010 is more balanced than the 2009, possibly with the reduced hoppiness from the aging of the 2009.
562 characters
4.2
/5
rDev
+8.5%
look: 4 | smell: 4 | taste: 4.5 | feel: 4 | overall: 4
This bottle has been hang out in the back of my fridge for a few months, finally it's time to give it a shot. The beer pours a bright red with hints of orange and a thin head that fades quickly. Sweet caramel and toasted malt dominate the aroma, with a nice breadiness and hints of fruit. The flavor is big and malty, but the sweetness isn't overpowering. There are tons of caramel, dark fruit and a hint of chocolatey roasted malt. The sweetness is nicely balanced by some earthy, slightly herbal hops, and a rounded bitterness. The finish is crisp, with a hint of alcohol and more of the nice toasted bread quality.
617 characters
4.02
/5
rDev
+3.9%
look: 4 | smell: 4.5 | taste: 4 | feel: 4 | overall: 3.5
2010 release.
Cloudy, coppery mahogany colour with a nearly white head. In the light, this is a little more red than I expected; a distinct copper colouring. Sweet malts, burnt sugar and light spice and fruit in the noise. A bit creamy too.
Slightly more acrid taste, with spice and sour fruits initially followed by a mild sugariness. Dry, slightly woody aftertaste.
Good carbonation and a bit of alcohol warmth in this. A nice doppelbock, but a big beer to drink in one go.
478 characters
3.5
/5
rDev
-9.6%
look: 3.5 | smell: 3.5 | taste: 3.5 | feel: 3.5 | overall: 3.5
Bottle courtesy of Gravelle. Deep hazed amber, with a frothy eggshell cap, leaves pretty lace. Toasty nose of lots of rye bread, a hint of molasses, burnt sugars, caramel, some spicy hops. Tastes of semi-sweet bready malts, molasses, bread crust, some plum, with bittering hops. Quite alcoholic on the finish, with a full body. Good. Thanks Jon!
345 characters
4.19
/5
rDev
+8.3%
look: 3.5 | smell: 4.5 | taste: 4 | feel: 4 | overall: 4.5
First doppelbock.
22oz pours a slightly reddish caramel color with little head (despite an aggressive pour), which quickly dissipates and leaves no lacing.
Smell is lots of caramel malts, some rich fruit notes (think fruitcake).
The taste is less aggressive and more complex. Lots of malt, more fruitcake, caramel, brown sugar. Eases into a smooth, slightly light body. Quite light carbonation.
This is a slick drinker. Nice flavors, no hint of the alcohol. Easy going, would gladly drink this on most occasions. Definitely need to go back and find another bottle of this one.
580 characters
4.45
/5
rDev
+15%
look: 4 | smell: 4 | taste: 4.5 | feel: 4.5 | overall: 5
A great seasonal offering from BC's Phillips Brewery. A Doppelbock style that seems to have a full, rich flavour but with a deft light touch.
The malty, rich aroma entices you further. The flavour is delicious! Rich caramelised and malty notes fill your mouth, but there is a crispness to it that stops any of the richer and sweeter notes become cloying. Surprisingly quaffable at such high alcohol (8.5%). This is an excellent New World version of the German Classic. It is a refreshing flavour that doesn't lose the character of the original style.
553 characters
3.9
/5
rDev
+0.8%
look: 3.5 | smell: 3.5 | taste: 4 | feel: 3.5 | overall: 4.5
Big thanks to canucklehead for sending this to me for CanBIF4.
Pours a clear dark orange, almost reddish, thin light tan head forms, quickly settles down to a thin ring, no lace. Smell is light and malty, toffee, bread, raisins, some dark fruit, light citrusy lemon aroma, bit of chocolate, nice. Taste is a bit bland but solid, caramel, raisins, bread and biscuits, dark fruit, bit of chocolate, light metallic, alcohol is well hidden, dry spicy finish. Mouthfeel is light to medium bodied with low carbonation, a bit thin for a doppelbock, but very smooth, easy to drink. Solid doppelbock. Thanks Mark!
605 characters
3.89
/5
rDev
+0.5%
look: 4.5 | smell: 3 | taste: 4 | feel: 4 | overall: 4.5
Special batch bottled Nov. 2007.
I was pleasantly surprised by this. The taste hides the 8.5% alcohol content impressively well.
It pours a very dark red. There was a bit of head initially but it receded very quickly. That seems to be a characteristic trait of Phillips brewery beers.
The taste is very well balanced not too bitter not too sweet. Very smooth and easy drinking. Something tells me this beer would compliment a burger nicely.
This is a seasonal offering so I'll definitely be buying some more while it's still available. I'll try and put some in storage to see how it ages, that is- if I can resist the temptation to drink it!
647 characters

4
/5
rDev
+3.4%
look: 4 | smell: 4 | taste: 4 | feel: 4 | overall: 4
In fact more drinkable fresh than the Granville Island Merrymonks, this is a malty dopplebock that pours dark and strong but balances out to a focused malt finish with fruitcake and brown sugar in the flavour mix. Give it a year in the cellar and you will see a very nice winter warmer that like the GI version needs to be an annual event.
339 characters

2.7
/5
rDev
-30.2%
look: 3 | smell: 3 | taste: 2.5 | feel: 3 | overall: 2.5
Special Batch Bottled Nov. 2005. (500mL).
The label has their new address:
426 William St. Victoria, BC
Label Description:
"Full body and toasted flavours hide the higher levels of alcohol, and the rich aromas and deep hue add to the complexity of this doppelbock! This timewhen you open your big mouth, you'll be able to finish what you started."
A: Ruby-brown, off-white head, no retention or lace. Leaves a little 'leg'.
S: Fruit-bread and sherry.
T: Fruit-bread, raisin, sherry, alcohol quite apparant. NEEDS MORE DARK MALT FLAVOUR!
M: Moderate body and carbonation.
D: Below average (tough competition in this style).
It's like they used Granville Islands Merry Monk Dopplebock as the template. I know the west coast often does things a little differently, but come on! Someone ship these guys some Celebrator or Optimator (for a real reference)!
881 characters
Instigator from Phillips Brewing Company
Beer rating:
86
out of
100
with
24
ratings