Burley Barley Wine
| Phillips Brewing Company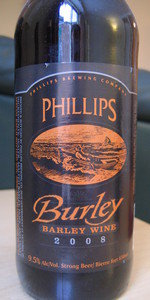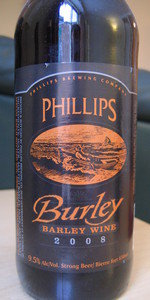 BEER INFO
Brewed by:
Phillips Brewing Company
British Columbia
,
Canada
phillipsbeer.com
Style:
English Barleywine
Alcohol by volume (ABV):
11.00%
Availability:
Winter
Notes / Commercial Description:
Subtle like a brick in the face, this hefty barley wine is deep red in colour, massive in alcohol and huge in flavour. Great now, or cellar for up to three years.
Added by BDTyre on 12-07-2006
This beer is retired; no longer brewed.
HISTOGRAM
Ratings: 10 | Reviews: 8
Reviews by seldomseen:

More User Reviews:
3.63
/5
rDev
-7.6%
look: 4.5 | smell: 4 | taste: 3 | feel: 4 | overall: 4
This was the 2008 vintage which has 9.5% abv as opposed to the earlier 11% version.
A very nice clear deep red copper colour when held to a halogen light.
A soft pour created a 1/4 inch medium head that settled to a sustained 1/8 inch to the end.
Initial smell of heavy cream immediately replaced by toffee, demarara and prominent candy.
Taste is much like the smell plus sweet dark fruit, fresh blackberry, mild spice, very faint hint of hop (close your eyes or you'll miss it). Unfortunately, the short lived medium body taste fades too quickly to a light, sweet, dusty finish.
A light carbonation. I thought it had a very nice balance of flavours and was very drinkable. I was, however, disappointed by the weakness in the body as it did not measure up (as if anything can) to my current favourite barley wine measuring tool, Brooklyn Brewery's Monster Ale.
865 characters

3.86
/5
rDev
-1.8%
look: 5 | smell: 4 | taste: 3.5 | feel: 4 | overall: 4
2008 vintage, 9.5%.
A: Deep copper with a light tan head, excellent retention & lacing.
S: Initial cotton-candy fruitiness fades to toffee, dark fruit and roasted nut, with hints of orange & chocolate.
T: Dark toffee, dark fruit, light spicing, nuts, balanced bitterness, with a little cola and oxidation in the flavour.
M: Well-attenuated for its strength, fairly full body, lightly carbonated & smooth.
D: Very drinkable for its strength.
It seems more like a big winter warmer than a barley wine.
505 characters
4.19
/5
rDev
+6.6%
look: 3.5 | smell: 4.5 | taste: 4 | feel: 4 | overall: 4.5
Sampled at Goldoraks post-Mondial tasting, fantastic time! I'm pretty sure MartinT from RB brought this one back from BC!
Pours a hazed brown, thin white head, some random lace spots, settles to a thin layer, looks pretty mediocre. Smell is caramelized, quite rich, raisins, hint of chocolate, alcohol, nice English barleywine aroma. Taste is caramel smoothie, dates/raisins, some dark fruits, alcohol, bit of floral, pretty enjoyable. Mouthfeel is medium bodied with low carbonation, super smooth going down, some warmth. Pretty good barleywine! Thanks Martin!
564 characters
4.25
/5
rDev
+8.1%
look: 4 | smell: 4 | taste: 4 | feel: 4.5 | overall: 5
2008 bottle, purchased at the brewery. This batch is 9.5% abv. The beer pours a deep red brown with almost no head. The aroma is rich, caramelized malt with tons of sweet, dark fruit, with hints of spicy hops. Malty sweetness dominates the flavor, with lots more toffee and dark caramel, as well as a nice tea like quality. The bitterness is mild, and there is almost no hop flavor. The carbonation is very light. I'm guessing this wasn't a particularly hoppy to begin with, but it's held up really well. Plus at $5.50, it's a steal!
533 characters

4.35
/5
rDev
+10.7%
look: 4 | smell: 4 | taste: 4.5 | feel: 4.5 | overall: 4.5
Usually when I drink a barley wine soon after purchase it tastes hot and overly sweet, not so with this one. The beer is almost like an old ale in its complexity vs drinakbility. Yes, there is a lot of malt and hops and a deep fruity note to the midbody but the beer is very drinkable to the point where I probably not age the other bottles past a year. Big beer for Phillips but so well balanced that it shows Matt Phillips strength as a brewer
445 characters
4.07
/5
rDev
+3.6%
look: 3.5 | smell: 4 | taste: 4.5 | feel: 4 | overall: 3.5
A pleasant surprise from Phillips! Presumably not the same as his Big Bad John's Traditional English Barley Wine, and I think a new offering this year.
A little on the dark side compared to the few other Barley Wine's I've had. It looks more like a porter.
Sweet vinous malts on the nose, with no distinguishable hop character to interfere with the delicacy of the malt nose. Delicate as it may be, this is not a beer to be taken lightly. Noticeable alcohol profile in the nostrils, but not so much as to be off putting. Lacks the hard liquor warmth of Fat Cat's barley wine; probably because this has not been aged in bourbon barrels.
--UPDATE 8 Dec 2008--
Two years to the day pretty much since I last had this. Redesigned label, and a slight different take on the beer. Darker colour, but this looks like a brown ale. Heavier emphasis on the malts in both the nose and the taste. Hops are almost non-existent, but the vinous notes are toned down somewhat.
Oddly enough, the alcohol burn is a little more present for 2008 despite being lower (9.5% v. 11% for 2006). Subtle, slightly chocolate taste that doesn't immediately say "barley wine." But enough of the rich, wine-y, vanilla taste is there to remind that yes, this is a barley wine and it is not to be taken lightly.
Once again, a high ABV in a bomber limits the drinkability of this.
Alcohol presence in the taste demands attention. Winey, fruit notes. Plus, grapes, a hint of spice here and there. Good malt body. Again, lacking the spiritous warmth of Fat Cat, but this also is not as sickly sweet or syrupy. A definite after dinner sipper.
Carbonation, as described on the label, is mild. Not underdone, but certainly this is no lager.
Overall, a force to be reckoned with. A bomber at this ABV is somewhat of a negative point, but I think that's the only real down point of this brew. Unlike many other of Matt Phillip's heavy beers, this one does not come off as weak and watery.
1,953 characters
3.68
/5
rDev
-6.4%
look: 4 | smell: 3.5 | taste: 3.5 | feel: 4 | overall: 4
A: Pours a golden orangish hue with a nice tall creamy head. Some spotty lace noted.
S: Lots of pine, caramel, and light brown sugar.
T: Piny, malty sweetness with hints of honey, bread, and sweet summer fruit. A dash of citrus can be picked up in the finish.
M: Medium in body, smooth
D: Pretty good overall.
313 characters
4
/5
rDev
+1.8%
look: 4 | smell: 4 | taste: 4 | feel: 4 | overall: 4
Been after the Burley Wine for quite some time, so thanks to BBrianBoogie for sending me this 2008 bottle as part of CanCon BIF.
Pours a rich and radiant ruby red, with a white head that soon dropped to a collar. Rich aroma of fruit, raisin and earth, with mild alcohol presence in the tail. I'm pleased to see that the flavour delivers on this delightful nose, and its chock full of fruit and sherry notes. Raisins are the most prominent, but dates and plum also make an appearance. There's a nice cereal backbone and a slightly earthy and spicy finish. The mouthfeel is medium, with a medium-low carbonation.
I think this was one of the better beers we had, and it shows exceptional balance and great drinkability.
718 characters

Burley Barley Wine from Phillips Brewing Company
Beer rating:
3.93
out of
5
with
10
ratings