GrowHop Series - Chinook IPA
| Phillips Brewing Company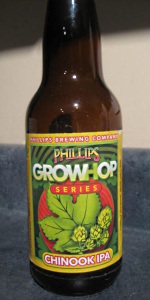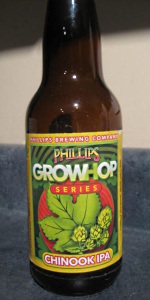 BEER INFO
Brewed by:
Phillips Brewing Company
British Columbia
,
Canada
phillipsbeer.com
Style:
American IPA
Alcohol by volume (ABV):
6.50%
Availability:
Limited (brewed once)
Notes / Commercial Description:
No notes at this time.
Added by wordemupg on 12-21-2011
This beer is retired; no longer brewed.
HISTOGRAM
Ratings: 14 | Reviews: 8

3.89
/5
rDev
-0.5%
look: 4 | smell: 3.75 | taste: 4 | feel: 3.5 | overall: 4
3.85
/5
rDev
-1.5%
look: 3.75 | smell: 3.75 | taste: 4 | feel: 3.75 | overall: 3.75
Bottle snagged from a craft beer "pick six" wall ... An unexpected finding. I was a little concerned about freshness here but got it into the beer fridge right away and in all honesty I think this has held up reasonably well. A little oxidation apparent in the malt profile but the earthy, spicy hop flavors still had considerable punch. Looks like your typical west coast IPA, a dark honey amber with some white foam. Smells like fermented grapefruit and orange flesh, earthy spice, and dank tropical fruit. Maybe not as old as I suspected. Taste was a classic west coast blend of grapefruit flesh and rind, tropical passion fruit, marijuana resin, culinary herbs, a dry mustiness, and maybe a hint of mint, with some butterscotch and brown sugar there to prevent things from being too resinous, although the hops were still as aggressive as they were in some DIPAs I've tried. Earthy and spicy like its "C hop" brother Columbus but with more fruit. Low carbonation and pretty chewy. Chinook is clearly a stalwart in Phillips' other IPAs, not to mention other brews from the coast. A pleasing bitterness still lingered around 30 minutes post-consumption.
1,155 characters


4
/5
rDev
+2.3%
look: 4 | smell: 4 | taste: 4 | feel: 4 | overall: 4
The last of the series also compliments of my Western BA Trading partner joemcgrath27.
A - Pours a slightly hazy pale straw colour, thumb of fine bubbled head with solid retention and some nice sheeting lacing.
S - Scent is earthy with cedar and pine and a solid buttery caramel backbone, hint of mustiness and some fresh lemon rind.
T - The hops are subdued, but nicely present, offering up the earthy cedar notes and lemon rind. The caramel malts come through nicely to balance it out and it finishes with a metallic citrus flavour that is actually surprisingly mild and short-lived.
M - Medium bodied, smooth and a touch of dryness.
O - Overall another tasty offering in the GrowHop series and well worth seeking out. I love when they showcase a single hop strain as it really allows you to develop a flavour profile and nose for the varies hops. Super stoked to have had the opportunity to try this one.
913 characters
4.03
/5
rDev
+3.1%
look: 4.5 | smell: 4 | taste: 4 | feel: 4 | overall: 4
Hoppy IPA day! Celebration brew #1 on this holiest of days!
A - very hazy mustard yellow, tall head dissipated very slowly leaving lots of spots of lace
S - juicy citrus, light pepper, some buttery bread
T - starts peppery and a little earthy, grain husk maltiness, light citrus hop notes build towards the finish, and the peppery notes linger
M - medium body and carbonation, lightly spicy with a lightly dry finish
O - a very pleasant and easy drinking IPA, the prominence of peppery spicy hops that I taste is a nice change of pace
534 characters
3.95
/5
rDev
+1%
look: 4 | smell: 4 | taste: 4 | feel: 3.5 | overall: 4
341ml bottle, the guest star in the most recent Phillips Hop Box, this one dated as BB Oct 2012.
This beer pours a hazy, bright medium golden amber hue, with two fingers of puffy and cushion-like ecru head, which leaves some random splotches of chunky lace around the glass as it lazily sheds its bulk.
It smells of grapefruit and orange citrus, a bit of nectarine, some bready toffee malt, a twinge of booze, and some further herbal and leafy hops. The taste is sharp citrus rind, pine needle, and herbal tincture, over a decent toasted bready malt, some additional white cracker notes, and some understated floral and leafy hops, all lightly sheathed in alcohol.
The bubbles are a bit peppy, but generally well behaved, the body a soft middleweight, and a tad clammy, with an otherwise decent smoothness. It finishes still rather hoppy and bitter, but with those same flavours morphed into a mix of caramel and sourdough malt sweetness.
Overall, an agreeable IPA, nice and hoppy, and well-balanced. The lesson here seems to be that Chinook hops are an integral part of the big West Coast style IPA essence that I love ever so much, as I'm getting a majority of that particular flavour subset vibe with this one.
1,217 characters

4.13
/5
rDev
+5.6%
look: 4.5 | smell: 4 | taste: 4 | feel: 4 | overall: 4.5
341ml bottle poured into a 16oz pint glass.
A - Pours a golden-amber color a touch brighter than the average IPA, and a little more yellowish as well. A bit of haze in the body, and a big, foamy white head on top. Head retains as a nice foamy cap that leaves a sticky web of lacing all over the glass. Great looking beer and a nice bottle to boot.
S - Nice hop aroma of mild citric fruitiness, lemongrass, and subdued pine. Orange and grapefruit, as well as some light floral qualities. Mild toasty crystal malt backbone.
T - Deviates from the nose a bit, with less emphasize on citrusy, tropical hops, and more on earthy flavors of pine and toasty malt. Finishes with a lingering grapefruit and pine flavor, with some pale malt in there as well. There's a slight smokey/nutty character to the malt. Floral and fruity qualities increase as it warms. Overall a mild but very drinkable profile.
M - Light-to-medium bodied with some prickly carbonation. Pleasant lingering bitterness. A touch on the dryer side too.
D - Another great single hop IPA from Phillips. The thing I'm finding with Phillips' single hop brews (and most single hop beers in general) is that they don't lack complexity or feel to one dimensional. The reality is, most modern day IPAs aren't terribly complex to begin with; I wouldn't be opposed to this being released as a year round APA (and replacing the not-so-great Blue Buck).
1,406 characters

3.65
/5
rDev
-6.6%
look: 4 | smell: 4 | taste: 3.5 | feel: 3.5 | overall: 3.5
From a 341 ml brown bottle, came in their Fall/Winter season Hopbox. Pours out a hazed apricot hue with a massive tall loose frothy ivory head with impressive retention.
Grainy biscuity malt on the nose with notes of orange, grapefruit, pine and herbal hops.
Dry grainy malt up front in the flavour, with dandelion greens following in the middle, and stronger herbal hops following up in the finish. Grapefruit pith joins and lingers in the aftertaste.
Medium-bodied mouthfeel, with a slick texture, creamy in places, and a moderate carbonation.
An okay offering, a bit light on the malt for the style, yet the hops are refined enough not to get out of control. Good chance to check out exactly what Chinook hops have to offer.
731 characters
3.85
/5
rDev
-1.5%
look: 3.5 | smell: 3.5 | taste: 4 | feel: 4 | overall: 4
This is my first review from the Hop Box. I'm guessing this isn't a regular feature of of the pack.
It pours a slightly coppery medium amber colour with light carbonation fizzling up to the top. The head is thin, but quite fluffy. There is some nice lacing going on too.
The aroma is hoppy, yet smooth. there are some slight vanilla notes in the background, backed up by some bready malt aroma.
The flavour is very hoppy off the bat, but the hop profile is earthy and subdued. It has a slight minty/juniper flavour as it progresses into some mild biscuity malt.
Overall, this is a very balanced IPA. It lacks anything that makes it really stand out, but it's very well put together.
687 characters

4.08
/5
rDev
+4.3%
look: 4.5 | smell: 4 | taste: 4 | feel: 4.5 | overall: 4
341ml bottle poured into tulip 20/12/11
A slight haze in a golden orange body, lots of tiny bubbles popping up from everywhere moving around tiny suspended particles, large cream colored head retains fairly well leaving several distinct rings of lace
S leafy, herbal hops with some citrus, toffee and just a little booze
T spicy peppery hops and less of the herbal notes I could smell, a little woody earthiness with a little piney rind, the toffee's still there but pretty faint, after my tenth one it is some smoke I'm tasting
M silky entry with the tiny pin prick bubbles giving it a very creamy feel quickly, a little grit left behind on the gums and a long finish, quite full bodied for the color
O pretty solid stuff going on here I don't have many complaints with this one
great stuff here and I was expecting another Cascade Growhop in my Hopbox, a nice surprise for sure keep em coming Phillips
910 characters
GrowHop Series - Chinook IPA from Phillips Brewing Company
Beer rating:
3.91
out of
5
with
14
ratings