Trainwreck Barrel Aged Barley Wine
| Phillips Brewing Company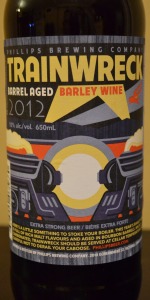 BEER INFO
Brewed by:
Phillips Brewing Company
British Columbia
,
Canada
phillipsbeer.com
Style:
American Barleywine
Alcohol by volume (ABV):
10.00%
Availability:
Rotating
Notes / Commercial Description:
No notes at this time.
Added by leaddog on 12-17-2012
Reviews: 6 | Ratings: 19
3.89
/5
rDev
+9%
look: 3.75 | smell: 3.5 | taste: 4.25 | feel: 3.75 | overall: 3.75
2015 edition.
L: Clear amber with a slight white head that completely disappeared.
S: Sweet maltyness with not an awful much more.
T: Sweet, slightly hoppy with a little bit of banana taste.
F: Full body feel with a light mouth feel to it.
O: a pretty good beer even though barleywines aren't my favorite style.
316 characters
2.75
/5
rDev
-23%
2012 bottle that I just hadn't got to but it's a good night for barleywine so trainwreck it is!
Appearance. Pours a hazy amber brown with almost a half finger of off-white head.
Smell. Big sweet vanilla and caramel, some fresh oak.
Taste. Big oaky vanilla, slightly tannic, bourbon, some toffee and booze.
Mouthfeel. Slick and almost full bodied, low+ carbonation.
Overall. Very boozy and oaky. Not really my thing.
426 characters
3.78
/5
rDev
+5.9%
look: 4.25 | smell: 3.75 | taste: 3.75 | feel: 3.75 | overall: 3.75
650ml bottle - this isn't all that easy to find in Alberta - you apparently have to find a store that has new stock, as this uses the same SKU as the 'regular' ol' Trainwreck.
This beer pours a clear, dark bronzed amber colour, with two fingers of puffy and somewhat rocky beige head, which leaves some broken hilly lace around the glass as it gently subsides.
It smells of sweet caramel/toffee malt, nougat, astringently fibrous barrel wood, fleshy bar-top nuts, and a simmering spiced whisky booziness. The taste is big, bready caramel malt, a touch of saltwater taffy, some creamy, earthy nuttiness, which is all a deluding prelude to a hefty Bourbon onslaught - vanilla, more caramel, subtle green spice, and a prominent boozy woodiness. Some peppy, near-overrun bitter citrus/leafy hops eventually burble up to the point of recognition.
The bubbles are rather sedate, but not out of it entirely, the body just on the weak side of medium weight, and adequately smooth, the sass of the barrel wood leaking through to this stage as well. It finishes on a sweet roll, though the caramel malt, vanilla, and generic fruity notes are all hushed to a certain degree by the lingering, and still understated BAB (big-assed booze).
A decent enough, if somehow oddly thin (no other word seems to be willing to come to me right now) barrel-aged barleywine, the flavours all conversely on the full side, ironically. The wood is the star here, for better or for worse, and does have its challenges - the overly astringent oakiness first and foremost on that list. Worthy of a try, though, especially if you have a sample of the original version to compare it to.
1,656 characters

3.75
/5
rDev
+5%
look: 4 | smell: 4 | taste: 3.5 | feel: 3.5 | overall: 4
A: Good clarity, chestnut-ruby, little to no head but appropriate. Nice
S: Sticky-sweet maple-toffee, toasty coconut, some nuttiness, fruity malt and unfortunately a pretty significant booze vibe. I think this beer will age very nicely.
T: This beer is definitely pretty hot at this point, but its young. Lots of nice flavors in here, but the thin-ish body and booze mask them.
M: A little watery for the abv, I think it could use some more risidual sweetness.
O: This is a tasty beer now, but the hot booze detracts from them. I'm putting 5 bombers in my cellar, and I am confident these will mellow out nicely over a few years.
635 characters

3.1
/5
rDev
-13.2%
look: 4 | smell: 4 | taste: 2.5 | feel: 3 | overall: 3
650ml bomber poured into tulip 28/12/12
A clear dark amber when held to the light, a short lived thumbs width of foam hangs around for a couple sips leaving some random lace
S the barrels strong with some bourbon, vanilla and lots of wood, there's some candied fruit and hazelnut with a heavy blast of caramel
T the booze comes out in a big way in the mouth, almost has a solvent thing going for it, reminds me of nail polish with lots of wet moldy wood and nutella spread, leaves something to be desired and is a pretty big step backwards from the nose
M mellow bubbles and some body but a fair amount of heat and the aftertaste reminds me of a freshly polished table
O this one started out well but didn't do well after that, too boozy and just has a slightly off flavor, I finished the bottle no problem but I wouldn't grab a second
perhaps it just needs some age but it might take years to kill the booze and even then I'm not sure it would be anything special. I'm a little surprised how different the nose was compared to the flavor, perhaps my bottles not quite in perfect condition.
1,098 characters
3.65
/5
rDev
+2.2%
look: 4 | smell: 4 | taste: 3.5 | feel: 3.5 | overall: 3.5
2012 edition - barrel aged.
Appearance - Pours a dark brown with a finger width of bubbly head.
Smell - Bourbon, plum, cherry, vanilla, caramalts, leafy hops.
Taste - The bourbon flavour really comes through, highlighted by vanilla, plum, cherry and caramalts. Subtle leafy hops. Bourbon flavour shines through right to the finish. Sweet finish.
Mouthfeel - Medium bodied with moderate carbonation. Slight stickiness.
Overall - For my first barrel aged barleywine, this might be a little bit bourbon heavy for my taste. It was a decent effort although it would be more enjoyable if the ABV was slightly hidden. Still worth a try for those who would like to compare last year's batch (which was not barrel aged).
716 characters
Trainwreck Barrel Aged Barley Wine from Phillips Brewing Company
3.57
out of
5
based on
19
ratings.