Monkey Drummer & The Incomplete Octave
| Phillips Brewing Company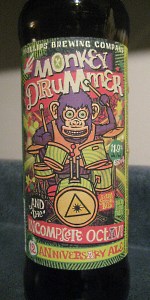 BEER INFO
Brewed by:
Phillips Brewing Company
British Columbia
,
Canada
phillipsbeer.com
Style:
American Double / Imperial IPA
Alcohol by volume (ABV):
11.90%
Availability:
Limited (brewed once)
Notes / Commercial Description:
No notes at this time.
Added by canucklehead on 07-17-2013
This beer is retired; no longer brewed.
Reviews: 10 | Ratings: 23
4.1
/5
rDev
+4.9%
look: 4 | smell: 4 | taste: 4.25 | feel: 4 | overall: 4
This Double IPA out of Victoria takes a handful of hops and smacks you across the face with them. Strong hop and citrus, grapefruit on the nose. At 11.9% ABV it's kind of a double whammy as it warms your insides. As with a lot of hoppy IPA's it was a pretty even split across the board with those that loved it and those that thought the bitterness was a bit much. Have to say that this style is one of my favourites and I loved it.
432 characters
3.99
/5
rDev
+2%
look: 3.75 | smell: 4 | taste: 4 | feel: 4 | overall: 4
Bottle poured into a tulip glass. I possibly held onto this beer for much longer than I should have but fortunately time was kind on this occasion and I detected no oxidation issues. The hops remained vibrant and spicy. This DIPA is a slightly hazy pale yellow hue like pineapple juice with a copious rich white head, classic Phillips look. Aroma is massive citrus rind (tangerine, orange) and pineapple hops, with the malt largely buried beneath the hop cone elements ... Also getting some floral, pepper-like spice, and green notes. Palate is chock full of tangerine and orange creme, unripe pineapple, earthy turmeric-like spice, melon, and gooseberry. Nice hop flavors to be sure, and the malts are more assertive on the palate than on the nose, yielding a sweet bread, graham cracker and puffed wheat square/light molasses vibe that adds a considerable sweetness to the mix. Alcohol is undetectable until near the end, where a rose and violet floral booziness does peek out for a moment. Very smooth mouthfeel, low to moderate carbonation, and mid-range chewy body that all aid drinkability. Well-crafted display of hopping prowess and I enjoyed the dessert-like malts as well. Would drink this formulation again if it ever showed up in some regular capacity.
1,264 characters
4.12
/5
rDev
+5.4%
look: 4 | smell: 3.75 | taste: 4.25 | feel: 4.25 | overall: 4.25
A - clear bright golden, two solid fingers of white head held nicely with plenty of random lacing spots
S - grainy with mild aromas of citrus, peppercorns, and earthiness
T - big on citrus and perfume hop notes, solid pale grain malt backbone, hints of pepper and pine come through in the finish, not a trace of the high octane ABV
M - light and clean start, medium bitterness through the middle and finish while it drys out, again the ridiculous ABV nowhere to be
O - a very nice take on a BIG DIPA, drinks like a beer half its size, very dangerous....
554 characters
3.88
/5
rDev
-0.8%
look: 3.75 | smell: 3.75 | taste: 4 | feel: 4 | overall: 3.75
Appearance- Pours a gold with a finger of fluffy white head.
Smell- Citrusy hops, tropical fruits, bready malts.
Taste- Citrusy hops, grapefruit, tropical fruits, bready malts and some heat from the ABV. Finishes with a slight bitterness.
Mouthfeel- Medium bodied with moderate carbonation.
Overall- A DIIPA that delivers on both the hop front and flavour. Great to see Phillips pumping out another anniversary ale. What will lucky number 13 be next year? Drum roll ladies and gents....
491 characters
3.81
/5
rDev
-2.6%
look: 3.5 | smell: 3.75 | taste: 4 | feel: 3.5 | overall: 3.75
Pours a pale amber with a finger of white head and good retention. Crystal clear, although I was careful not to pour any sediment into my glass. Aroma is citrus/floral hops with fruity ester, light bready malt background. Taste is hoppy with citrus/floral hops again, and a balanced malty sweetness. Alcohol is noticeable, but hops dominate. Mouthfeel is bitter and balanced. Overall a fine DIPA, one of the better Phillips brews I've had.
439 characters

3.79
/5
rDev
-3.1%
look: 4.5 | smell: 3.5 | taste: 3.75 | feel: 4.25 | overall: 3.75
A: Very pale, nice clarity, low carb, white thin head. Props to Phillips for keeping their IPAs pale, something AB brewers have a huge problem with.
S: Boozy, cereals, orange-creamsicle citrusy element, tangerine. Aroma is quite restrained for a gigantic IPA. Last year's anniversary ale seemed to have a much more pungent hop nose.
T: I admire the lack of malt character here, but I wish the hops popped more. Citrusy, spicy, very warming, a nice sipper. Nothing to write home about but good.
M: Dry for this size, again props to Phillips for doing this correctly.
A pretty good beer weighed down by a lack of hop aroma and flavor.
636 characters

3.8
/5
rDev
-2.8%
look: 4.5 | smell: 3.75 | taste: 3.75 | feel: 3.75 | overall: 3.75
650ml bottle poured into tulip 23/7/13
A clear golden yellow with a few stream of bubbles floating up to a very well sustained two finger foam that slowly falls to an island of thick film leaving 4 distinct rings followed by random patches
S tangerine, mandarin, lemon, bread, caramel and some booze, fairly straightforward but solid
T a little Phillips house, faint pine and more citrus but its rind opposed to fresh flesh I was smelling, hard toffee and the hops are just a little spicy
M leaning towards full and almost creams up from the bubbles, some heat but fairly well hidden all things considered, lemon rind lingers on the finish
O for a beer this big I'd expect a little more on the nose and in the mouth but still pretty solid nonetheless
I'm not in love but for 7$ and change for a 12% monster I might buy it again, Phillips has been pumping out new beers and I hope they keep em coming
909 characters
4.03
/5
rDev
+3.1%
look: 4.5 | smell: 4 | taste: 4 | feel: 4 | overall: 4
650ml bottle, the second offering from Phillips in their new square-shouldered, old-school packaging. Part 4 of my 2013 birthday beer extravaganza! Heh - 'chimp fisted blast beat'.
This beer pours a clear, glassy, bright medium golden yellow hue, with three fingers of bubbly, weakly foamy dirty white head, which leaves a stellar paint job of tightly-packed bonsai tree lace around the glass as it evenly subsides.
It smells of tart grapefruit and orange fruit, a bit of subtle tropical notes, a bready caramel malt, and a burgeoning floral, perfumed hoppiness. Simple, but enticing enough. The taste is sweet, sugary caramel and pale malt, orange cream and reduced grapefruit dressing, and more perfumed, leafy, and earthy hops. The damned-near 12 points of booze are barely perceptible.
The carbonation is quite low and understated, the body a solid medium-heavy weight, and generally rather smooth. It finishes off-dry, the level caramel and toffee malt sweetness doing well to parry the lingering citrus cream bitterness, and more to the point, the supah-crazee alcohol, so otherwise heretofore veiled, coming across now as mildly threatening.
A decent DIPA++, one which dials down the bitterness levels, and amps up the malt to a lesser degree, and that is all just fine and good with me, as it obfuscates the heady booze baying at the gates, unbeknownst to we mortals until we actually try and stand up. I sort of get what Phillips is getting at here - a bit of an off-centered offering (apologies in due part to DFH) from the norm of big-ass IPAs, the sonic resonance analogy still a tad dissonant to me. Bang on monkey, bang on, if you must - I'm a bit removed from it all, and on to the next diversion, it seems.
1,726 characters

3.69
/5
rDev
-5.6%
look: 4 | smell: 3.75 | taste: 3.75 | feel: 3.5 | overall: 3.5
Phillip's Brewing 'Monkey Drummer and the Incomplete Octave' , the 12th anniversary DIPA
@ 11.9% , served from a 650 ml bottle purchased for $7
A-pour is a clear pale gold from bottle to glass with a small white head that is leaving a spotty lace along the stein
S-lots of HOPS
T-Wow and it's missing/incomplete an octave , some serious bitterness ,
MF-mild carbonation , extreme full bodied , my palate won't be the same
Ov-after Crazy8's , a 9Donkey Hopocalpyse , 10th Anniversary ,
11th Hour Pandamonium , 12th (that had to be released early because of BC liquor laws) ,
be scared about the 'Lucky13'
prost LampertLand
633 characters

4.18
/5
rDev
+6.9%
look: 4 | smell: 4 | taste: 4.25 | feel: 4.25 | overall: 4.25
Cool new bottle , tall shouldered like a Sam Smiths. Scary monkey on drums as the label. Killer bit badass DIPA that goes down smooth but is big on hops and mouthfeel . A lot like 9 Donkeys which was the DIPA from 2 years ago ( Anniversary beer). Matt can kill it on IPAs and DIPAs when he wants and this is among the great list. Get it while you can
350 characters
Monkey Drummer & The Incomplete Octave from Phillips Brewing Company
3.91
out of
5
based on
23
ratings.