Beach Beer

Port Jeff Brewing Company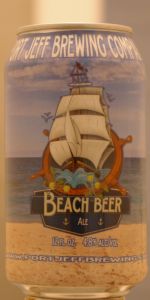 Write a Review
Beer Geek Stats:
| Print Shelf Talker
Style:

ABV:

4.8%

Score:

Avg:

3.65

| pDev:

7.4%

Reviews:

9

Ratings:

From:

Avail:

Rotating/Seasonal

Wants

Gots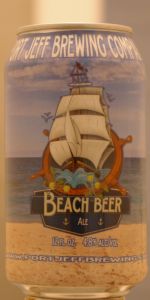 Notes:
dbrauneis from North Carolina
3.68
/5
rDev
+0.8%
look: 3.75 | smell: 3.75 | taste: 3.75 | feel: 3.5 | overall: 3.5
A: Pours a clear medium yellow in color with moderate amounts of active visible carbonation rising from the bottom of the glass and moderate pale golden yellow + brassy colored highlights. The beer has a two finger tall sudsy foamy off-white head that reduces to a large patch of slightly mottled very thin film covering the entire surface of the beer and a thin ring at the edges of the glass. Moderate amounts of lacing are observed.
S: Slightly stronger than moderate aromas of wheat malts with minimal amounts of sweetness as well as light to moderate aromas of orange peel citrus and coriander spice. Light aromas of banana + clove as the beer warms up.
T: Upfront there are slightly heavier than moderate flavors of wheat malts with minimal amounts of sweetness. That is followed by light to moderate flavors of orange peel citrus and coriander spice. Light hints of banana and clove as the beer warms up. Minimal hop presence and minimal amounts of bitterness are present.
M: Slightly heavier than light bodied with moderate amounts of carbonation. Crisp upfront.
O: Easy to drink with well hidden alcohol and refreshing. Enjoyable with hints of hefeweizen in a witbier.
Sep 06, 2018
metter98 from New York
3.66
/5
rDev
+0.3%
look: 3.5 | smell: 3.75 | taste: 3.75 | feel: 3.5 | overall: 3.5
A: The beer is crystal clear yellow in color and has a moderate amount of visible carbonation. It poured with a half finger high white head.
S: Moderate aromas of wheat are present in the nose along with faint bits of orange peel and coriander. As the beer warms up, faint bits of banana also become perceptible.
T: The taste follows the smell but has stronger notes of orange peel and coriander spices to accompany the underlying wheat.
M: It feels a bit more than light-bodied on the palate and has a moderate amount of carbonation.
O: This witbier is very easy to drink and has some refreshing properties.
Serving type: can
Jul 23, 2018

CHickman from New York
3.54
/5
rDev
-3%
look: 3.75 | smell: 3.5 | taste: 3.5 | feel: 3.75 | overall: 3.5
From the can, pours hazy yellow gold color with a 1 finger bright white head that was full of tiny bubbles and faded king of quickly, leaving good spotty lacing.
Smells of wheat, toasted grains, buttered bread, faint caramel, floral hops, spices like pepper, coriander and a dash of cinnamon or allspice, orange peel, lemon zest and dry earthy notes like hay or a pile of sticks and leaves. Basically it smells like a cross between a Belgian ale and a German pilsner.
Tastes like it smells with floral hops, orange peel, lemon peel, cracked wheat or a dry cracker, toasted grains, buttered wheat bread toast, faint caramel, banana, spices like clove, pepper, coriander and allspice, and like the aroma it has dry earthy notes like hay or a pile of sticks and leaves. It's light, crisp and has a grainy aftertaste that has a very mild bitterness.
At 4.8% this is an ideal summer beach beer, aptly named for what it is - a beer to crush in the sun. More flavor than a macro brew, and just enough flavor to keep my interest.
Jun 04, 2016

woodychandler from Pennsylvania
3.23
/5
rDev
-11.5%
look: 3.5 | smell: 3.5 | taste: 3 | feel: 3.25 | overall: 3.25
As a retired U.S. Navy sailor, I truly miss getting underway. I mentioned this to a buddy on Veterans Day & he suggested riding ferries as a way to get water under my feet again! What a great idea! I took Amtrak to Penn Station (NYP), transferred to the LIRR, rode out to Port Jefferson, NY and took the ferry across Long Island Sound to Bridgeport, CT to watch back-to-back nights of AHL hockey before coming home. I also scored some CANs of beer for The CANQuest (tm) while I was at it.
From the CAN: "Surf Board[,] Sunblock[,] Beach Chair[,] Towel[,] Sunglasses[,] Tunes[,] Flip Flops[,] Beach Beer"; "Best CANs on the Beach"; "Small Batch - Big Taste".
A nice, loud Crack! revealed another brimful craft CAN & I was off and running. I began with a gentle Glug until I realized that it was a Witbier & should therefore be cloudy. A heavier Glug raised a finger of fizzy, foamy, bone-white head with moderate retention that fell back to wisps. Color was a cloudy Amber (SRM = > 7, < 9). Nose had a black pepper-like spiciness along with a mustiness like old newspapers from the attic. The latter was undoubtedly a product of the yeast. Mouthfeel was medium. The taste was a bit mild for a Wit, kind of spicy, but lacking the Ooomph! that I like in the style. The finish was semi-dry, spicy, but just lacking enough to really put it over the top for me.
I know that we are not supposed to comment on others' reviews, but look at what Act25 has to say. We agree about the taste, but not on our approach to its enjoyment. This is one of those beers that will appeal to some and less or not at all to others.
Mar 24, 2016

Act25 from New Jersey
3.96
/5
rDev
+8.5%
look: 3.75 | smell: 4 | taste: 4 | feel: 3.75 | overall: 4
I dont like my wit to veer to much toward banana and bubble gum. I like them lemony, grassy, pilsner like that just refresh and dont over whlem. Carton Whale Wit and Port Jeff Beach beer fall in this refresher category.
A: gobs of lace. fast finish flat head with a strong ring. Over a yellow, bright, mostly clear body without too much carbonation.
S: Almost perfume and fresh. Abundant, yet not cloying - White crackers, pilsner, lemon, yeast.
T: Follows the smell and adds the subtlest of spice. Way less than overdone or mass wits. A winner.
F: Fresh and refreshing. Great summer beer. Good weight, good tongue feel, yet light enough and refreshing. No cloy.
Try it.
See Carton Wit Whaler here:
https://docs.google.com/document/d/1HBeaQTaZtPW_q6FHR7N2lNWlBDPg7-dYBfF3wYzklos/edit
Sep 07, 2015

Billolick from New York
3.88
/5
rDev
+6.3%
look: 3.75 | smell: 3.75 | taste: 4 | feel: 4 | overall: 3.75
12 oz can purchased at Islip cold beer, Islip,NY. No freshness info that I saw.
Pours with a medium haze, lighter amber, looser and fine bubble off white mini head. Leaves some fine lace, film and thin collar
Lite pepper, ginger and wheaty malts on the nose
Light and refreshing, with more of the same on the palate. Pepper, and again lite ginger shining through. Fine summer sessioner. Glad to see more and more quality brews coming from the growing number of LI craft brewers
Aug 21, 2015
Flounder57 from Massachusetts
3.83
/5
rDev
+4.9%
look: 4.25 | smell: 3.75 | taste: 3.75 | feel: 4.25 | overall: 3.75
64 oz growler was poured into a pint glass.
Appearance: A one finger head was poured that reduced to a thin layer. It is a slightly hazy golden straw yellow with great clarity and vision of bubbles coming up through the glass. Spotty lacing down the glass as the beer was drank too.
Smell: Belgian yeast, light spices, toasted, bready, biscuity, and pale malts.
Taste: You definitely pick up pepper and coriander when drank with everything else mentioned above. Very balanced, tasty, and delicious.
Mouthfeel: Light, crisp, refreshing, a little chewy, medium carbonation, and light bitterness. Extremely crushable.
Overall: Just like title says, perfect for the beach and many other places.
Jul 07, 2015

Stignacious from New York
3.71
/5
rDev
+1.6%
look: 4 | smell: 3.5 | taste: 3.75 | feel: 3.75 | overall: 3.75
This one came off as a pretty standard witbier to me, cloudy appearance, a pillowy head that fades quickly away. I didn't pick up a ton on the nose, but tasted some fruit notes to complement a fairly full body. A refreshing summer beer, good overall
Jul 07, 2015
cosmicevan from New York
3.8
/5
rDev
+4.1%
look: 4 | smell: 4 | taste: 3.75 | feel: 3.5 | overall: 3.75
picked up a can locally, enjoyed from a tap n barrel wine glass.
a - brew pours cloudy soft white that settles in the glass as a cloudy orange and a frothy cap that hung out. chunky lace.
s - nose is soft banana and bubblegum. clove and vanilla. really candy like and inviting.
t/m/o - classic wit with a fairly full rich body. flavor profile is bold banana bubblegum...exactly as advertised by the nose. mild bitter bite on the finish and prickly carb. nice wit. refreshing.
Jun 08, 2015
Beach Beer from Port Jeff Brewing Company
Beer rating:
82
out of
100
with
36
ratings