Draught Works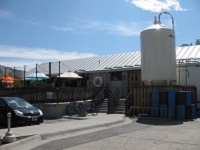 PLACE INFO
Type:
Brewery, Bar, Eatery
915 Toole Ave
Missoula
,
Montana
, 59802-2625
United States
(406) 541-1592 |
map
draughtworksbrewery.com
Notes:
Brewery and Taproom
Added by DraughtWorks on 11-06-2011
Reviews: 10 | Ratings: 23

3.9
/5
rDev
-5.3%
vibe: 3.75 | quality: 4 | service: 4 | selection: 3.75
(#11 of 49) This pub is located in an older, light industrial building with corresponding interior finishes. A nice patio with colorful umbrellas over the tables is loaced near the front door and looked inviting, but we chose to sit indoors. This is a large-sized pub but the place was not busy when we arrived, so we sat at the bar to try the beers.
We like to order sampler flights so that we can experience a variety of the beers at any brewery that we visit, but unfortunately this brewery does not do flights (two small tastes are offered per customer). So we ordered three pints with which to judge this brewery's beers (ten beers were on tap). Each of the beers was brewed very well to style characteristics so that we gave an overall grade of B to them. The Scepter Head IPA was notable, and the cream ale had good flavor to it, which was a nice experience when compared to most creal ales that typically are bland to appeal to the macro beer crowd. When in the area again we'd stop back here to try some of their other beers.
1,036 characters

4.12
/5
rDev 0%
vibe: 4.5 | quality: 3.75 | service: 4 | selection: 4.5
I visited Draught Works on my recent trip to Missoula and I loved it. 14 beers, including 7 regular and 7 seasonals (two kegs were blown), ranging an interesting collection of styles. The beer itself is decent, on average; I had a darn good Gose and a triple IPA that had its merits but didn't totally fit my palate. Service was good, despite being totally packed, and I loved the atmosphere it generated. There was a live bluegrass band playing that also livened the place up; definitely recommended.
505 characters

5
/5
rDev
+21.4%
vibe: 5 | quality: 5 | service: 5 | selection: 5 | food: 5
Fantastic beer ranging from sours to IPAs with everything in between. The staff was super friendly and helpful. Definitely worthy of their GABF gold medals!
158 characters

3.84
/5
rDev
-6.8%
vibe: 4.5 | quality: 3.75 | service: 3.5 | selection: 4
Visited Draught Works on a weekend, so the place was pretty busy.
The layout of the place is pretty cool, kind of an open warehouse feel with big sliding garage type doors to let in the sun and a decent breeze. We appreciated the kid-friendly atmosphere, with a chalkboard and a few games for kids to play with.
The beer selection is huge, unfortunately due to state law you can only have four samples per person.
The beer ranged from mediocre to pretty good, I didn't have anything that made me want to come back.
Prices were a bit higher than some of the other places in the area.
587 characters
3.75
/5
rDev
-9%
Did a sampler here with the dark beers being the best. Venue was nice and open, not too congested. Service was good, unaware they had any food. Nice place to visit in Missoula. Much quality but not upper echelon.
216 characters
4.13
/5
rDev
+0.2%
vibe: 4.5 | quality: 4 | service: 4.5 | selection: 4 | food: 3.5
Of all the Missoula breweries I've visited so far, this is the one I keep coming back to. The beer is very good, with each distinctive enough to merit trying. Scandinavily Clad baltic porter, Black Thai dark IPA, the Mexican Chocolate porter and Gwin Du oatmeal stout are a few of my favorites.
The way the floorplan is laid out around the tanks, with areas dedicated to bar; many tables; a kid-friendly side with smaller chairs, a blackboard and toys; a dartboard area; and an overflow side area with several narrow counters allows for comfort in almost any state of mind. The high ceilings throughout help to disperse the noise, even when the place is packed.
The baristas are friendly and service is snappy. Dare I say, hot as well. ;)
The 'food' isn't what you come here for. That's not to say anything bad about it, but more that it's a notch or two above 'bar snacks' and by no means intended to provide a meal. Delicious sourdough rolls, and three different flavors of cheese curds, in addition to trays of mixed nuts and snacks. I haven't tried the curds or mixed snacks so far.
All this said, the vibe of the so-called "Good 'Hood" west-side downtown area of Missoula is its own, and it defines the mood of Draught Works. Missoula is a pretty friendly place to begin with (and I say this as a newly transplanted Missoulian of only six months), but this place has an uncommon buzz and warmth.
1,404 characters
4.06
/5
rDev
-1.5%
vibe: 4.5 | quality: 4 | service: 4 | selection: 4
Stopped by here a couple of different times on our recent trip down to Missoula. I had sampled their IPA from a growler after they just opened up, and had been wanting to visit ever since. Very cool open tap room with the actual brewery tanks not even separated from the tap room by glass panels (as seems to be the trend with MT breweries). Really like the atmosphere. As far as the quality and service, nothing to complain about at all. Selection was nice, about 8 house taps. I understand they are starting to brew more and more seasonals, and they had both a couple regular brews and seasonal brews that I enjoyed. Will be visiting again for sure.
651 characters

3.63
/5
rDev
-11.9%
vibe: 4.5 | quality: 3.5 | service: 4 | selection: 3
Went here a while back on my way through Montana. Had heard about this place from my brother who lives up in Great Falls so decided to stop and check it out. Finding the taproom is a little hard its seems to be in kind of a weird spot. The taproom is one open space with brewing equiptment/fermenters ect all out in the open. The taproom is pretty good sized, with a few dartboards in the corner. I sat at the bar and had several samples before deciding on a pint of the Alt, which was good. The next beer I tried was their IPA which was ok as well. I didn't have any food but the food options were simple (cheese curds, chips and salsa), one of the cool things though is that they had free gardetos for snacking on!! Overall this is a pretty cool place. Their beer was not spectacular....I'd say average to slightly above average. I will be stopping in next time I'm thru Missoula.
882 characters
5
/5
rDev
+21.4%
vibe: 5 | quality: 5 | service: 5 | selection: 5
What a great addition to the Missoula breweries! I've been to this place more than a few times now and it's hands down my favorite Montana brewery.
The whole brewery / taproom is one continuous open space from the East end of the tap room floor back to the cooler on the far end. The whole brewing process can be viewed from the bar, and it's pretty impressive. Brick walls on all four sides, open truss ceiling, the largest outdoor patio I've seen at any brewery and a 30' bar crafted with logs salvaged from the bottom of Flathead Lake.
The space is great and the bartenders are great but the beers are the reason to visit Draught Works. I've been able to try all five of their staple beers, (Pale, IPA, Czech Pils, Stout and Alt) one of their weekly cask specials and I just tried their first seasonal. While the IPA is their standout beer, I have not had a single beer with any off flavors. Every beer has been extremely clean and very enjoyable. My favorite so far was the one-time cask Pale Ale, a truly incredible beer.
Go here. You won't regret it.
1,060 characters

4.16
/5
rDev
+1%
vibe: 4 | quality: 4.5 | service: 5 | selection: 3
I've been to this place several times since they've opened. The brewhouse and fermenters are in the same room as the bar, not behind glass or anything, which feels intimate. There is a long bar of recovered wood from Flathead Lake and a set of tap handles at either end.
Behind the bar are pretty great bartenders who really know the beers they brew. I mentioned the great IPA to one of them and she gave me the hop bill off the top of her head.
There is a big patio which we haven't made much use of yet due to the weather, but it has huge capacity and will be great once it warms up again. There is a shelf with some games on it. We play cribbage some nights, or play cricket on the dartboards in a corner.
The beers are all solid or better. The IPA is the real standout, hands down the class of the town, and to me the only Montana IPA I've had that competes with Blackfoot River's Single Malt IPA. There is a beer engine at the bar and the promise of different sorts of things on cask once things settle down from the opening.
Draught Works seems to be pretty active with other local businesses in town. One thing this led to is the great bartop that a local woodworker made for them. Another thing is that they've built relationships with local food trucks which park outside, so they can serve food without breaking the idiotic state law prohibiting them from preparing food on site. There are three or so places that come by with some regularity so that two or three nights a week there is food outside.
Overall, this is my favorite Missoula taproom. Well worth a look if you're in town.
EDIT - After 6 months of being open, I have a critique. I wish that their brewing system wasn't 15 bbl, because it discourages them from brewing experimental batches. The cask night is good for variety, but other than that, they are focused almost exclusively on their five regular beers, usually with one seasonal on tap. I would guess that with a brewhouse half the size, they could brew more often and do different styles. To me a better balance would be 3-4 regulars plus at least 3 seasonal/rotating/experimental brews. But that's a qualm with their business model, not the quality.
2,190 characters
Draught Works in Missoula, MT
3.83
out of
5
based on
112
ratings.