Ass Kisser Strawberry Wit
| Ass Kisser Ales
BA SCORE
72
okay
14
Reviews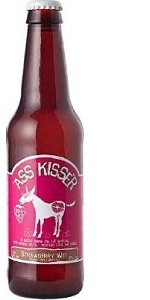 BEER INFO
Brewed by:
Ass Kisser Ales
California
,
United States
asskisserales.com
Style:
Witbier
Alcohol by volume (ABV):
5.80%
Availability:
Spring
Notes / Commercial Description:
No notes at this time.
Added by Brad007 on 04-04-2012
This beer is retired; no longer brewed.
Reviews: 14 | Ratings: 40

2.58
/5
rDev
-2.3%
look: 3.75 | smell: 2.5 | taste: 2 | feel: 3.5 | overall: 3
Poured from a 12 oz bottle into a small goblet. Left the sediment in the bottle; no extra B vitamins today.
A - Pours a pale gold with slight haziness. Two fingers of creamy off white foam and plenty of carbonation. Looks like a bottle conditioned wit.
S - Smells like strawberry juice. Not getting any yeast, malt, or hops. Just strawberries, which I guess is good if you're into that.
T - The blast of strawberry that overpowered the nose is mysteriously gone. I taste yeast and bread. Tastes like Duffy bread. Not too pleasant. The more I drink, the more I get a hint of fruit juice.
M - Mouthfeel is surprisingly not bad. Bright and bubbly with a clean finish.
O - I wouldn't suggest offering this beer as a way to kiss your boss' ass, as suggested on the label. Someone else will probably get the promotion.
817 characters

2.98
/5
rDev
+12.9%
look: 3.5 | smell: 3 | taste: 3 | feel: 2.5 | overall: 3
22 oz. bottle poured into a pint glass. Never seen this beer before today, and never seen the brand outside of BevMo here in SoCal. Pours a hazed lemon/orange with a thin cap of whitish foam which sticks around moderately.
Nose of strawberry, wheat and yeast with a light funkiness imbued through it all. Strawberry notes are a bit artificial as expected and remind me somewhat of that strawberry milk powder as a kid. Still there's enough balancing factors to keep it from deterring too much.
Taste offers a less prominent berry influence than the nose might suggest. Slightly grainy in taste and with a light coriander spice. Pretty standard on the feel and finish though does come up a bit short as a witbier in that the wheat influence is a bit subdued and the carbonation a bit light. Better than feared after seeing a few reviews but not something I'll be returning to either. Still, likely an older than maybe it should be wit though no date code to be found on bottle.
978 characters

2.16
/5
rDev
-18.2%
look: 2.75 | smell: 2.25 | taste: 2 | feel: 2.5 | overall: 2
Poured into a perfect pint.
2.75 A: Lightly hazed medium yellow color. One finger of frothy white head. Retention is below average and a touch of lacing is left.
2.25 S: Smells like those strawberry crispy cookie things. The ones with the white creamy stuff in layers. That's about all it smells like.
2.0 T: Tastes kind of like how it smells, but if you threw the cookie things in a pale ale. Not crazy about it.
2.5 M: Lighter to lighter medium body. Moderate carbonation but lacking creaminess.
2.0 D: Sucks. That's about all you need to know.
553 characters
2.86
/5
rDev
+8.3%
look: 3.5 | smell: 3 | taste: 2.5 | feel: 3.25 | overall: 3
Strong aroma is almost entirely strawberry. I love strawberries, and I enjoy strawberry beer - but when strawberry overwhelms all of the other aromas, that is a bit much. Pours a clear canary yellow with a fairly thick white head. Flavor is - meh. At least strawberry doesn't dominate the flavor as it does the bouquet (can one say that in a beer review?), and the malty and hop-woody flavors do outweigh the strawberry, though there is a nice hint of sour citrus, the flavor lacks depth and strength. Texture has decent fizz, but body is lacking. Oh well, back to the drawing board, so to speak.
598 characters

2.22
/5
rDev
-15.9%
look: 2 | smell: 2.5 | taste: 2.25 | feel: 2 | overall: 2
Cloudy yellow colored beer with a small white head.
Smell is strawberry and wheat malt. Little bit of vanilla and caramel in the smell.
Starts out slightly sweet with a mild strawberry scent. Little bit of hop bitterness and a seltzer water carbonation level.
Mouthfeel is light.
Overall not that great, Blue Moon is far better.
332 characters

3.18
/5
rDev
+20.5%
look: 3 | smell: 4.25 | taste: 2.75 | feel: 2.75 | overall: 3
12 oz bottle poured into pint glass.
A: Poured a hazy faint yellow orange with a good fingers worth of head that settles to a small ring with little to no lacing.
S: A really nice whiff of strawberries and a little floral hops with a touch of sweet malt lingering under everything.
T: Very surprising... not a lot strawberries in the taste... More sweet malt with a grainy grassy hops mixed in. Finish is a little bitter with a hint of strawberries only in the aftertaste.
M: Pretty light bodied with some sharp carbonation that is very lively on the tongue, finish is a little on the dry side.
O: Not a bad beer to say, but not a very good fruit beer, if that was what they were aiming for. If you are looking for strawberry, look elsewhere.
747 characters
2.4
/5
rDev
-9.1%
look: 3 | smell: 3 | taste: 2 | feel: 3 | overall: 2
Bottle pour at the BevMo Holiday Beerfest held at Golden Road Brewing in Los Angeles, CA.
Pours a murky orange with a foamy bone colored head that settles to a film on top of the beer. Small dots of lace slowly drip into the remaining beer on the drink down. Smell is of malt, grain, and an artificial strawberry aroma. Taste is much the same with a soapy and medicinal strawberry flavor that lingers long after each sip. This beer has a low level of carbonation with an almost flat mouthfeel. Overall, this is a poor beer with fake aromas and flavors that make it a chore to drink.
584 characters
1
/5
rDev
-62.1%
look: 1 | smell: 1 | taste: 1 | feel: 1 | overall: 1
My wife's aunt always comes to visit for the holidays and simply loves fruity beers and lambics. I usually buy her a Samuel Smith's Organic Strawberry or Raspberry when she visits. It used to be Lindeman's, but that stuff is about 2.1% and I needed to upgrade her from a foo-foo spritzer to a semi-foo-foo beer. So I've been going with the Sammy's until this Thanksgiving I spotted the Ass Kisser Strawberry Wit. Naturally, I thought, for $18.99 a six pack, this stuff has to be delicious!!!!
Thanksgiving rolled around and I cracked open my freakin' delicious Shed Mountain Ale while I served my aunt-in-law her strawberry Ass Kisser. I noticed throughout our entire dinner that my aunt-in-law hadn't had more than a sip of her beer. I asked her if it was good and out of sheer politeness she said, "yes." no other comments. Typically, she raves about how delicious the beers I get her taste.
This was a dead issue until the next night when we had 5 of the 6 beers left. I gave my wife one to try and she said that it tasted like Budweiser mixed with sharp tangy cat urine. I said, "Well your aunt liked it," and she replied, "my aunt poured it down the drain when you got up from the dinner table to change the baby's diaper!" WHAT! That's $3.00!!!! She poured it down the drain!!!!
After hearing that, I just had to try one. AND sure enough, it has been confirmed by my ultra superior beer master sommelier tasting skills: This beer tastes like carbonated feline urine. I can't even taste a strawberry unless a cat urinated on the exact strawberry that was responsible for flavoring the 6 beers that were in my $19.00 six pack.
I know everything on every shelf in my liquor store's beer aisles, so I know this beer was new, and not one of those dust covered six pack of Octoberfest that you'd find in Mid-July. This beer was fresh from the brewery, so Ass-Kisser can't play the "old beer" card.
Just avoid it! Stick to something else like Sammy Smith's or even Sam Adams Strawberry. Half the price and it doesn't taste like kitty pee.
The price tag is the real shocker, $18.99! Are you nuts? In fairness, I even drank the whole bottle hoping it would grow on me, but I guess you can drink sip after sip of pee and it's still going to taste like pee.
I give this beer an F!!!! Or what I would like to give it is an F$#%! If Ass Kisser wants to kiss my ass they can make a strawberry beer that tastes like strawberries and charge $10.00 for a six pack. In addition, filter this beer! I almost choked to death on all of the damn sediment!!!! I thought I was drinking a snow globe! Thank you.
2,600 characters

1.61
/5
rDev
-39%
look: 3 | smell: 2 | taste: 1 | feel: 2.5 | overall: 1.5
Served in a Lagunitas mason jar.
MST3K deserves a fitting pairing. Enter: Ass Kisser Berry Nice Ass strawberry witbier. BAM! This stuff pours a lightly hazy pale straw topped by a half-finger of short-lived lightly off-white foam. The nose comprises strawberry Runts, Country Time lemonade, and a touch of funky wheat for the sake of variety. The taste bludgeons my tongue with some sort of putrefied stone fruit that happens to have been sprinkled with the remnants of inappropriately-aged lemon-topped oatmeal. This is horrendously bad right here. The body is a light medium, with a light moderate carbonation and a slightly watery feel. Overall, a terrible mess of a beer, one with no redeeming value, and one that challenges the amount of painful sadness emitted by this episode ("Being from Another Planet"). Damn.
820 characters
1.98
/5
rDev
-25%
look: 4 | smell: 3.5 | taste: 1 | feel: 3 | overall: 1
22 ounce bottle - $7.49 at Total Wine & More in Kennesaw, Georgia.
Appearance: Pours a bright yellow body, fairly clear, with an inch-high head of white foam.
Smell: A scent of strawberry additive with some modest maltiness lingering, languishing underneath.
Taste: Scant pale malts, faintly grainy, with little imparted sweetness, and not very much strawberry flavor, really. Then, all the flavors (and hope of at least an acceptable fruit beer) vanish, leaving a strong ground aspirin flavor. Bleh!
Mouthfeel: Medium-light body. Medium-high carbonation.
Overall: Bleh! A failed beer.
590 characters

3.11
/5
rDev
+17.8%
look: 4 | smell: 3 | taste: 3 | feel: 3.5 | overall: 3
Poured into my Busch Gardens Budweiser Select flute. Looks like a Witbier.. Big delicately bubbly white head, decent retention and some lacing.
Smell is very ordinary, kind of an artificial fruit/vegetable smell.
Taste is pretty average also. Lemon zest and artificial strawberry flavor (when warmed up). Cold it is more a generice fruit/vegetable taste.
Mourfeel is light and crisp Good as a thirst quencher / lawnmower beer for the warm weather.
Not terrible, but nothing special.
486 characters

3.47
/5
rDev
+31.4%
look: 3 | smell: 3.5 | taste: 3.5 | feel: 3.5 | overall: 3.5
Served the beer from 22oz bottle .
Poured into Tulip Style Glass - Cloudy and Straw colors with light foam. Has a light beer and yeast aroma. Taste is zesty and full of citrus and coriander tones. Has the finish of the strawberry as it warms in the glass. Not sweet just the the slight note of it. Beer really is refreshing cold but will open up with the strawberry aroma when it warms up a little. A solid spring seasonal. Great Brunch Beer.
443 characters
2.52
/5
rDev
-4.5%
look: 3 | smell: 3.5 | taste: 2 | feel: 2 | overall: 2.5
Was curious about this beer.
Poured a pale yellow with just a ring of offwhite head.
smelled of faint strawberry, made me eager to taste.
Taste, not good. Thought the strawberry would be pertinent, but it seemed longed for. The beer was bitter, and left an unpleasant aftertaste.
Overall, a great idea, but not very well executed. wouldn't reccommend this beer.
367 characters

3.66
/5
rDev
+38.6%
look: 4.5 | smell: 3.5 | taste: 3.5 | feel: 3.5 | overall: 4
This hasn't been added so I thought I would add it, despite my reservations about this brewery.
Pours a cloudy whitish-yellow color with a one-finger head into my glass. It's bright and easy.
Sweet with the unmistakable essence of strawberry on the nose. Light and likely very crisp.
Flavors are somewhat flat, with sweet strawberry essence, wheat and a bit of citrus.
Mouthfeel is middle of the road too. Still clean regardless.
Not a bad attempt here. It's better than the hefeweizen but not by much.
518 characters
Ass Kisser Strawberry Wit from Ass Kisser Ales
2.64
out of
5
based on
40
ratings.