Big Texan Brewery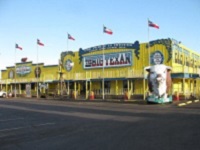 PLACE INFO
Type:
Brewery, Bar, Eatery
7701 I-40 E
Amarillo
,
Texas
, 79118-6915
United States
(806) 372-6000 |
map
bigtexan.com
Notes:
No notes at this time.
Added by DenverLogan on 12-02-2011
Reviews: 4 | Ratings: 11

3.88
/5
rDev
+7.2%
vibe: 3.5 | quality: 3.75 | service: 4.25 | selection: 3.75 | food: 4
It's a tourist trap? OMG no way....
The place is HUGE, as it should be since it is a tourist trap. Pretty much empty when we got there for lunch. Restaurant on the right side, other stuff on the left. Service was awesome. He came around about 5-6 times before and during our meal and catered to us throughout our entire meal. Quality was pretty good, food was better than the beer. Beer selection was limited to their own beers which was a bit of a letdown. I got the whiskey BA oatmeal stout which was ok at best, very little whiskey. Food was awesome as expected. I got the 21oz Sirloin and it was perfectly cooked and tasted great. Prices were more than reasonable for what you get. Overall, yes it is a tourist trap but what were you expecting?
★
748 characters

3.34
/5
rDev
-7.7%
vibe: 3.5 | quality: 3 | service: 3.25 | selection: 3.75
There is no doubt that this place is a massive tourist trap, as one of the reviewers below me said.
Huge, outrageous tourist trap. You can smell the tourist stench miles away from Amarillo. There are even Europeans here! Making their way through Route 66 and ordering "two beers" at a place with 12 different taps...
I had to at least check it out and run away. And that I did. There was quite a wait for dining but the bar was open so there we went... I tried a four-beer sample for $5.50 plus a pint for the same price.
Service was efficient but not super friendly. I can tell they have to deal with a lot of irritating tourists here. The whole place looks like a Vegas version of Texas, but not quite offensive. Busy on a Friday night, yet not outright crazy.
I tried the Whiskey Barrel Stout, Jack Rabbit Red, Pecan Porter, Rattlesnake IPA and Donkey IIPA. The pale ales were the only good beers... some of them were flat-out horrible. Either too flat, or too sweet, or too unbalanced, or just plain wrong (no whiskey on the whiskey-barrel stout).
We brought home a $15 growler of the Donkey Double IPA, which was our favorite, and even though we consumed it two days later in Lubbock, it held up fine.
We didn't have any food- to be honest, the fare here looked like it was straight out of a Golden Corral or a Denny's. No thanks.
★
1,347 characters
2.93
/5
rDev
-19.1%
vibe: 4 | quality: 2.5 | service: 3 | selection: 3.5 | food: 1.5
Okay let's start from the top. This place is a total tourist trap. Not that that is in and of itself a bad thing. If you're from out of state you'll probably enjoy the over the top cowboy theme quite a bit. There's a big gift shop. All the wait staff dresses in cowboy attire.
I went only because they started brewing there and thought it'd be worth trying as the beer pickings in Amarillo are kinda slim. I tried the IPA and the pecan porter, my wife had the pale ale. The pale ale really isn't a pale ale, more of a blonde ale which for a blonde ale it was good.
The IPA came to the table with no head which means it sat at the bar for 5 minutes before I got it. Unfortunately it wasn't very good. Under-attenuated, under-carbonated, and lacking much hop character. The bitterness level was right but was in dire need of some late hop additions or dry hopping.
The pecan porter wasn't much better. All I could taste was artificial pecan extract which tasted a bit like artificial pancake syrup.
We weren't there for dinner but were a bit hungry so we ordered the "prime skins" which were potato skins with bits of prime rib in them. Really they were under-fried potatoes with a bit of barely melted cheese and meat that tasted like garbage. The "prime rib" tasted like it had been soaked in Worcestershire sauce for a month then roasted into a dry leathery consistency.
The one bright point for the food was the candies and fudge they sell there. It was delicious and we bought some to take home.
Overall the place is overpriced ($10 for those crappy skins) and the beer is okay at best. The food we had flat out sucked. If you're from out of state and want to indulge in stereotypical Texicana then you'll enjoy the atmosphere. Otherwise go eat at Coyote Bluff for a good meal, and find a six pack of Sierra Nevada until you get back to beer-civilization.
★
1,870 characters

3.65
/5
rDev
+0.8%
vibe: 4 | quality: 3.5 | service: 4 | selection: 3 | food: 4.5
Alrighty then...it's been a while since Amarillo had a little brewery. Anyway, this one is unique! The Big Texan is a large cowboy themed steakhouse, with a bar area and separate large open restaurant with booths and communal tables. The outside is decked out with giant cowboy boot, bull and cowboy. You can spot this place from the highway!
Inside there's games for kids, weird things in corridors (Egor will tell your fortune), and the big dining area that overlooks the kitchen. All the staff dress in cowboy attire and the sound of boots on floors is loud.
The food offerings are not cheap, but a big quality steak is expensive. On the other hand, the house beers are reasonably priced, and I found the bock decent and the IPA darn tasty (I had two). They also have Andy's Winter seasonal which was darn tasty also. They had a porter that I thought OK, and a few other lighter beers...about 7 total.
I'd happily visit again if in Amarillo! Also, they have a motel next door that is also nicely decorated. And there's a horse hotel...just in case you're bringing Lassie along!
★
1,082 characters
Big Texan Brewery in Amarillo, TX
3.51
out of
5
based on
127
ratings.