Icelandic Lime & Juniper Pils

Einstök Ölgerð (Einstök Beer Company)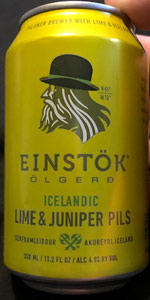 Rate It
Beer Geek Stats
| Print Shelf Talker
Style:

ABV:

4.8%

Score:

Avg:

3.81

| pDev:

8.66%

Reviews:

9

Ratings:

From:

Avail:

Rotating/Seasonal

Wants

Gots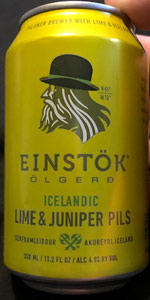 Notes:
A unique blend of Icelandic Juniper berries and a dash of lime, combined with Noble hops and Munich malt, evoke classic Gin & Tonic cocktail-inspired flavors that make this a refreshing craft beer like no other. The senses are greeted with a vibrant citrus aroma, crisp mouthfeel, and dry bitterness on the finish that result in a naturally sessionable Icelandic beer truly inspired by the famous tipple.
30 IBU.

Smakawhat from Maryland
3.59
/5
rDev
-5.8%
look: 4 | smell: 3.75 | taste: 3.5 | feel: 3.5 | overall: 3.5
Poured from the can into a Libbey style pilsner glass.
Mostly clear bodied, but hints at a just faint slight hazy light brass yellow appearance. Nice linear small carbonation reaching to a good bubbly bright white three finger head. There's some retention here, almost IPA like thick and clingy with a nice cap.
The aroma is lime, but smells more like Rose's lime cordial than anything natural. There's a nice earthy herb behind it, definitely the juniper and luckily not too strong either. Other lager charactreristics are either really burried or highly masked, and probably the latter.
Palate comes across slightly and noticeably watery. Light and wet bodied a bit, with not much crisp mouthfeel. Minimal malt density with a weak lime and wet flavor. Some of that earthy juniper transpires but comes off just out of place. Still fairly clean, with a distinct finish and a little hint of lime zesty oil which is nice.
I like the concept but it didn't come out as great or memorable in the final product. Certainly drinkable and fine regardless.
Oct 30, 2021

Weisenbeer from Ohio
4.22
/5
rDev
+10.8%
look: 3.75 | smell: 4.25 | taste: 4.25 | feel: 4.25 | overall: 4.25
Hard to pack flavor into a Pils .... But these folks from Iceland have figured out how to do it.... Mine is icy cold and it's a pretty hot October afternoon so it tastes mighty fine
Oct 09, 2021
gvickery from Texas
4.92
/5
rDev
+29.1%
look: 4.5 | smell: 5 | taste: 5 | feel: 5 | overall: 4.75
I bought this in a single can, it sounded weird.
Looks mostly clear, light gold/yellow.
Smells great, big hit of juniper and lime followed by some white bread/crackers.
Taste is similar, the lime is most prominent but perfectly balanced, the juniper is more subtle.
It's crisp and dry, very refreshing. Awesome complex pils. Don't be put off by the juniper and lime, it works perfect.
Sep 18, 2021
jonphisher from New Jersey
3.9
/5
rDev
+2.4%
look: 3.75 | smell: 3.75 | taste: 4 | feel: 3.75 | overall: 4
This one pours a pretty much clear gold, big puffy and rocky perfectly white head. Some decent retention with no lacing.
The aroma is mostly lime with some piney like smells I associate with gin and tonic. I really know nothing about juniper but I guess that's what adds that noticeable smell.
The taste is, well, gin and tonic in beer form, no other way to put it. It does have some added cracker like notes from the beer side of things.
Nice light body, smooth carbonation, goes down easy and finishes with a piney lingering bitter just like a gin and tonic.
This beer is perfect for what it is supposed to be, it is gin and tonic in beer form. It has the added body of beer which is actually even more welcoming to me than a normal gin and tonic
Sep 06, 2021
InspectorHound from Canada (ON)
3.61
/5
rDev
-5.2%
look: 3.5 | smell: 3.75 | taste: 3.5 | feel: 3.5 | overall: 3.75
Look: Clear, bright gold colour. Pours with a one finger white head. The head disapates quickly leaving a tiny bit of lacing.
Smell: Juniper, lime, and general citrus twang.
Taste: Dry straw on the front end giving way to lime and juniper berries in the middle. Hints of sour apples on the back end.
Feel: Dry and crisp. Slight minerality expected with tonic water.
They bill this as gin and tonic inspired, I would concur....it's not trying to be a gin and tonic so don't go in expecting that. If you go in thinking it's an homage to gin and tonic in Pilsner form you will be in for a treat. This earns a B.
Dec 06, 2020
imnodoctorbut from Texas
4.25
/5
rDev
+11.5%
look: 4.25 | smell: 4.25 | taste: 4.25 | feel: 4.25 | overall: 4.25
clear yellow gold body pours with a white frothy head that had moderately high retention and leaves lots of sticky lacing behind as it settle to a patchy cap
aroma is bright citrus lime and juniper with light malt
tastes like a pleasant gin drink! juniper and lime working together splendidly, backed up by a decent malt kick
high carbonation and medium-lite body, with a smooth tart kick that finishes slightly dry and earthy bittersweet lingers on the roof of the mouth.
overall:
new favorite session brew. tastes like a gin drink that I can sip to oblivion with little next-day repercussions.
Oct 11, 2020

woodychandler from Pennsylvania
3.96
/5
rDev
+3.9%
look: 4.5 | smell: 4 | taste: 3.75 | feel: 3.75 | overall: 4.25
I was able to leave work early yesterday due to a family emergency & now, all is well & I still have a good bit of time before I have to go back into work. As such, it seems like a good CANportunity to indulge in The CANQuest (tm) & drink, review & rate some CANned beers!
From the CAN: "Pilsner brewed with Lime & Icelandic Juniper Berries"; "Noble hops and Munich malt, along with a unique blend of Icelandic Juniper berries and a dash of lime, evoke classic cocktail-inspired flavors, all in a refreshing craft beer like no other."; "N 65º W 18º".
I Crack!ed open the vent on this wee 11.2-fl oz CAN & beCAN a slow, steady C-Line Glug into the awaiting glass. This resulted in the formation of two-plus fingers of billowy, foamy, rocky, bone-white head with decent retention. Color was a pretty Yellow-Gold (SRM = 4 - 5) with NE-quality clarity, prompting yet CANother impromptu visit from The Gelt Gang of Midas, Mammon & Croesus, all clamoring for a taste. Nose was redolent with lime! Mmm. Mouthfeel was thin-to-medium, not watery, but on-par for a Lager of any stripe. The taste was imprecisely of a gin & tonic, but I certainly recognized the flavors. I CANnot say that I have ever had juniper berries outside of an alcoholic beverage, usually gin, but I CAN recognize the flavor. I liked the interplay of the lime citrusiness with the soft biscuitiness of the malt and the tang of the juniper berries. It was certainly much drier than a German Pilsner would be expected to be, but it also did not have the standard Saaz hoppiness of a Czech Pils. I mention this because I rate to style, not to taste, except "Overall", which is my summation. Finish was crisp & dry & would make for a refreshing drink on a hot, humid Summer's day, either in the backyard or on the beach. YMMV.
Sep 17, 2020
bankboy66 from New Jersey
3.53
/5
rDev
-7.3%
look: 3 | smell: 3.75 | taste: 3.5 | feel: 3.5 | overall: 3.5
Pours very clear with no foam. Smell is lime and florals but not overpowering. The taste is somewhere between a traditional pilsner and a Mexican lager. There is a little bit of tart and spiciness on the back end. Not bad
Jul 05, 2020
LoganFarinhas from Pennsylvania
3.77
/5
rDev
-1%
look: 3.75 | smell: 4.75 | taste: 3.25 | feel: 3.5 | overall: 3.75
C: Crisp, Light, Clear, Lively. Not very good head retention or production. Little to no lacing.
S: Smell is wonderful! Smells of Lime and fruit, citrus, piney (juniper), there is a sweet reminds me of a salted grapefruit
T: Disappointing to say the least! The taste is very similar to just a classic pilsner, there isn't a great lime and pine flavor which actually surprises me because the smell was the opposite. It does have a sharper taste to it though, and I do get a bit of a spicy and boozy taste from it as well which isn't too pleasant. There is a decent hoppy flavor in the after taste.
F: Light-bodied, crisp, carbonated, seltzer-like, coarse.
Jun 30, 2020
Icelandic Lime & Juniper Pils from Einstök Ölgerð (Einstök Beer Company)
Beer rating:
86
out of
100
with
25
ratings