St. Angus
| Draai Laag Brewing Company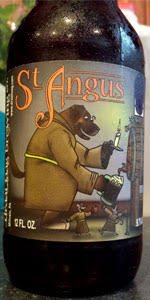 BEER INFO
Brewed by:
Draai Laag Brewing Company
Pennsylvania
,
United States
draailaag.com
Style:
Belgian Strong Dark Ale
Alcohol by volume (ABV):
9.70%
Availability:
Rotating
Notes / Commercial Description:
No notes at this time.
Added by RblWthACoz on 05-12-2013
Reviews: 10 | Ratings: 31
3.65
/5
rDev
-10.3%
look: 3.5 | smell: 3.5 | taste: 3.75 | feel: 4 | overall: 3.5
Pours a very carbonated deep plum. Head dissipates quickly. Clove and cinnamon shine through on the aroma with a little belgian yeast / hay undertone. The orange is there if you strain. Taste is very spice forward with lots of clove & coriander right off the bat. That fades and the end has more of the ginger and some Belgian yeast. Orange at the ebd, but I felt it clashed with the rest of the brew. Honey is there for mouthfeel which is slick. The spice / sweet combo here is unique and the beer has lots going on, but not all the flavors compliment each other and the spice overwhelms at the beginning. Draai Laag turns out interesting beers, but this isn't their best.
★
674 characters

4.4
/5
rDev
+8.1%
look: 4.75 | smell: 4 | taste: 4.5 | feel: 4.5 | overall: 4.5
500 ml bottle from Draai Laag's winter pack—into a Draai Laag tulip.
I call this Draai Laag's "winter warmer." Ginger-forward, spicy-clovey, molasses, and I get the slightly bitter citrus finish that another reviewer called buried Triple Sec : )
At 9.7%, it's a sipper. Complex like all Draai Laag concoctions.
★
324 characters
4.82
/5
rDev
+18.4%
look: 4.75 | smell: 4.5 | taste: 5 | feel: 5 | overall: 4.75
I have visited the Draai Laag Brewer on several different occasions and have never had a lousy beer. All they do is churn out delicious beer.
I would guess I have tried 8-10 of their beers. My biggest complaint is that the names of the beers are so incomprehensible, that my brain does not remember which ones I have had.
I do remember St. Angus. It is excellent. Smooth, Strong, Bold Flavor that tastes like a big beer should.
★
433 characters
4.45
/5
rDev
+9.3%
look: 4 | smell: 4.5 | taste: 4.5 | feel: 4.25 | overall: 4.5
Draai Laag "St. Angus"
12 oz. brown glass bottle, no apparent freshness dating
$63.68/case @ Holiday Beverage Inc., Indiana, PA
St. Angus pours a very dark, almost black mahogany brown body that gleams with ruby-crimson highlights. The short head of tan foam drops steadily to an average collar and whispy surface covering.
Spice greets you in the nose, with clove and cinnamon leading the charge while ginger brings up the rear. Soft dark fruits round it out, and it's reminiscent of Xmas.
At first sip, the spices take a step back in the flavor as the malt is much more solid than the noses suggests, adding notes of toasted dark bread, medium-dark caramel, baked apples, and an edge of burnt sugar. The spices return with strength across the middle though, and it's very much like gingerbread or a dark carrot cake until the fruitiness steps in and ushers you towards the long lingering finish. A solid bitterness anchors it, and although it's sweet upfront and along the edges after you've swallowed, it's not what you might call a "sweet" beer as the spices continually help to dry it. As it lingers, the dark fruit fades and the spice returns, lighter than it was, but still quite clear, carrying over to top-off a slice of warm apple pie and a caramel-drizzled piece of toasty bread.
Quite the festive holiday beer! It takes the traditional holiday spiced ale that I'm so used to and turns it Belgian - or is it the other way around !?! I'm not sure I could ever drink this without referencing Xmas in my mind. That's not to say that I'd only drink it between Thanksgiving and the New Year, because a little bit of Xmas cheer is welcome anytime, but the choice of spices could never slip by unnoticed. So, at the very least, St. Angus is my new favorite holiday beer, and I intend to have it on-hand as the last beer of the evening on Thanksgiving night, and the first beer of the evening on Xmas eve! Well worth seeking out.
★
1,936 characters
4.37
/5
rDev
+7.4%
look: 4.25 | smell: 4 | taste: 4.5 | feel: 4.5 | overall: 4.5
22oz bottle poured into a Draai Laag tulip.
Wow, this is really nice. Clove, ginger, cinnamon, dark fruit. Significantly more mellow, smooth, than similarly styled Belgians than I've had previously.
Overall another very strong effort from an up and coming local Pittsburgh brewer. Absolutely recommended.
★
309 characters
3.76
/5
rDev
-7.6%
look: 3.25 | smell: 4 | taste: 3.75 | feel: 3.5 | overall: 3.75
Poured into a tulip: Deep plum that you can just about round up to black, nice little bit of ruby highlights around the edges. No head, unfortunately.
Cinnamon & clove jump right out of the glass, with the ginger following close behind. A little bubble gum, a little grape jam. Even develops a kind of Pumking pie crust/graham cracker smell. Really bright spices, not muddled at all. There's some triple sec lurking down in there too, on the fence between citric & fusel.
The spices hit all at once in the taste - the ginger drops out first, then the orange, & the cinnamon & clove linger, ushering in a moderate alcohol taste & dropping a taste like apple pie (moonshine?). Long aftertaste has a nice baked apple as well.
Mouthfeel was a bit of a letdown at first with the low carb, but the spice & booze are active enough to liven it up a bit.
Honestly, the more I drink it, the more I'm thinking "Pumking - pumpkin + apple". Like other recent Draai Laag brews, this is still a thinker, but it's also genuinely pleasing & enjoyable.
★
1,045 characters

4.13
/5
rDev
+1.5%
look: 4 | smell: 4 | taste: 4.25 | feel: 4.25 | overall: 4
St Angus
Pours a deep brownish amber with a white head and lacing. A careful swirl brings the head back gracefully. An excellent presentation.
The aroma has spice, brown sugar, and molasses with a Belgian yeast edge.
In the taste, rich sugary malts, fig, date, molasses, earthy cinnamon, light herbal hops, pepper, clove, nuts and vanilla.
A most delicious, full bodied ale with a medium to high carbonation. Clean finish.
Overall, this festive ale has good character and body. An ale like this is worthy of any celebration. Not too spicy, well rounded brew. Recommended.
★
576 characters
4.24
/5
rDev
+4.2%
look: 4 | smell: 4.25 | taste: 4.25 | feel: 4.25 | overall: 4.25
Pours very dark burgundy with very little head as to be expected of a high alcohol belgian strong ale. Smells malty with hints of tart cherry. Little carbonation. Tastes malty with flavors of cherry, clove, and plum. Hides the 9.7% alcohol very well. Overall a very unique and flavorful beer. Classified as a belgian strong ale, but like most draai laag beers breaks the mold of traditional beer styles and is worth giving a try. Recommended if you tastes lie with maltier, less hoppy beers.
★
491 characters

3.76
/5
rDev
-7.6%
look: 3 | smell: 3.75 | taste: 4 | feel: 3.25 | overall: 3.75
Fairly dark burgundy brown. Overpour skips out on any head. A ring is all I have.
Autumnal spices, clove, rum raisin, light fig, dark honey, booze, and yeast cake. Quite the cross between malty/spicy fall ales and Belgian strong darks.
Heavy clove, licorie, dark rum, honey, cocoa, spicy booze, raisin, fig, and light coffee notes. Quite nice if it weren't for a super-chalky yeast character. It really dries up the feel despite a prominent sweetness in flavor. Strange juxtaposition. Sticky as hell. Carbonation has a nice burble to it.
A fantastically unique BSDA. Never had one with so much of a pumpkin ale bent to it. Recommended.
★
638 characters
3.72
/5
rDev
-8.6%
look: 4 | smell: 3.75 | taste: 3.75 | feel: 3.75 | overall: 3.5
Very malty smoky beer. Lots of figs and dates. Noticable ginger with a lot of orange peel. This is a thick beer. Hearty and very much a sipper. I couldn't go for more than one of these honestly. Unless it was significantly aged.
This will also have a bottled version.
★
270 characters
St. Angus from Draai Laag Brewing Company
4.07
out of
5
based on
31
ratings.