Voltage Espresso Stout
| Hoyne Brewing Co.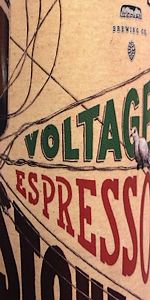 BEER INFO
Brewed by:
Hoyne Brewing Co.
British Columbia
,
Canada
hoynebrewing.ca
Style:
American Stout
Alcohol by volume (ABV):
5.60%
Availability:
Rotating
Notes / Commercial Description:
Shaner D and I doing the live circuit at Beer fest, alternating the spro and stout: "Let's make a beer with shocking polarity." "Black on black" I agreed. Tommy D, always the conductor, kept us grounded with his three-pronged wisdom: "Like love, boys, it starts with a spark. When the field is fully charged, flip the switch: Voltage!"
Added by LampertLand on 11-21-2012
Reviews: 8 | Ratings: 25
3.69
/5
rDev
-0.8%
look: 4 | smell: 3.75 | taste: 3.5 | feel: 4 | overall: 3.75
650ml bottle - once again, I love the brewer's notes on here. Cuing up a nice retro dose of AC/DC's 'High Voltage' for this one.
This beer pours a pretty solid black, yet with prominent red cola basal highlights, and a near teeming tower of puffy, rocky, and chunky brown head, which leaves some random coral atoll lace around the glass as it slowly but surely abates.
It smells of gritty and grainy caramel malt, some thankfully tame acrid espresso notes, subtle bittersweet cocoa powder, an indistinct oily nuttiness, a hint of sour cream, and some rather minor leafy, earthy, and herbal green hop bitters. The taste is pithy milk chocolate, plain cafe-au-lait, perhaps a further bit of overwrought hipster coffee acerbity, grainy and bready caramel malt, and more tame earthy, musty, and herbal hoppiness.
The carbonation is fairly underwhelming in its ho-um frothiness, the body an adequate medium weight, and generally smooth, with a small airy creaminess lifting off sometime just after the onset. It finishes off-dry, the caramel, creamed artisanal java, and cold cocoa characters presiding.
Overall, this is an agreeable enough coffee-laced stout, in the sense that the proclaimed java attack never really materializes, which is a-ok by me. If they have to do this to an otherwise innocent stout, then at least be gentle, and a bit delicate about it. 'And you ask me why I like to play - I got to get my kicks some way'.
1,437 characters
3.74
/5
rDev
+0.5%
look: 3.5 | smell: 3.75 | taste: 3.75 | feel: 3.75 | overall: 3.75
Bottle: Poured a light black color stout with a brown foamy head with good carbonation and light lacing. Aroma of floral espresso notes with some light roasted malt. Taste is a nice mix between some espresso notes with some light roasted alt and some lactose-like sugar notes. Body is light but has a nice creamy texture with good carbonation. A bit thin but I enjoyed the espresso notes in this beer.
401 characters

3.8
/5
rDev
+2.2%
look: 4 | smell: 4 | taste: 3.75 | feel: 3.5 | overall: 3.75
I do love me a coffee beer. This one could stand to have a bit more depth. Maybe it'll taste better as it warms up? Mouthfeel is a bit thin. There's something about this beer that just doesn't come together for me.
214 characters

3.64
/5
rDev
-2.2%
look: 3.75 | smell: 3.5 | taste: 3.75 | feel: 3.75 | overall: 3.5
Poured from a 650 ml bottle
To start with i like Smekermann's post a lot it totally right on
A: Pours a Very dark brown almost black with a thin tan head with spotty lacing.
S: Coffee with hazelnuts
T: Coffee and malt
F: Moderate carbonation very smooth.
O: Easy to drink but really a coffee drink from Starbucks.
Had to try one
329 characters

4.03
/5
rDev
+8.3%
look: 4 | smell: 4 | taste: 4 | feel: 4.25 | overall: 4
Hoyne Brewing 'Voltage Espresso Stout' @ 5.6% , served from a growler purchased for $13 & a couple of 650 ml bottle's at $6.50 each & on tap at the GCBF'16 after party
A-pour is a dark brown from the growler/bottle/tap to near black in the glass with a tight tan medium head leaving some spotty lacing along the pint
S-abundant shots of hand pulled espresso from 'Habit Coffee' , hints of dark chocolate with nuts perhaps hazelnut
T-similar to the smell , fresh espresso mixed with a crisp and clean stout , nice combonation of chocolate malts
MF-ok/good carbonation , love the freshness , nice medium body
Ov-good coffee beer , seems to show up twice a year , best served in the 'am'
prost LampertLand
702 characters

3.53
/5
rDev
-5.1%
look: 4 | smell: 3.5 | taste: 3.5 | feel: 3.5 | overall: 3.5
I feel like I'm starting to repeat myself. Maybe not necessarily on this site, since I don't review every beer I drink, but it feels like every time I have a coffee <anything> beer, it's always the same story: coffee = great, everything else = mehhh. The same holds true for this stout. The espresso flavor is really nice. I could see it being really complementary in a nice 11-12% ABV imperial stout. It'd lend a nice balance to the sassy/molassy flavors of said stout, keeping it in line and not letting it get too cloying.
How unfortunate, then, that the wonderful espresso flavor is married to a really anemic 5.5% ABV stout that would barely hold up on its own, much less when being paired with an overwhelming espresso flavor. Seriously, there's nothing else to this stout. The stout itself is really thin-bodied, with barely any roasted malt to balance out the espresso, or any other flavors to speak of. The carbonation seems a tad harsh, but maybe it's because I was projecting, expecting the carbonation of an imperial stout rather than the carbonation of a run-of-the-mill table stout.
I guess this is turning into more of a rant than a review, but it's for good reason, I think. I've had 4 BC coffee/espresso-infused beers in the past few months that have all been the same: all coffee and no beer body. Look, maybe it's time to stop trying to pair strong-ass espresso/coffee with limp-wristed beers like 4.8% IPAs, 5.5% stouts, etc. Hell, even Phillips' Black Jackal felt completely thin-bodied to me. Coffee-infused beers work when there's something to back them up. If I wanted carbonated coffee beverages, I'd make my own.
How about we try emulating Alesmith's Speedway Stout? That'd be a good start for coffee beer in BC, I think.
Edit: despite my ranting, it's not a terrible beer and is probably worth trying out once. It's really drinkable, probably because it doesn't taste like anything except espresso with maybe some stout notes barely felt in the aftertaste, completely drowned out by the coffee. You should definitely try this if you're a fan of caffeine. You don't even need to be a big beer fan -- as long as you enjoy the taste of coffee, you'll like this beer. Literally the same thing could be said about every coffee/espresso beer brewed in BC at this point in time, by the way.
2,321 characters
3.64
/5
rDev
-2.2%
look: 4 | smell: 3.75 | taste: 3.5 | feel: 3.5 | overall: 3.75
A: Pours a dark black brown, no light gets through, with about 2-3 pillowy fingers of head. Head settles to a thin layer with nice lacing.
S: Chocolate, espresso, toasted malts and vanilla upfront with finishing notes of minerals.
T: Strong toasted malts together with acrid drip coffee. Slight bitter finish.
M: Light to medium bodied with low level of carbonation. Mouthfeel is more along the lines of a porter than what I've come to expect in a stout.
O: This is a beautiful looking drink which would pair nicely with bbq. Lighter than some stouts out there I could easily see drinking a few of these in a sitting.
622 characters
3.4
/5
rDev
-8.6%
look: 3 | smell: 4.25 | taste: 3 | feel: 3 | overall: 3.5
A: black. Nice tan head that dissipates quickly
S: dark choco/moka, hint of licorice. Mouthwatering.
T: bright, not particularly rich, not much coffee; noticeable hop bitterness, dry finish
M: light to medium bodied. Not really a beer to linger with ... more for pairing with food.
O: a pleasant beer but not particularly memorable
332 characters
Voltage Espresso Stout from Hoyne Brewing Co.
3.72
out of
5
based on
25
ratings.