Ella

Free Will Brewing Co.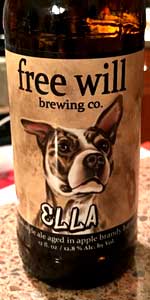 Write a Review
Beer Geek Stats:
| Print Shelf Talker
Style:

ABV:

13.7%

Score:

Avg:

4.16

| pDev:

7.21%

Reviews:

11

Ratings:

From:

Avail:

Rotating

Wants

Gots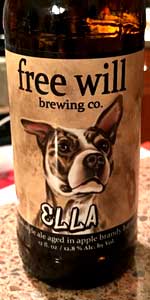 Notes: Aged in apple brandy barrels. A two-time FoBAB winner (2015 Gold, 2016 Bronze). A complex beer with notes of dried fruit such as fig, apple, and raisin, a warm caramel & biscuit malt profile, molasses and vanilla undertones and a semi-sweet finish.

4.49
/5
rDev
+7.9%
look: 4.25 | smell: 4.5 | taste: 4.75 | feel: 3.5 | overall: 4.5
Welcome to my I CAN Only Tell You That I Am Drinking These New Beers This Sunday of My Own Free Will Before CANother Flashback Begins (Week 767)! It is all being done in the name of science and in the furtherance of The CANQuest (tm).
From the 2018 CAN: "Belgian Style Quad Ale Aged In Apple Brandy Barrels"; "A complex beer with notes of dried fruit such as fig, apple, and raisin. Featuring a caramel & biscuit malt profile with molasses and vanilla undertones and a semi-sweet finish."; "Aged 1 year."; "C[AN]ned: Oct. 2018"; "Liquid and Friends First"; "FOBAB 2015 Gold Winner (under former name)[,] 2016 Bronze Winner".
Like everyone else, I do not expect The Spanish InCANsition, but in this case, I did NOT expect it to spurt across my fingertips when Crack!ing open the vent of the lid! It was a brimful craft CAN of one of the biggest CANned beers in my memory. 8=O I bowed down in the direction of Perkasie before beginning a quick C-Line Glug to get things started. When a CAN is that full, I CAN only tell you that I have had dribbling difficulties in the past & this is the only known method to cirCANvent them. It foamed but briefly, forming a quick finger of fizzy, foamy, light-tan head that suddenly dissipated to wisps, leaving only a ghostly memory in its wake. Color was a Coppery-Brown (SRM = > 17, < 22) with NE-quality clarity & ruby highlights. 8=O Nose smelled (especially) of apples, but imprecisely. I would not have guessed apple brandy on my own, but in thinking of it, I have had both J. W. Lees' Calvados-aged & CAPT Lawrence's Golden Delicious beers previously. I should have caught it. 8=( Warming, it took on the qualities of a caramel apple! I have not had one in a long time, nor do I plan to. I had to have an old amalgam filling from my childhood replaced a couple/few years ago & the expense was stunning! I have NO desire to rip out a filling eating caramel. It also held the musty newspapers from the attic quality imparted by so many Belgian yeast strains. Mmm. Mouthfeel was only medium, at best. I was expecting/hoping for a bigger presence. Let that be my biggest bugaboo with this one & I am home free! I let it roll around in my mouth, warming as I closed my eyes & took a deep breath. Lots of dried fruit, primarily apples, but raisins, also. Figs & dates emerged slowly as a fusel alcohol burn beCAN to simmer. Phew! Okay. I guess that I won't be slugging this one down, eh, slugger? Or are you Sluggo, you slug?!? Man, that opened up the sinuses real good & caused my eyes to water! Phew. Having determined that some in-mouth warming is good while too much CAN be hazardous, I am CANtinuing on.
The seCANd go-'round was MUCH smoother with things really smoothing out quickly. For insCANce, when I took Psych classes as a Related Study (Pitt does not have Minors), I learned that the optimal brain looks like a walnut shell, with deep grooves throughout. I am attempting to make mine as smooth as a bowling ball! The angles of my kitchen were likewise smoothing out as I went to the cupboard for some Smooth peanut butter. Smooth jazz beCAN to play on YouTube.
Speaking of peanut butter, a classic moment in my teaching career came during a discussion of the merits of smooth vs. chunky p.b. I had the reluctant learners, Vo-Tech & others, along with some hardcore gang kids, but we all respected one another, given my background. Well, one of them pipes up, "It's chunky for me, Mr. C.! I really dig the feel of nuts in my mouth!" OMFG!We were taught, as beginning teachers, to take everything that they students utter as though it were the word of God & to NEVER laugh, no matter how silly or ridiculous. I had to leave the room as his classmates erupted in laughter, guffaws & catcalls. LOL.
3,749 characters

4.53
/5
rDev
+8.9%
look: 4 | smell: 4.75 | taste: 4.5 | feel: 4.5 | overall: 4.5
Pouring from a 12 oz can into a prairie Dino tasting glass, this beer pours out like a deep, burnt caramel. It forms bubbles that are khaki throughout the pour but doesn't really decide to settle into a true crown.
The nose brings beautiful dark fruit covered in booziness. Everything from raisins, dates, figs and green apples. Amazing fig Newton like "crust/cookie" aroma. Alcohol definitely present with a burn. Barrel shows dry oak.
The taste comes in beautifully as well. Almost reminds me more of a barleywine than a true quad, but either way I'm loving it. Melted caramel, toffee, underlying vanilla. That fig Newton crust presence comes back for an appearance before turning into the warmth of the alcohol. You definitely know this is made of something. Dry oak, leather, fig Newton without the fruit dryness.
Overall, this is an amazingly made brew. And that fig Newton cookie crust presence is amazing to me. I can smell it, taste it and feel it. Damn.
976 characters

4.11
/5
rDev
-1.2%
look: 4.25 | smell: 3.75 | taste: 4.25 | feel: 4.5 | overall: 4
Pours a maroon brown shade like many quads. Nose is one dimensional, but heavy scents of caramel and toffee diffuse up the olfactory nerve. Strong malty presence in the mouth, lots of caramel then some more with a nice apple finish trending toward a sweet apple pie. Belgian yeast flavors are muted, this beer is very malt forward with the barrel hitting consistently throughout. Was expecting something different here, but the 14.7 ABV is nowhere to be found. If you told me this was an imperial brown ale aged in apple brandy barrels it would make more sense. Still very nice drinking, will enjoy my four pack
617 characters
4.02
/5
rDev
-3.4%
look: 3 | smell: 4 | taste: 4.25 | feel: 3.75 | overall: 4
Pours a blood-tinted amber brune color with a finger of light tan head that fizzes away into a paper-thin crown almost instantly.
Plum, fig, caramel, toffee, vanilla, cream, light apple, light must and light alcohol all show in the nose.
Tart caramel apple stands out more in the taste, but it's not over-the-top, kept in check by some woody notes and some stale hop bitterness. Creamy caramel and vanilla is present again; some raisin and fig, too; and there's warming alcohol in the finish.
Medium bodied with strong carbonation.
It's a fine take on a style defined by world class examples. The apple is a nice addition without being too strong.
659 characters
4.12
/5
rDev
-1%
look: 3.75 | smell: 4.25 | taste: 4 | feel: 4.25 | overall: 4.25
12oz brown bottle, sample from the brewery.
Taking one of my favorite styles of beer, that I am also very critical about, and taking some time in apple brandy barrels sounds very inviting even with the skeptical voices in the back. Smells wonderful, like a long night in some locals bar in Belgium or the Netherlands. Not really noticing the 12.8% abv right away, lots of barrel flavor and then slowly the booziness creeps in like a fine shot of Apple Eau de Vie. One of the most enjoyable beers I've have this year.
518 characters
3.48
/5
rDev
-16.3%
look: 3.75 | smell: 3.75 | taste: 3.25 | feel: 3.5 | overall: 3.5
12oz bottle into a snifter appears brown in color with little to no head formation.
There is no denying the apple character to this, it is fresh and inviting smelling like straight apple skins and a slight cidery feel without much else to the nose.
Taste is much of the same. Very linear flavor profile tasting of apple skins, slight brown sugar and warming booze.
This is medium in body with light carbonation. A boozy sipper that despite having nice barrel character is void of much of the base style flavors. Fun to try, dont need to have it again.
554 characters
4
/5
rDev
-3.8%
look: 4 | smell: 4 | taste: 4 | feel: 4 | overall: 4
Aromas of apple and booze on the nose immediately... Dark amber pour turns into an opaque ruby brown in the glass. Two fingers of beige foam on top slimmed into a thin collar and left a couple of lace motes down the glass. Flavor follows aroma, with plenty of apple impressions and something of a dark, slightly tart sweetness. Suggestions of boozy fig, wet brown molasses bread, slightly bitter caramel, and candied fruit. Medium feel with moderate carbonation. Tingles on the tongue, leaves a slight tackiness behind. Some yeast in the bottom of the bottle - didn't really come into the glass, but you may wanna be judicious about how you pour it.
649 characters
3.84
/5
rDev
-7.7%
look: 3.5 | smell: 3.75 | taste: 4 | feel: 3.75 | overall: 3.75
Another impressive effort from Free Will. As with Black Friday, most of its Quad characteristics are lost to the barrel. But both are still extremely satisfying. I found plenty of sweet cider with hints of green apples and pleasant, charred oak-y bitterness.
258 characters
3.8
/5
rDev
-8.7%
look: 4 | smell: 4 | taste: 3.75 | feel: 3.5 | overall: 3.75
on draft at the brewery
cloudy brown in color, white head. very boozy caramel apple aroma. tastes is caramel malt and alcohol burn. thinner bodied. overall a bit too hot.
177 characters

4.45
/5
rDev
+7%
look: 4 | smell: 4 | taste: 4.75 | feel: 4.5 | overall: 4.5
L. Clear dark burgundy with a small head.
S. Aroma is sweet, tart, crisp apple, spicy yeast, tart fruity candy, caramely malt. Strong and well integrated aromas.
T. Apple brandy flavor out front with some booze and oak throughout. Raisins, dried tart berries, pear, figs, more apples, fresh baked fruitcake, all soaked in brandy and coated in toffee. Aftertaste is boozy, which gives way to coconut, vanilla, brown sugar, Fig Newton.
F. Medium body, low to moderate carbonation, dry finish.
O. A nice treat, even at $10 a bottle. Cheers!
543 characters
4.18
/5
rDev
+0.5%
look: 4 | smell: 4 | taste: 4.25 | feel: 4.25 | overall: 4.25
A - Burgundy amber color, very clear in color with no sediment, thick soapy creme colored lacing, light but steady carbonation.
S - Toasted caramel, green apples, somewhat boozy, and fruity.
T - Green apples up front followed with oak and booziness and ends with a lingering toasted caramel/toffee sweetness that lingers while some green apple pokes through on the very far back end.
M - Heavy medium body and extremely dry on the finish.
O - Very pricey, very boozy, and very unique. Recommended.
504 characters
Ella from Free Will Brewing Co.
Beer rating:
90
out of
100
with
41
ratings