Tsingtao Augerta
| Tsingtao Brewery Co., Ltd.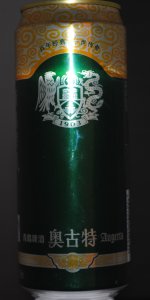 BEER INFO
Brewed by:
Tsingtao Brewery Co., Ltd.
China
tsingtaobeer.com
Style:
American Adjunct Lager
Alcohol by volume (ABV):
4.00%
Availability:
Year-round
Notes / Commercial Description:
No notes at this time.
Added by dbaker61 on 05-11-2011
Ratings: 11 | Reviews: 5

1.48
/5
rDev
-45.6%
look: 2 | smell: 1.5 | taste: 1.5 | feel: 1 | overall: 1.5
This is your basic BMC corn lager, with a Chinese paint job.
Thin, fizzy, light. Clear straw yellow.
I suppose if you have nothing else to drink this could be a last resort, but there are many fine spirits available for substitution anywhere you might find yourself in China.
277 characters
3.26
/5
rDev
+19.9%
look: 3.5 | smell: 2.5 | taste: 3.75 | feel: 3 | overall: 3.25
A: Golden and clear filtered, not such a surprise, with moderate large bubbles, and a finger of white head. Fair head retention, but fades in a few minutes.
S: Apples, malt, water, light and crisp, also no surprise.
T: Light and watery, a hit of light malts then yes a real surprise of fruity apricot and peaches, fading away to nothing, then a hit of pizza dough near the end.
M: Medium light body, fine soda like carbonation, crisp dry finish.
O: Okay, the actual flavours of fruitiness and dough bomb make this China brew interesting and worth a try. They did step out of the box, however cautiously, but it still works and should be commended. Drank in Kunming Jan 25th, 2015. Costs the same as an imported beer at Walmart however, which baffles me.
767 characters

2.5
/5
rDev
-8.1%
look: 2.5 | smell: 2.5 | taste: 2.5 | feel: 2.5 | overall: 2.5
Had in Beijing.
500ml bottle poured into a pint class.
Born on date: 6/13/13.
ABV: 4.7%
Ingredients list water, barely, rice, and hops.
A- Pale straw. Lots of carbonation shooting up through the middle. The little bit of head doesn't stick around for long.
S- Very little aroma. Rice,metal, wet grain.
T- grain, hay, rice, metal. Quite bland, even for an adjunct lager.
M- A little thicker than normal Tsingtao, but still watery. Prickly carbonation.
A bit of a disappointment. This is marketed as a premium version of Tsingtao and with the higher price and abv, I was expecting more. It seems to have been filtered to the point of having almost no character. A beer to have ice cold on a hot day.
704 characters

3
/5
rDev
+10.3%
look: 3 | smell: 3 | taste: 3 | feel: 3 | overall: 3
The world-traveling einweizenbitte sent me this CAN (among others) following his latest journey. I got home later than planned and while I wanted to drink and review a beer, I did not feel like having anything really special so another AAL will have to do the trick.
The CAN itself is a very pretty deep green and gold color with an old school pop top opening and lots of Chinese characters. I will be keeping this one, as I have with most of the CANs that he has sent me. The beers themselves may not be any great shakes, but the packaging is always eye-catching.
The Pop & Glug took me back to my youth when this type of packaging was the norm, rather than a distant memory. I had a finger of fizzy bone-white head briefly before it simply fizzed its way out of existence. Color was a pretty sunshine yellow with NE-quality clarity. Nose smelled very familiar, like silage. Oh well. I CANnot say that I did not bring this upon myself by starting The CANQuest (TM). It remains amazing how many iterations of AALs exist worldwide and my big question has to be "Why?" Why not more of better beers? I CAN understand the US market clinging to the post-Prohibition start-ups, but the rest of the world?!? Mouthfeel was medium and it had the standard corn overlay to the lager sweetness that is the trademark of the style. It was a whole lotta average. It was not unpleasant and the finish was semi-dry so I did not mind drinking the whole 500 ml, but once again, I am damning a beer with the faintest of praise. It filled the bill tonight, but it is a dime-a-dozen (or less) beer.
1,579 characters
3.27
/5
rDev
+20.2%
look: 3 | smell: 3.5 | taste: 3 | feel: 3.5 | overall: 3.5
500mL can. Brew date Jan. 22, 2011. 4.1% ABV, 12 degrees Plato.
Appearance: Pale golden color. Poured with less than a finger of soapy foam. Died down to a ring of foam within half a minute. Left a few rings of lacing.
Smell: Sweetness in the nose probably from rice and malt; wonder how much of each?
Taste: Pleasant but light. Slightly sweet, hops notes only showing up later. Wouldn't call it bitterness, just a distant memory of hops.
Mouthfeel: Light bodied. Adequate carbonation. Crisp finish.
Overall: Just your basic Chinese version of the mass market world beers. Nothing special, nothing too objectionable. Not too much flavor either, but this is an AAL. Quite drinkable. Seems to go well with a variety of Chinese dishes. I'll probably have it again.
766 characters
Tsingtao Augerta from Tsingtao Brewery Co., Ltd.
2.72
out of
5
based on
11
ratings.