Smokeless
| RedWillow Brewery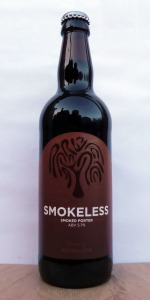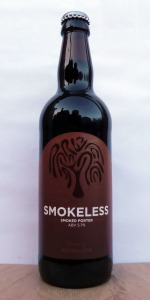 BEER INFO
Brewed by:
RedWillow Brewery
England
,
United Kingdom
redwillowbrewery.com
Style:
Smoked Beer
Alcohol by volume (ABV):
5.70%
Availability:
Year-round
Notes / Commercial Description:
No notes at this time.
Added by soulgrowl on 07-27-2012
HISTOGRAM
Ratings: 13 | Reviews: 6
3.54
/5
rDev
-2.5%
look: 3.5 | smell: 3.75 | taste: 3.5 | feel: 3.25 | overall: 3.5
3.32
/5
rDev
-8.5%
look: 4 | smell: 3.25 | taste: 3.25 | feel: 3.5 | overall: 3.25
Can. Almost black. Thick dense head which slowly dissipates.
Heavy coffee, cocoa, chocolate and peat. Creosote soon comes through quite strongly overriding other aromas.
Quite heavily smoked flavor. Burnt toast bitterness catches the throat. Chilli adds to the mixture.
Moderate to heavy feel. Soft carbonation.
Takes some time to drink. Too much of everything.
361 characters
4
/5
rDev
+10.2%
look: 4 | smell: 4 | taste: 4 | feel: 4 | overall: 4
Redwillow Brewery "Smokeless"
cask via handpump @ The Ship & Mitre, Liverpool, UK
£4 / pint
Notes: Brown-black body with mahogany highlights beneath a full, frothy head of khaki. Aroma: Lightly roasty and smoky (what is the name all about? - this is a smoked porter, right?, so why is it "smokeless"?), chocolatey like dark bittersweet chocolate, and with a touch of dried dark fruit. The flavor follows with the addition of medium-dark caramel, sticky black raisins, and a hint of spiciness. Moderately bitter. Short lingering finish. Medium bodied and smooth. Average head retention and lacing. Overall quite nice - maybe it's "smokeless" because the smokiness is so reserved. Nicely balanced. Very easy to drink, somewhat unique porter.
741 characters

4
/5
rDev
+10.2%
look: 4 | smell: 4 | taste: 4 | feel: 4 | overall: 4
33cl bottle. Dark ruby pour with a very tall and lively head. Smells smoky and a bit peated. Tastes bitter and smoky, with notes of dark chocolate, roasted malts, bitter cherries and a bit of sourness. Very high carbonation with a fizzy mouthfeel.
247 characters
3.17
/5
rDev
-12.7%
look: 4 | smell: 3.25 | taste: 3.5 | feel: 2.5 | overall: 2.5
4
/5
rDev
+10.2%
Fairly pleasant, like smoky taste. Not striking
47 characters

3.74
/5
rDev
+3%
look: 3.5 | smell: 3.75 | taste: 3.75 | feel: 3.75 | overall: 3.75
bottled
Pours dark, decentl tan head. Aroma is reassuringly smokey, woody, malty. Taste is smooth, smokey with a distinct chilli kick that provides a welcome spicy warmth. Some added meatiness in the malt. Really very good.
223 characters



3.68
/5
rDev
+1.4%
look: 4.5 | smell: 4 | taste: 3.5 | feel: 3.5 | overall: 3.5
A 500ml bottle with a BB of Jan 2013. Picked up from Trembling Madness in York a while back. Described on the label as a porter infused with chipotle chillies. No mention is made of smoked malt.
Poured into a Duvel tulip. Bottle conditioned. Appears black, though a deep brown colour emerges when held to the light. Yields a large head of creamy light-tan foam that lasts for a couple of minutes before collapsing to a surface layer. Aroma of smoke-infused roasted malt with notes of burnt grain, coffee, wood, faint molasses, a hint of fruitiness and subtle earthy yeast. The smoke is pretty dominant but meshes well with the other aromas.
Tastes of smoky roasted malt with a dry finish. Notes of burnt grain, coffee, wood/oak, mild fruitiness, earthy yeast and a subtle hint of spice. Possesses an odd salty quality that reminds me of oyster stout. A faint, dry bitterness upon swallowing. Mouthfeel is smooth, dry and tingly, with a hint of spiciness on the tongue. Body is OK but a bit insubstantial compared with the flavour. Slightly astringent, with an aftertaste of smoked malt and coffee.
Complex. An interesting blend of flavours - I think this is the first beer I've tried that contains chillies. It isn't entirely clear from the label whether the smoke is purely from the chipotles or if smoked malt is also used. It smells fantastic; a strong smoky character with plenty going on. The flavour is good, though the fruity/salty hints are a little odd. Could be the capsicums adding something. The spice is mild but slowly builds as you drink. Body is smooth and a tad thin. An unusual brew but creative and well executed. If you like smoked beers then this is worth a gamble.
1,695 characters
3.25
/5
rDev
-10.5%
look: 1.5 | smell: 4 | taste: 4 | feel: 2 | overall: 2
An aggressive pour yields no head – none – and a dense, murky brown liquid. What do I mean by dense and murky? I mean while many porters have lovely garnet shimmery bits where the light shines through, this one is more a tarnished brass along the edges. No thanks.
But we taste with our mouths, not our eyes. And also, our noses. Chocolate, coffee, caramel – check, check, check. Black pepper, brown sugar, smoked beef – yeah, okay... now this is starting to smell a little like someone put jerky in my beer. Which may be no bad thing.
A pleasant enough flavor is undercut but an overriding sense of lack. It lacks carbonation – not completely, but almost. It lacks body – which may be a good thing, as there are no bubbles to lighten it. It lacks spice – a real disappointment in any beer advertised as containing chillies. Weirdly, this would be a pretty decent mild, but as a chilli smoked porter it sucks. It's got nice chocolate maltiness, a bit of caramel, a smooth smokiness, an almost complete absence of hop character, and a touch of raisiny fruitness (which may be the only way the chipotles express themselves). It's got a good, full flavor, and it's still dry – but it really is a total disappointment. I feel misled. If they had called this a Victorian mild I'd be most pleased. But as advertised, it's just... please.
1,349 characters
Smokeless from RedWillow Brewery
Beer rating:
3.63
out of
5
with
13
ratings