Heartless Chocolate Stout
| RedWillow Brewery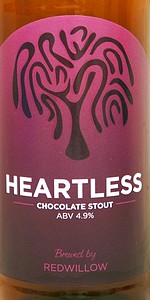 BEER INFO
Brewed by:
RedWillow Brewery
England
,
United Kingdom
redwillowbrewery.com
Style:
English Stout
Alcohol by volume (ABV):
4.90%
Availability:
Year-round
Notes / Commercial Description:
No notes at this time.
Added by EmperorBevis on 02-28-2012
Reviews: 5 | Ratings: 7
Reviews by wl0307:
3.77
/5
rDev
+4.1%
look: 4 | smell: 3.75 | taste: 3.75 | feel: 3.75 | overall: 3.75
Purchased from the BeerRitz online beer shop; bottle-conditioned in a 500ml slim brown bottle, BB 03/2014, served cool in a straight imperial pint glass. Notes: this beer uses 85% cacao Columbian chocolates, to pair with oats, malted wheat, malted barley, and hops in the brewing process.
A: pours a pitch black colour, coming with a tight dark khaki froth sitting forever on top of seemingly constant flows of fine carbonation (detected on the bottom of the glass).
S: the deep aroma of bitter chocolates comes with a light dusty edge, underlined by assertive Fuggle-like hoppiness, approachable overripe plummy fruit-esters, roasty-nuttiness with a fine touch of stone-fruit like acidity. Given a good swirl, the rich aroma of melted chocolates gives more vanilla-ish aroma as well as a decent acidic edge from the natural dark chocolates.
T: lively/effervescent on the entry, the swallow is light-ish-bodied and medium-flavoured, boasting lots of roast or black malts, as of coffee beans, and an assertively dry palate as of roast barley and/or oats, edged by decent acidity as of black stone fruits and very mild earthy/herbal hop flavours, while chocolates and roast malts seem to render a burned walnut-shell-like as well as coffee-ish aromatic finish at the bitter-ish end of each sip, where the dry-ish palate dominates, showing very high attenuation overall and ensuring the drinkability of this richly chocolaty stout.
M&O: the mouthfeel is generally refreshing, although I suspect the bottle-conditioning yeasts have undertaken much more activities than expected since bottling, causing the effervescence to reach a rather high level, not exactly harmonious vis-à-vis the rather mild flavour profile. This moderately flavoured chocolate stout is decently crafted, but all in all fails to deliver an influence from the high-quality Columbian chocolates so as to add to the flavour complexities; rather, the overall performance is a bit… dull for some reasons. Still, the flavour integrity and what ends on my palate tells me this is a decent beer, no less.
2,075 characters
More User Reviews:

3.75
/5
rDev
+3.6%
look: 3.75 | smell: 3.75 | taste: 3.75 | feel: 3.75 | overall: 3.75
50cl bottle. Pours a very dark brown, with a lively head that disappears completely quite quickly. Smells of roasted malts, smoke, dark cherries. Tastes like smoked wood, roasted malts, dark cherries and bitter dark chocolate. High carbonation, fizzy mouthfeel with a bitter-sweet finish.
288 characters

3
/5
rDev
-17.1%
look: 2.5 | smell: 3 | taste: 3.25 | feel: 2.75 | overall: 2.75
A 500ml bottle with a BB of Oct 2013. Picked up a while back from Trembling Madness in York, and stored in my garage. The label states that the recipe includes 85% cacao Colombian chocolate. Intense.
Poured into a straight pint glass. Bottle conditioned. A very dark brown hue that appears pitch black in the glass. No head - just a few frothy bubbles that quickly disappear. Not a good sign. Aroma of mild sourness and funk, with undertones of roasted malt, burnt grain, dark chocolate, coffee, liquorice, faint dried fruit and yeast. Slightly fruity/vinegary; stout-like but not quite right.
Tastes of dark malt and chocolate with a faint sourness and a dry, bitter finish. Notes of roasted malt, burnt grain, bitter cocoa, coffee, dried fruit, liquorice, mild molasses and yeast. There is a subtle but persistent funk in the background - musty, vinous and faintly sour. Well attenuated, followed by a restrained bitterness upon swallowing. Mouthfeel is smooth, dry and creamy, with good body for the style. However, completely flat and lacking in texture. Mildly astringent, with an aftertaste of roasted malt, chocolate and fruitiness.
An interesting effort, if flawed. I reckon something went wrong somewhere in the brewing process. It doesn't look particularly appetising - no head and an apparent absence of carbonation as well. The aroma shows some complexity along with obvious off-notes that suggest infection/oxidation. The taste is a bit better - more malt and chocolate, less undesireable funk. Body is thick and smooth but flat. It's possible to see what the brewer was aiming for, but this bottle must have been contaminated in some way - the mouldy funk is just too glaring. Not the first time I've encountered this characteristic in a RedWillow brew - do they have perennial contamination problems or is their house yeast a tad untamed? At any rate, well-crafted but let down by off-notes. If you come across this, caveat emptor.
1,949 characters

4.12
/5
rDev
+13.8%
look: 4 | smell: 4.5 | taste: 4 | feel: 4 | overall: 4
A chocolate stout made with 85% cacoa Columbian Chocolate and that dominates the taste and aroma put there is plenty of... erm... stoutiness.
Properly served on cask so mouthfeel and carbonation are spot on.
Rich dark and tasty without being overly sweet, like a dark beer, then grab a pint.
293 characters
3.63
/5
rDev
+0.3%
look: 3.75 | smell: 3.75 | taste: 3.5 | feel: 3.5 | overall: 3.75
Lumpy stacks of loose sepia foam over cola brown with garnet highlights.
Earth, overripe cherries, and carob on the nose.
Acidic black malt over German rye bread, chocolate-covered cherries and negligible woody hops.
Barky finish and peppermint paddy linger.
Lively, lt-med, slight cling.
A tartness that could be wild (which also might explain the ridiculous head), too fizzy, no roast of note and not getting oats or much chocolate either. Almost like a cherry-chocolate coke float. Not what I expect from a chocolate stout.
Disappointment from Redwillow.
560 characters
Heartless Chocolate Stout from RedWillow Brewery
3.62
out of
5
based on
7
ratings.