Sapporo Premium Lager (EU Brew)

Sapporo Breweries Ltd.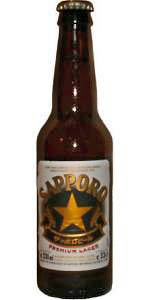 Write a Review
Beer Geek Stats:
| Print Shelf Talker
Style:

ABV:

4.7%

Score:

Avg:

2.91

| pDev:

22.34%

Reviews:

14

Ratings:

From:

Avail:

Year-round

Wants

Gots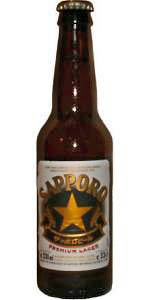 Notes:

3.59
/5
rDev
+23.4%
look: 3 | smell: 2 | taste: 4.25 | feel: 4.25 | overall: 4
Sapporo Premium Beer is good overall. Taste is even and flavour-rich. Feel is like tiny little bubbles. Smell I think is amost non-existent so no points of that. I think this is quite civilized beer and very fit for occasional drinking.
236 characters

3.5
/5
rDev
+20.3%
A - Golden, pale, two finger white foam. Nice lacing.
S - Citrus, pale malt.
T/M - Refreshing, crisp, medium carbonated, almost as some good pilsener.
O - Much better then expected.
182 characters

3.5
/5
rDev
+20.3%
look: 3.5 | smell: 3.5 | taste: 3.5 | feel: 3.5 | overall: 3.5
330 ml bottle, bought at an Asian goods supermarket in the Netherlands. ABV 4,7%. Ingredients are water, hops and barley malts. I drink this 5 days over its Best Before date.
Poured into a lager glass.
Very deep golden yellow colour, with two fingers of white, thick head, with very good retention. Head leaves heavy lacing behind, as it goes down. Minimal activity in the glass.
Sweet aroma of malts, with some fruity notes, mostly apple.
NIce sweet malty taste, typical lager one, that turns into bitterness once your sip has gone down. Light taste of iron.
Medium body with average carbonation.
It's not something that will make you enthusiastic, but it's an honest brew, what you're looking for into a lager you will find. I really lked it.
744 characters

3
/5
rDev
+3.1%
look: 3 | smell: 3 | taste: 3 | feel: 3 | overall: 3
500ml can served in a chalice.
A: Pours a pale yellow clear color forming a medium bubbled white head. Retention is low and some few lacings are left
S: Smells like white bread. Very grainy with some grassy hops
T: Very grainy too. Sweet grains upfront. Bitter hops aftertaste. Lager yeasts can be noticed too. A bit metallic. In overall, a dry bitter taste
M: Very light body. Strong carbonation. Reasonable hoppy bitter aftertaste
O: Average Lager. Easy drinking beer
474 characters
3.84
/5
rDev
+32%
look: 3 | smell: 4 | taste: 4 | feel: 3 | overall: 4
Nice golden color pured on my glass. Medium white head that dissipates quickly. It has a barly malt smell with little hop presence. Taste is nice with good balance. I enjoyed this beer as any good lager. It has good aftertaste and it is refreshing. Really good.
261 characters
2.85
/5
rDev
-2.1%
look: 2.5 | smell: 2.5 | taste: 3 | feel: 3 | overall: 3
A: Pale yellow color very translucent, the head is not big enough and the color is withe dissipates a little fast and leaves small traces behind, the bubbles are small but totally withe, the carbonation is medium but leaves a top layer that almost covers all the surface of the beer.
S: Barley aroma, not too intense but certainly present, almost nothing else is worth to mention.
T: Traditional lager flavor, nothing to remember just average malty and some hops.
M: Short ending nothing to complex, somehow balanced but a little more bitter in general.
556 characters
2.88
/5
rDev
-1%
look: 3 | smell: 2.5 | taste: 3 | feel: 3 | overall: 3
The brew is clear straw colored with a white high head leaving some lacing.
The smell is weak has a malty bread nuance, and some citric presence.
Has a taste of white bread, lime, some fresh grass and bitter orange peel notes.
Medium carbonation, a refreshing texture and a medium small body, a dry finish.
A rather nice lager, well balanced and with some bite.
365 characters
2
/5
rDev
-31.3%
look: 1.5 | smell: 1.5 | taste: 2.5 | feel: 1.5 | overall: 2
Dark golden colour that is crystal clear with small, bubbly white head that goes to leave soapy lacing.
Almost no smell. Vaguely detect some grain & even fainter still, some grassy hops & rice.
Mainly grain & hops from the nose but stronger & a finish that is quite light on bitter.
Light bodied, slightly chewy feel, lots of carbonation & tang.
A pretty sorry excuse for a beer & not one that I'll buy again. It wasn't that it tasted that bad, it's just that it fell short in so many areas & really didn't impress me. Drinkable but not worth your while.
1001 Beers List:
http://abarwithnoname.wordpress.com
612 characters

3.35
/5
rDev
+15.1%
look: 3.5 | smell: 3.5 | taste: 3.5 | feel: 3 | overall: 3
We were having Japanese food one night and I wanted to get something a little more interesting than the standard Sapporo, which is a rice lager. I'm not sure it's that much better but it is a little more interesting.
Color was a light pale with very active carbonation with a typical Sapporo refreshing look to it.
Aroma was not much different than the original Sapporo. Maybe a little bit of malt.
Flavor is refreshing but, again, not much really to it.
Overall I do think this is enough more interesting to make it a nice alternative to a more standard rice lager.
571 characters
3.7
/5
rDev
+27.1%
look: 3 | smell: 3 | taste: 4 | feel: 4 | overall: 4
330 ml bottle, label reads that is made under license in the EU. Pours a a clean bright yellow colour and a creamy head that does not hold for much long. Smell of hops and grains, nothing special here. But the surprise comes in the mouth, medium body, hops, some citrus and a very bitter dry finish that makes a difference compared with the usual macro lagers. Very drinkable and you can even enjoy it more than those brands that you all know and I'm not going to say.
468 characters

1.97
/5
rDev
-32.3%
look: 3.5 | smell: 1.5 | taste: 2 | feel: 2 | overall: 2
330ml bottle 4,7% Abv
The only other Japanese Rice lager I have had to date is Asahi Super Dry and it was massively dull, let's hope Sapporo is a little more interesting.
Appearance: Sapporo pours a crystal clear slightly darker than normal shade of gold. The head is white, of fair size, and displays good retention, but unfortunately leaves no lace.
Smell: Most pale lagers fail in the smell department due to the nose being very weak, Sapporo doesn't fit into this group, but is just as far from being classified as having a good nose.
In fact the more I smell it the worse it gets. Slightly floury grain, stale rice and sulphur dominate the nose. Hops are all but absent.
Taste: Actually not as bad as I was expecting after the smell, but still far from good or interesting.
The flavour is made up of stale grain and a hint of hops in the slightly bitter finish. There is a strange (and rather unpleasant) sweet aftertaste that appears after the bitterness.
Mouthfeel: Light bodied and slightly watery, but with fairly pleasant carbonation.
Drinkability: I finished my bottle, but even if it was a really hot day and the beer was ice cold, I think I might rather have a soda.
So much for me hoping for something better than Asahi. Judging by the Japanese rice lagers I have had, they seem to be nothing but exotic macro adjunct-lagers. Certainly not a style I would recommend.
1,394 characters
3.42
/5
rDev
+17.5%
look: 3 | smell: 3.5 | taste: 3.5 | feel: 3 | overall: 3.5
A good quality beer under lager category. Good hoppy smell and taste and leaves a bitter after taste on the palate. Clean head and golden yellow colour.
The bottle which I bought was brewed in Canada. Best amongst the Japanese beers - I have had Kirin and Asahi before.
The beer has international flavour and goes well with any food. I would recomend this beer to anyone who is an occasioanl beer drinker or is new to the wonderful world of beers.
448 characters

1.46
/5
rDev
-49.8%
look: 3 | smell: 2 | taste: 1 | feel: 2 | overall: 1
Sweet Jesus...anyone think this deserves any rating what-so-ever, must drink domestic corn piss every day. I made a mistake by drinking this at an International Brew Fest in Erie PA, and it was by far the worst beer I had all night, and I tried 36 beers ( 4 oz. at a time) I thought maybe my pallet was shot after an all nighter, so I rinsed with water and ate some crackers and cheese and tried again....blechh. Horrible. sorry I can't really say much about taste and body and such. Cheers. :-(~
496 characters

3.74
/5
rDev
+28.5%
look: 3 | smell: 4 | taste: 4 | feel: 3 | overall: 3.5
Taken from notes, 20-19-2009. Reviewed under medium intensity artificial light. Best before date: 17-03-2009. Poured into wide flute glass.
Appearance: Poured an one thinger white spongy head, that eventually fades into a moderate sized cap that holds throughout. Effervescence is low. SLIGHT haziness. Weak lacing but not non existent.
Smell: Aroma is of adjuncts and floral, minty hops. Reminds me of Saaz and Northern Brewer hop mix. Nose is of medium Strength. Surprisingly enjoyable.
Taste: Slight malt sweetness, Citrusy flavors and Intense floral, minty like hop flavor. Very unexpected. Great balance.
Mouthfeel: Medium carbonation. Medium Bitterness. Light to medium body (as indicated by the bottle - OG of 11 plato). Finishes sweet and eventually turns into lingering Bitterness. Slightly oily.
Drinkability: Highly drinkable even by Pale lager/macro lager standards. The hop character allows for a richer experience, and does not detract from the drinkability.
On a final note: I was really surprised at this brew. Judging by the bottle design and "Premium Lager" label, i was dead certain i would be having a generic macro lager. I was pleasantly surprised since although theres alot of adjuncts being used it actually ends up working quite well with the Hop character produced. Will have again if possible.
1,332 characters
Sapporo Premium Lager (EU Brew) from Sapporo Breweries Ltd.
Beer rating:
68
out of
100
with
79
ratings