Stoute Gijt
| Brouwerij De Natte Gijt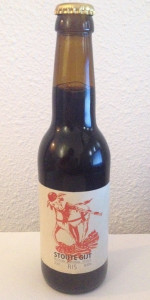 BEER INFO
Brewed by:
Brouwerij De Natte Gijt
Netherlands
brouwerijdenattegijt.nl
Style:
Russian Imperial Stout
Alcohol by volume (ABV):
8.80%
Availability:
Rotating
Notes / Commercial Description:
No notes at this time.
Added by Mar02x on 02-21-2012
Ratings: 14 | Reviews: 7
Reviews by Mar02x:
3.84
/5
rDev
+1.9%
look: 3 | smell: 4 | taste: 4 | feel: 4 | overall: 3.5
With thanks to Rudi en Marc van brouwerij de natte gijt, I was able to try this beer. Rudi and Marc brought his beer to a tasting organized by Fiona de Lange (the Dutch beer lady) at 'de Molen'.
A - A dark brown ale with a beige head.
S - A coffee and hop smell along with a garden pea scent!
T - Besides the smell this is a tasty beer with a nice coffee twist.
M - A soft carbonation and a bitter finish.
O - Not bad, and I will try this again when served.
472 characters
More User Reviews:
4.24
/5
rDev
+12.5%
look: 4 | smell: 4.25 | taste: 4.25 | feel: 4.25 | overall: 4.25
Stoute Gijt shows 8.8%abv on my bottle; bottled 19 sept. 2013.
Very curious, as I love strong stouts, and there are so few here available.
Also it's a dutch beer, homeland chauvinism, even if it's a couple of hours' drive.
Brown head, dark brown ale. Smell of roasted grains and nutts, coffee, cocoa, tobacco, a little ash.
Smell also lightly of raisins and figs.
In other words: all the good stuff.
Taste is strong in both caramel and malt character, and the lot of bitterness of roasted coffee- and cocoa beans.
The dark fruit is hard to find, unfortunately, but in all this beer is great. It had good carbonation, as well as violent complex taste.
I will recommend this beer for sure, especially if you like the style.
722 characters
3.79
/5
rDev
+0.5%
look: 3.75 | smell: 4 | taste: 3.75 | feel: 4 | overall: 3.5
A: The beer is very dark brown in color. It poured with a half finger high off white head tat died down but never completely faded away.
S: Light to moderate aromas of licorice are present in the nose.
T: The taste is similar to the smell and has strong initial tastes of licorice that are followe by hints of roasted malts and a light amount of bitterness.
M: It feels medium- to full-bodied on the palate and has a moderate amount of carbonation. Faint bits of warming from the alcohol are noticeable in the finish.
O: This stout tastes like a liquid stick of licorice so you may or may not like it depending upon if that is your cup of tea. It hides its alcohol very well from the taste.
692 characters

3.75
/5
rDev
-0.5%
look: 3.75 | smell: 3.75 | taste: 3.75 | feel: 3.75 | overall: 3.75
3.25
/5
rDev
-13.8%
look: 3 | smell: 3.5 | taste: 3 | feel: 3.25 | overall: 3.5
3.88
/5
rDev
+2.9%
look: 4 | smell: 4 | taste: 3.75 | feel: 3.75 | overall: 4
A black beer with a off white head, that lasts a long time.
The smell is definately roasted with a leathery and woody smell underneath. The dark malts also add a coffee and dark chocolate smell. The hops are a nice mixture of European and US hops. There are notes of blueberries and in general citric hops.
The taste is roasted with hints of liquorice and coffee, chocolate. The bitterness is quite strong and balances the alcohol nicely. The usual roast is a little overpowered by it's bitterness, which is bold and has a distinct US aggressiveness to it. This puts the beer a little out of balance and does not add to the complexity or the drinkability of the beer. On the other hand, the best RISs are not balanced,
720 characters


4.5
/5
rDev
+19.4%
look: 4.5 | smell: 4.5 | taste: 4.5 | feel: 4.5 | overall: 4.5

2.68
/5
rDev
-28.9%
look: 3 | smell: 2.5 | taste: 2.5 | feel: 3 | overall: 3
Got this at the liquor store down the road.
From a bottle into a snifter
Bottled 2-10-2012
ABV: 8.8%
IBU: 85
Hops: Brewer's Gold, Magnum, Cascade and Chinook
Brewed at Brouwerij Anders! in Halen, Belgium
APPEARANCE: Pours clear brown and yields a two finger, medium looking, light tan head with good retention. Bistre brown with medium carbonation evident, though a little too much for the style. Head slowly fades to a good foam cap and coats the sides of the glass. A half wisp remains with lots of lacing gown the glass. Great head, but too light and thin a body. Score averages out.
SMELL: Licorice, leather and tobacco notes for sure. Quite a bit of tobacco actually. Some light dark chocolate in the back, but mostly leather and tobacco. Not my style.
TASTE: Follows the nose with leather and tobacco up front, then lots of ashy, burnt malts and more cigarettes at the swallow. Big and lingering aftertaste of leather, tobacco, some floral bitterness and a touch of dark chocolate. Very flavorful for sure, but just not my style of RIS.
PALATE: Medium-light body but quite creamy smooth on the palate. Medium carbonation, goes down fine, a touch airy perhaps, and finishes mouth-coating. Could be fuller and heavier for the style, but it's not distracting like their IPA was.
OVERALL: Nothing wrong with this, and it's better executed than their IPA, but it's simply not my style of RIS. Too much leather and tobacco qualities in this one to really do it for me, but I can imagine how someone else would really enjoy this. Not for me, but it's well executed, and it might just be for you. Cheers.
1,613 characters
4.05
/5
rDev
+7.4%
look: 4.75 | smell: 4 | taste: 4 | feel: 4 | overall: 4
Pitch black with a full and steady head of brown foam. Lovely lacing on the glasswork. Smell of caramel, roasted malts and hops. Roasted malts and dark chocolate dominate the taste, with a lot of herbal hop goodness after the swallowing. Hints of caramel and liquorice are also present. Pleasantly sweet in the mouth, pleasantly bitter in the throat. Medium to full-bodied mouth feel. A good RIS, though it needs a tad more complexity to be a really great one. Would still love another though. Not on the same day however: the 8.8 abv is treacherously hidden.
559 characters

3.5
/5
rDev
-7.2%
look: 3.5 | smell: 3.5 | taste: 3.5 | feel: 3.5 | overall: 3.5

4.11
/5
rDev
+9%
look: 5 | smell: 4 | taste: 4 | feel: 4 | overall: 4.25
Pours a froth, very stable beige head of decent size, with a virtually black color, leaving delicate sheets of lacing at the glass.
Nose surprises me, because it inherits an easy recognizable tropical hop note, which settles above coffee beans and earthy malts - reminding me of a Black IPA.
Begins with roasted coffee and earthy, slightly toasted malts, which, from the very first moment, builds a very satisfying foundation. This gets wrapped up by sweeter caramels, toffee hints and a load of fruity hops, in which papaya and orange really stand out against the rich malt flavors. The hops introduce a gentle bitterness to the palate, enhanced by a lively carbonation. Very smooth, slightly smoked beneath the maltiness, creamy with a crisp addition, due to the present hops. Finishes pleasantly sweet, after a malty, coffeeish introduction, with cane sugar, spawning from the slightly metallic carbonation, accompanied by a creamy, convincing bitterness from both hops and coffee. I am actually amazed how well all the flavors interact in this, great brew with a fantastic taste diversity.
1,097 characters
Stoute Gijt from Brouwerij De Natte Gijt
3.77
out of
5
based on
14
ratings.