Death of Venus

Relic Brewing Co.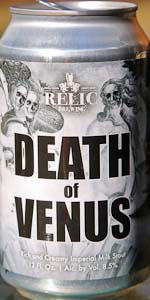 Rate It
Beer Geek Stats
| Print Shelf Talker
Style:

ABV:

8.5%

Score:

Avg:

4.19

| pDev:

5.97%

Reviews:

8

Ratings:

From:

Avail:

Rotating/Seasonal

Wants

Gots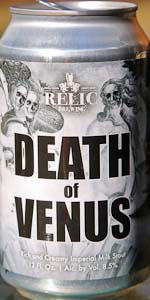 sulldaddy from Connecticut
3.97
/5
rDev
-5.3%
look: 4 | smell: 3.75 | taste: 4 | feel: 4.25 | overall: 4
Sampling a cellar temp 16 oz can poured into my snifter. The beer pours jet black into my snifter and a creamy yet fizzy tan head of 1 cm foams up. This foam fades fairly quickly to the thinnest of edge layers, almost non-existent.
The aroma is all malt with some sweet chocolate milk notes, a bit of dark chocolate and some coffee too. I also get a bit of a charred wood note, which I didnt expect, it doesnt make the nose bad or offensive, but Im not sure its supposed to be there. No hops and the booze is well hidden, overall the nose is appealing.
The first sip reveals a medium body with silky smooth texture and fine tingly carbonation. Very easy drinking on the physical traits.
The flavor is also all malt with dark chocolate and some chocolate milk up front. There is some roasted notes and brown sugar and a bit of lingering dark cacao note on the finish. I dont get any hops nor booze anywhere on this malt brew.
A solid imperial milk stout, the charred note through me off a bit on the nose, but I enjoyed thisbeer.
Jan 27, 2020

CTHomer from Connecticut
4.09
/5
rDev
-2.4%
look: 4 | smell: 4.25 | taste: 4 | feel: 4.25 | overall: 4
A: looks like motor oil coming out of the can; opaque; very dark brown in color; 1+ finger finely pored head that receded to a wispy cap; no lacing;
S: deeply roasted grain with milk chocolate;
T: deeply roasted grain; less chocolate than in the aroma; sweet, but with a bit of bitterness to balance things out;
M: full bodied; moderate carbonation;; moderately dry finish; alcohol is warming, but not hot;
O: dangerously easy to drink;
Apr 08, 2019

EMV from Pennsylvania
4.27
/5
rDev
+1.9%
look: 4.5 | smell: 4.25 | taste: 4.25 | feel: 4.25 | overall: 4.25
Poured from a tallboy an into a Dogfish Head tulip
L: Inky black pour with thick fluffy brown head. Crazy retention and great lacing.
S: Milk chocolate and burned sugars. Sweet dairy cocoa bliss.
T/F: Sweet and roasty... lactose, milk chocolate, and roasted grains. Modest bitterness for balance but cocoa and sweets dominate. Creamy on the tongue... medium bodied, and hides its 8.5% ABV dangerously well.
O: An outstanding Imperial Milk Stout. Like a chocolate milk beer... great for a dessert or winter-time treat.
Mar 06, 2019
JePly from Kentucky
4.94
/5
rDev
+17.9%
look: 5 | smell: 4.75 | taste: 5 | feel: 5 | overall: 5
I've been in search of the perfect stout for my unperfected beer palate for five years. I found Venus and created an account to tell you about it. It bums me out that this stout is not attainable daily for me. Smooth, not too sweet, with just enough chocolately notes coming through on taste and smell. Heavy on the tongue like I think a stout should be but didn't fill me up.
Jan 13, 2019

PicoPapa from Connecticut
4.23
/5
rDev
+1%
look: 4.25 | smell: 4.25 | taste: 4.25 | feel: 4 | overall: 4.25
12oz can. Pours a thick black color with over an inch of dark brown head. Some lacing. The aroma is sweet fudge and chocolate milk along with roasted malts, licorice and tobacco. The taste is dark chocolate, tobacco, Earth, chocolate milk and roasted malts. Heavy, thick mouthfeel with low carbonation. Moderate alcohol heat. Fantastic Milk Stout worth seeking out.
Feb 08, 2018

rorjets from Connecticut
4.27
/5
rDev
+1.9%
look: 4.5 | smell: 4.25 | taste: 4.25 | feel: 4.25 | overall: 4.25
Poured from a 12 ounce can purchased at the brewery into nonic pint glass. Beautifully full, thick dark caramel head offered plenty of lacing while drinking. The aroma was of chocolate and smoke. The first taste made it clear that I was drinking an exceptional Milk Stout! Smooth yet smokey, with chocolate, apricots and a creaminess all mixed well. The 8.5% abv blended in to the taste. Great full mouth feel, nicely tart finish. A stout worthy of having on the regular rotation!
Feb 01, 2018

WunderLlama from Massachusetts
4.08
/5
rDev
-2.6%
look: 4.25 | smell: 4.25 | taste: 4 | feel: 4 | overall: 4
CANNED 12.15.17
POURED 1.7.18 into a Teku glass
Solid dark brown liquid, two finger brown foam cap settles to a dense layer
Fragrant aroma of cocoa, chocolate, sweetness, whiff of tobacco
Taste of roasted malts, cocoa, bit of char, bit of espresso bitterness
Not as sweet as I anticipated , actually a bit bitter and astringent
Good beer
Jan 07, 2018

ichorNet from Massachusetts
4.48
/5
rDev
+6.9%
look: 4.5 | smell: 4.5 | taste: 4.5 | feel: 4.25 | overall: 4.5
Relic has been utterly killing the IPA game lately, but I haven't had a dark beer from them since I last had the first canned batch of Spectral Beast (their quite-great Baltic Porter), so when I saw this boldly-labeled can, I knew I had to give it a shot. This is a "Rich and Creamy Imperial Milk Stout" according to the can itself, clocking in at 8.5% ABV. Let's crack into it and see what it has in store, shall we?
Pours a gorgeous velvety, inky-black color with a strong and austere head of dark mocha foam building up to about three fingers at its highest point. Though it does eventually sink down to a finger after about five minutes, the lace this beautifully dark beer leaves behind is quite nicely tiered. The regal initial pour really intensified my expectations for this one, so let's hope it lives up to those lofty hopes!
The nose is deep, roasty and intense, marrying cocoa, coffee and heavy cream notes with elements of vanilla and malted milk balls. Light caramel and English toffee also make appearances here, but the strong milk chocolate aspects are really driven home to an incredible extent. This smells super-rich and decadent... there aren't any adjunct ingredients here other than the lactose (I assume) but the nose really does seem coffee-forward. I'm impressed. This doesn't seem overly harsh, acrid or bitter, nor are there any "sour" or off-kilter aspects from the lactose... it's just a straight up awesome smelling, moderately-sweet stout.
On the tongue, that roastiness from the nose translates into roughly 50% of the actual flavor profile, bringing forward some intense black coffee and dark roast espresso flavors... some darker fruit here and there, with burnt hops and more milky/creamy elements, but overall, this is supremely coffee-like with a superb roast and char flavor. Somewhat tobacco-like, as well... earthy notes and robust almost-smokiness... I get the feeling this one would age pretty well... deep, semisweet chocolate and more notes of pine-y hops toward the finish. Superb, overall!
The feel is usually quite easy to assess with a milk/sweet stout because most of the reason for the lactose addition is feel, and this beer is really no different honestly. The slight creaminess toward the finish buoys the entire beer and keeps the proceedings from entering the realm of the overly-roasty. Perhaps my only real complaint with this one is that the finish itself is just slightly less full-bodied than I'd like in a bigger beer like this. At 8.5%, and with such a comprehensive, detailed flavor profile, I'd really like it to drink a bit stronger than a normal 6.5% ABV milk stout, but you can't always get what you want. With this, though, you can get most of what you want if you're into big milk stouts. Relic continues to slay most of its competition from the shadows... I foresee a hype-train boarding for them some time in the near future...
Dec 31, 2017
Death of Venus from Relic Brewing Co.
Beer rating:
88
out of
100
with
15
ratings