Brauhaus in Spandau GmbH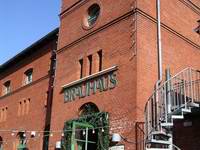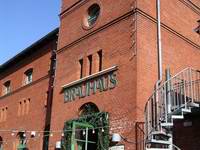 Brewery, Bar, Eatery
Neuendorfer Straße 1
Berlin
, 13585
Germany
030 / 353 907 0 |
map
brauhaus-spandau.de
Notes:
BlackHaddock from England
3.04
/5
rDev
-13.1%
vibe: 3.25 | quality: 3.25 | service: 3.5 | selection: 2.25
Visited with the wife and two friends on a very cold Sunday early evening on 18th Jan 2014.
Nice looking place, used to be a military laundry according to the waiter. Neat, smart and spotless: very different to most of Berlin's brew pubs being both bright and airy.
Waiter was fine, beer OK, but only three to choose from, two regulars and one seasonal: Potz-Blitz Bier on our visit.
I liked the set up though, the wife and friends not so much. Huge beer garden and semi-covered area unusable because it was so cold: visit in the summer if you can, be a whole lot better.
Feb 09, 2014
Oostende from England
2.68
/5
rDev
-23.4%
vibe: 3 | quality: 2 | service: 3 | selection: 3
Looks nice inside and out, brewing vessels are viewable from the seating/standing areas.
5 mins walk from Spandau S-Bahn station.
Neither myself or my companion was impressed with any of the beers here, also some other friends did a brewery tour and tasting and commented that is wasn't worth the price paid.
Service was slow, waiter was more interested in telling everybody that "we brew the best beer in Berlin", a claim that was quickly found to be false!
There are much better places in Berlin e.g Brauhaus in Rixsdorf...
Jul 04, 2011
sfprint from Germany
3.19
/5
rDev
-8.9%
vibe: 2.5 | quality: 2.5 | service: 4.5 | selection: 3
While a friend of mine claimed they had the best beer in Berlin (maybe she meant brewed), I didn't feel the same. The beer there is average. Maybe I just don't like brewery/restaurant atmospheres, but I felt uncomfortable because I didn't fit in with the "middle-classness" of it all. It felt like a cookie cutter type place, it could have been anywhere, and easily forgetable. The staff/waiters were really nice though. And you can view the beer in it's various processes. But somehow it feels like it's more for show than it is a dedication to quality beer production.
Apr 10, 2010
foamee from Maryland
3.73
/5
rDev
+6.6%
vibe: 4 | quality: 4 | service: 3.5 | selection: 3.5
The Brauhaus in Spandau is a classic brewpub. The brewing operation is on a platform behind the bar. Bar tables are nestled up close to the fermenters. The bar is not particularly spacious, but there are several dining rooms as well as a large upstairs area and also quite a large outdoor seating area. The food is cafeteria style; you can get it yourself or the wait staff will get it for you. There are several year round beers on their list as well as several seasonal. The beers were tasty and seemed true to style. It is worth the short trip from Berlin
Aug 13, 2009
Crazywumbat from Maryland
4.33
/5
rDev
+23.7%
vibe: 4.5 | quality: 4.5 | service: 4.5 | selection: 4 | food: 4
I spent a semester studying in Berlin, and I've probably come here two or three times every week. I can easily say some of the best beers I've had in Germany have been here.
They serve their Havelbräu year round, and offer a seasonal selection by the month. I wasn't aware of the place in January, so unfortunately I missed out then, but February had a Spandauer Rotbier, March featured their Märzen, and April was Mondschein, a very malty dark beer. All of the beers were fantastic, but the Rotbier ranks up there with my all time favorites.
The food was good too, although not of the same quality of their beer. The Ribbchen are extremely flavorful, and probably my favorite food that they serve. The service is also very good, highly attentive servers that are quite willing to let me butcher the German language, and also willing to switch into English when I start to struggle too much.
The prices are on the upper end of standard, but even slightly pricey by Berlin standards is cheap compared to anywhere in the States or the rest of Europe I've been.
Spandau is a gorgeous area, and well worth the visit. The holy trinity for me in Berlin consisted of Brauhaus in Spandau, Brewbaker, and Brauerei Eschenbräu. All three are absolute musts for any visit to Berlin in my opinion.
Apr 22, 2009
4thoseabout2bock from Illinois
4
/5
rDev
+14.3%
vibe: 4 | quality: 4 | service: 4 | selection: 4 | food: 4
Original Review:
There are several brew houses located on/beyond the outer ring of the Berlin SBahn -- of these only two destinations are worth the trip in my humble opinion. This is one of them (the other is the one-two combination of Burgerbrau and Schlossplotz).
The brauhaus is a large brick structure with a tall tower entrance. Inside is a great tap room surrounding the copper system. There are open air fermenting tanks to the right and a self service kitchen (and WCs) to the left. They routinely have special beers which are listed on their web site. We went in the beginning of november to get their Herbst BOCK called maronator. It was a strong bock, almost a doppel bock. A lovely strong unfiltered, fruity sweet bock that made me very happy. Went well with their tender, saucy ribbchen.
The Helles was also good quality -- nice bready taste and good body. This was worth the trip out of town.
In addition, Spandau is quiite the picturesque town -- to get to the brauhaus you can get off at the end of the Sbahn line and walk through town (mostly cobblestone pedestrian streets) or take the Ubahn to Altstadt. The zitadelle is quite nearby on the other side of the locks. There is a cute triangle called Kolk wedged between the locks and the old city walls. We found a small bohemian restuarant that offered Louny beer on tap and a goose dinner. The waiter was eccentric and a bit louny himself. Restaurant Böhmerland, Hoher Steinweg 5. I liked the Louny Dunkels which was sweet malty and dark. The Helles was also good -- filtered and pilsy with nice body and flavor. And the goose was very good.
So a number of reasons to make the trip. Recommended.
Updated May 2011:
I still like this place -- we got their Maibock this time and it was definitely at least a B+. However, as opposed to my earlier review where I recommended other out of Berlin trips, this trip is now head and shoulders above Burgerbrau/schlossplatz outings.
Nov 09, 2008
CanuckRover from Canada (ON)
3.68
/5
rDev
+5.1%
vibe: 4 | quality: 3.5 | service: 4 | selection: 3.5 | food: 3.5
This place makes a great short trip out from Berlin. At the far west of the S-Bahn so it's easy/cheap to get to, Spandau is a nice, old, suburb by the spree with a picture-perfect citadel on the outskirts of the town.
The Brauhaus/guesthouse is a prime attraction in the town, so it's easy to fine, marked on maps within the town.
It's a nice, red brick building with a beautiful, classic brewery decor inside. There is a casual dining area on the main floor, with a sort of beer hall arrangement downstairs. Outside, where we sat, there is a good sized beer garden with smaller tables and longer benches. Waiters are on hand, but you can also go the self-service route with a small canteen in one room.
Beer selection changes monthly with their Havelbrau Helles being the one standby. Check out the website for a full schedule of beers. Beer by 0.2l, 0.4/5l and pitchers. Beer came accross as being very well down with some fantastic malt and very aromatic hops. Had both the Havelbrau and Hefeweizen Dunkles. 3-4 euros for a large beer, so comparable to elsewhere.
Food consists of several large meals for standard Berlin prices (6+ euros) or classic Berlin snacks for a better price. I had a Boullette with roast potatoes for 4 euros, not much more than you'd pay on the street really.
Crowd is a combination of locals and German tourists. Spandau is a little out of the way for a non-German to find it. Service was friendly and competent. I'd return.
Jul 19, 2008

elmocoso from Nebraska
3.33
/5
rDev
-4.9%
vibe: 4 | quality: 4 | service: 2.5 | selection: 3 | food: 3.5
This is a great brewpub in Spandau, just a few minutes walk from the Zitadelle and Alt Spandau. Beautiful place with a brass Kasper Schultz system set in the middle of the downstairs restaurant. There is also a more relaxed dining hall on the side of the restaurant which i would have rather sat at, but i did not notice until i was leaving. I think this is also a guesthouse, so you can stay there. In another wing, you can view the open fermenters. It was a nice day and there was outside seating, but we were too late to get one.
The one drawback was the price. The beer was rather expensive, but good. Also, the only food i had was a large currywurst, which was good, but not a good example of the food they serve. The food was also expensive.
I couldn't tell if the clientele was local or tourists. Probably all Germans, since it isn't high season yet, but they might have come out from Berlin proper to see the city or Zitadelle.
I would not go back, due to the price, but the beer was good.
Mar 24, 2007
Brauhaus in Spandau GmbH in Berlin, Germany
Brewery rating:
3.31
out of
5
with
9
ratings