Enlightenment Brut (Bière De Champagne)
| Enlightenment Ales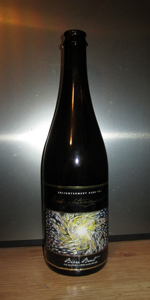 BEER INFO
Brewed by:
Enlightenment Ales
Massachusetts
,
United States
enlightenmentales.com
Style:
Bière de Champagne / Bière Brut
Alcohol by volume (ABV):
11.00%
Availability:
Year-round
Notes / Commercial Description:
No notes at this time.
Added by Jason on 04-21-2012
Reviews: 10 | Ratings: 117
4.11
/5
rDev
-1%
look: 5 | smell: 4 | taste: 4 | feel: 4 | overall: 4.25
Pours clear, bright yellow in color with one inch head and high carbonation. Taste is honeysuckle, sugar, Belgian yeast, vanilla, and light hops. Makes for a beer that is somewhere between a saison and a Belgian Pale ale. There is a really good mix of sweet and slightly bitter. Makes for a nice celebration beer. Tasty and high quality. I can totally appreciate all the hard work that goes into producing this beer and why it is priced high. That said, its price would most likely deter me from getting this more than once a year.
537 characters

4.24
/5
rDev
+2.2%
look: 5 | smell: 4 | taste: 4.25 | feel: 4.25 | overall: 4.25
750mL bottle poured into a stemless wine glass.
Huge foaminess. Spritely carbonation that surges like champagne. Golden and copper body. Clear and elegant. 5
Dark fruit and bright floral nose. Peppery yeastiness. Sweet caramel/honey. 4
Plum and dark fruit join peppery yeast and floral notes with a current of sweet honey and touches of wheat. White wine and champagne notes are in the mix and lovely. Sweet lager malt sort of flavor lingers. 4.25
Not as light as I would expect from a "champagne" beer, but has the yeastiness and wine-like qualities. Sweet and floral with mellow bitterness close to the finish. Lingers like white wine with a touch of tartness. 4.25
First bier de champagne and I'm impressed. Tasty and a perfect beer for Thanksgiving.
759 characters
4.42
/5
rDev
+6.5%
look: 4.5 | smell: 4.25 | taste: 4.5 | feel: 4.25 | overall: 4.5
Cork pops just like champagne. Lovely carb in the pour and nice presentation. Nose presents a bit more Belgian yeast than the taste. Taste is loads of vanilla, white wine, green grapes, and just some hints of flowery esters. Great drinking experience.
255 characters

3.83
/5
rDev
-7.7%
look: 4.25 | smell: 3.75 | taste: 3.75 | feel: 3.75 | overall: 4
ACBF pour
A-Pours a semi-hazy, pale orange hue. Big, creamy head.
S-Hard beer to describe, especially in the nose. It's got a sort of vanilla and fruit combination to the nose. Yeast must. Some lemons and even some medicinal notes.
T-The yeast, or yeasts I should say, have a very unique flavor that is rich. I personally get a bunch of vanilla with a fruit medley pairing. A mix of lemons and pears. Slight medicinal flavor. Musty and very tangy. It's also sweeter than I imagined it being. I think of sweet dough with fruit mixed in.
M-Full bodied and very creamy. Alcohol is fairly noticeable. Lots of bubbles.
O-Have been wanting to try this one for quite some time. It's very interesting but I wouldn't want to spend the money on a whole bottle.
755 characters
3.83
/5
rDev
-7.7%
look: 4 | smell: 4 | taste: 3.75 | feel: 3.75 | overall: 3.75
750ml bottle poured into a pilsner glass.
A: Dull golden color, slight haze. Massive rocky white head. Tons of thick foamy stickage.
S: Musty yeast, downplayed white pepper phenolics, bready and biscuity malts with light toasted notes, white grape skin, herbal hops.
T: Yeasty and musty. A touch vinous with hints of white grape. Hit of alcohol. Herbal hops. Maybe some lemon. Modestly bitter. Bready malt base is actually fairly sweet. Subtle tartness. Semi-sweet malt tastes start to lose ground to the bitterness in the finish.
M: Fat medium body. Slick and round in feel. Large bubbled carbonation has less bite than expected.
O: Sweeter than expected, and with a larger malt body. The yeast complexity is nice. Maybe a brut version would tickle my fancy a little more, but as it stands this ain't bad.
813 characters
4.29
/5
rDev
+3.4%
look: 4.25 | smell: 4 | taste: 4.5 | feel: 4.25 | overall: 4.25
Pours hazy honeyed gold with a big thick white head initially. 1/8th inch skim bubbly white head/ring with a little splashy foam. Pretty.
Tropical fruit, vanilla, wood, and a little yeast in the nose. Nice.
Best description is a Belgian tripel with alot of fizz and a dry finish. Juicy tropical fruit, mild bitterness, a little cracker, a little bread, vanilla, wood, alcohol. As pallet clears, modest bitterness turns dry and clean. Really good.
Medium bodied because of the carbonation. If you let this go flat, this would be full bodied.
Great brew. Been staring at this for a year and pulled the trigger. $17 a bottle is…creeping toward my top end, but boy is this worth it. Complex and well crafted, and drinkable at 11%. Only other one of this style I've had is Infinium by Sam Adams. SA is absolute sewage compared to this, and actually is more expensive than this. Seek this, trade for this, try this.
915 characters
4.34
/5
rDev
+4.6%
look: 3.75 | smell: 4 | taste: 4.5 | feel: 4.5 | overall: 4.5
Pours a slightly cloudy light yellow orange, nice fine head, off white with orange tint.
The nose is subtle and really different from anything I've had. Smells of light fruit, grapes, orange sherbet, some interesting vanilla or something I can't quite place. Yeah orange sherbet. Very nice.
Oh wow. Yeah big vanilla cream, orange fruit again, graham cracker, much sweeter than I expected, this is like delicate fruity ice cream with hints of alcohol or dryness...delicious. Unique.
Mouthfeel is very soft and creamy, lots of carb but it's very fine and not like fizzy/bubbly. Feels wonderful, very drinkable.
This is fantastic. My first biere de champagne but I have several others lined up and now I'm very excited to try them!
8.7/10
740 characters

4.28
/5
rDev
+3.1%
look: 4.75 | smell: 4.25 | taste: 4.25 | feel: 4.25 | overall: 4.25
Very fresh bottle, couple weeks old.
A: Pours a hazy golden-amberish color. Enormous fluffy and fizzy tan head. Head fades away surprisingly slowly despite its initially fizzy nature. It quickly becomes huge blobs of fluffiness instead. Big island of foam remains, tons of fluffy lacing from top to bottom of the glass. Top notch.
S: Very saison-ish. Light, crisp fruits, mainly citrus. Lemons and oranges I suppose. Grassy. Light breadiness. When swirled I get some graham cracker crust along with the lemons, kinda lemon meringue-ish. Smells similar to a 5-7% saison, not an 11% monster; zero alcohol. Refreshing.
T: Again, very saison-ish. Grassy, citrusy and even a little melon up front. Lots of graham cracker crust up front and in the middle, turning a little more biscuity into the finish. Finish has again, a little citrus and grass and it turns just a bit dry. Get kind of a crackery, saltine-like aftertaste. Absolutely zero alcohol despite extremely fresh bottle.
M: High carbonation (duh) gives it an airier feel and softens the flavors, making this seem like a 7% saison at MOST. Amazing.
O: This is one hell of a biere de champagne. If you've never had one, they are definitely very saison-ish but with champagne yeast characteristics instead of belgian yeast characteristics (very little in the way of earthiness, black pepper, etc). I hope I described that correct, just giving my impression. Amazing job of hiding the alcohol in this one, this has to be the easiest drinking 11% beer I've ever had. Flavors are well rounded, body isn't overly heavy and there is zero alcohol sting. Seriously good, easily the best of the style that I've ever had.
1,669 characters
4.15
/5
rDev 0%
look: 4 | smell: 4 | taste: 4 | feel: 4.5 | overall: 4.5
My second attempt at a beer from Enlightenment Ales is their No1 beer, Bière Brut, batch 4. Cold 750mL bottle served -- per instructions -- in a (large) flute. Beer pours slightly cloudy straw yellow with lots of bubbles rising towards a thick white head. Looks like it could *be* a rather dark (yellow) champagne, if the head is allowed to fall. Aroma is slightly yeasty.
My first sip is intensely carbonated with tiny bubbles. Would be carbonated to a fault in any other style, but perfect here. Flavor is really delicate and I find it hard to describe. Grainy, but not malty? Dry, but not hoppy. I say dry, and it is definitely Brut but not Extra Brut (or Natural). Allowing the beer to settle in the mouth brings out the Belgian flavors. This one brings out flavors from Leffe Blonde, or even Westvleteren Blonde. Of course, where those beers are around 6%, this boasts 11% ABV -- but you'd never guess it from the lack of alcohol harshness/burn, residual sugar, heavy mouthfeel, or heavy hop load typical of high gravity ales. Which is not to say it's not more heady than Belgian Pale Ales. I figured the use of "multiple yeast strains" was a gimmick (why not just use the one that works?), but based on the result I can't doubt anything the brewer's done here.
It's been a long time since I tried Infinium, but I think this is way better. The execution here is excellent and drinking this is a real treat, if not a beer for everyday.
1,442 characters
4.53
/5
rDev
+9.2%
look: 5 | smell: 4.5 | taste: 4.5 | feel: 4.5 | overall: 4.5
I can't believe there isn't a review for this remarkable beer yet. Oh well, here goes.
The pour is lively, with a steady stream of fine bubbles rising to the rim of the glass sustaining the fluffy cap of foam atop the soft, golden body.
Hints of sweet, hard candies, mild fruit (banana) and a hint of white pepper in the aroma. Flavor has that hint of sweetness and a mouth-coating quality that is hard to place, almost oily. Some bitterness is in the form of fine carbonation and mild hops help to balance things out nicely.
What an amazing specimen we have here. If there was any doubt that the United States was the best place in the world to drink beer, this fine example of our product should surely help displace it.
725 characters
Enlightenment Brut (Bière De Champagne) from Enlightenment Ales
4.15
out of
5
based on
117
ratings.