Selkirk Abbey Brewing Company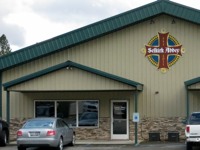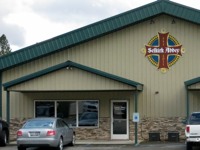 Brewery, Bar, Beer-to-go
6180 E Seltice Way Ste 102
Post Falls
,
Idaho
, 83854-5052
United States
(208) 292-4901 |
map
selkirkabbey.com
Notes:
StonedTrippin from Colorado
4.4
/5
rDev
+2.6%
vibe: 4.25 | quality: 4.5 | service: 4.5 | selection: 4.25
this place is so awesome, honestly probably one of the best belgian breweries in the country, and super unsung. i have liked or loved every beer i have had from them, and it was awesome to check out their brewery last week, such an unassuming place, looks like another aluminum industrial building from the outside, but inside the front looks like a monastery with some really nice touches including a fire place, some old gothic looking light fixtures, some nice dark wooden features, and a real minimalist vibe. like stepping back in time a bit. the whole back half or more is production, and they are brewing for a few other labels in here now too so it must be of decent size, but i did not lay eyes on it. i parked at the bar and drank through a nice portion of their lineup. they also have some of the other brands they are brewing on tap, but i did not dabble, i was here for the belgian stuff and thats what i drank. i fell in love with guilt, a belgian coffee porter as fine as any in the world. i also really liked their winter heater, a blended barrel aged winter warmer of sorts. less impressive but drinkable and well refined were the belgian pale and the farmhouse, but they dont make a bad beer in here. of minor frustration was the fact that they have no beer list, like nothing printed or on the wall at all, so its on the bartender to explain every option, he did great with it, no criticism there, the guy was fantastic, but i wanted to look it over, consider details and strengths and things, and it was impossible to retain it all, i likely will not be able to write about all i drank in here just due to memory overload and no real ability to take notes. that said though, everything was excellent, service included, and the vibe was awesome for a chilly fall evening. lots of bottles to go too, i should have grabbed some! these guys really are making some world class beer, deserving of much greater attention than it seems to have brought them so far. super special place, the beer is as good as any belgian stuff made in the states. the guilt was unforgettably good!
Nov 19, 2019
gfabeer from Connecticut
4.59
/5
rDev
+7%
vibe: 4 | quality: 4.75 | service: 4.5 | selection: 4.75
This is really a small gem of a brewery. Sampled about four of their offerings while passing though the area. Very friendly and knowledgeable staff. Awesome belgium style beers. I have been to a lot of small breweries and definitely rate this in the top tier. Not to be missed if you are in the area. Worth a side trip actually if within 100 miles.
Sep 04, 2017

PapaGoose03 from Michigan
4.01
/5
rDev
-6.5%
vibe: 4 | quality: 4.25 | service: 4.25 | selection: 3.5
(#15 of 49) This brewery was the one most recommended in the Coeur D'Alene area, so we visited here for a Belgian-inspired nightcap at the end of our driving day. Like other reviews have mentioned, the location and the light-industrial appearance of the exterior of the building don't give a hint of what is inside the place. A small covered front porch has a few tables with chairs for outdoor drinking. I don't know what the inside of a typical Belgian pub looks like, but we entered the place, I decided that I liked this one.
We liked the beers too. There are only 8 taps here, so we ordered a sampler glass of each. All of them were brewed very well to their respective style, and definitely exceeded style too because there is nothing average about these beers. We gave an overall score of a B rating, with a couple beers scoring slightly above and slightly below this rating.
This pub is a definite place to make a return trip if we are ever in this area again.
Sep 17, 2016

BierMeJohn from Maryland
4.08
/5
rDev
-4.9%
vibe: 4 | quality: 4.25 | service: 4.25 | selection: 3.75
Just off "the" main road in Post Falls... kind a weird location hidden in an industrial strip next to a marble/granite fabricator. Some outside seating, but not the greatest environs for it. Decor on the inside was nice though, really playing up the abbey theme. Pictures on the wall of the Belgian and Dutch trappist monasteries (although i don't think I saw my beloved St. Sixtus). Service was friendly and helpful, seemed like it was the owner and his wife, and maybe their son... I only sampled one while there, the belgian dubbel... despite being copper in color, it was pretty tasty!
May 05, 2015
MilwaukeeCrusher from Wisconsin
4.75
/5
rDev
+10.7%
I had the misunderstanding I didn't like saisons. With the confidence of the server and the fine beers at this establishment, they have led me out of the dark. Beers were great but I won't say outstanding. Will hopefully visit again.
Nov 13, 2014
socon67 from New York
4.25
/5
rDev
-0.9%
I hit up this place on a Tuesday while out in Spokane Valley for work. The décor looks like a medieval pub. Very nice and inviting.
Service was excellent as I ordered a flight and the server knew specific hop, yeast, and grains used in each offering. The saisons were incredible and spot on.
Prices are fair and the experience was a highlight of my trip. I heard they do get small distribution in Philly and I will look for them.
Cheers to a small craft brewer who makes true Belgian styles.
Sep 10, 2014
fuhkyou from Idaho
3.43
/5
rDev
-20%
vibe: 4.25 | quality: 3 | service: 4 | selection: 3
As much as I hate to say this... this place doesn't work for me. I live 5 miles from the place and used to go there about twice a year.
Sorry folks, perhaps the grass is always greener...
Does this place even serve Belgian style beer or just a bunch of weird American styles made with Belgian yeast?
Jul 13, 2014
alphanon from Washington
4.75
/5
rDev
+10.7%
vibe: 4.75 | quality: 4.75 | service: 4.75 | selection: 4.75
The local beer market has been booming of late, but my favorite brewery in the area is Selkirk Abbey. I was there last night for a beer release and had an outstanding as also. The staff is knowledgeable, the beer is amazing, the decor is drawn right out of a european castle. I will definitely be spending as much time there as I can.
Mar 23, 2014

flagmantho from Washington
4.46
/5
rDev
+4%
vibe: 4.25 | quality: 4.25 | service: 5 | selection: 4.25
I was lucky enough to get to visit Selkirk Abbey for the first time during their 1st anniversary celebration last weekend. I was not at all disappointed.
There were extra tents and tables set up outside, but inside the brewery was left pretty much as it normally is. A dark bar with a dozen taps and some abbey-themed decorations provide a good atmosphere by themselves, but the air of the place is of a real brewers' brewery. I just felt home there.
Beer quality is great; these guys are turning out some delicious stuff despite being just one year old. There were 10 in-house taps plus two guests; one from sister-brewery Laughing Dog with the other as Duchesse de Bourgogne -- can't argue with that! I had to stick to in-house beers, though, as it was after all their anniversary.
Service was quick, friendly and efficient, despite the big party crowds. I got to speak with one of the owners for awhile; a good time was had by all. I will absolutely be returning to Selkirk Abbey the next time I go through town.
Update 6/29/2014 -- I've been back to Selkirk Abbey a couple of times now and have sat down and had a beer with the owner Jeff. His outstanding service has converted me to a Selkirk Abbey booster for life.
Jul 01, 2013
GypsyGirlJ from Idaho
4.59
/5
rDev
+7%
vibe: 4.5 | quality: 5 | service: 4.25 | selection: 4.5
everything was reasonably priced and i couldn't find a bad beer! everything was very drinkable, each beer was unique from the preceding beer and the staff were all friendly as well as knowledgeable. it is apparent that the staff are all "family" and make you feel genuinely welcome. we had the pleasure of meeting both jeff whitman, the owner, as well as his wife, dana, and head brewer, steve. when you start chatting with them, you really feel their passion for beer and their "desire to share really good, consistent beer." in my opinion, they are succeeding... the beer WAS good! from the outside, the place doesn't look like much more than an industrial building but the inside it well decorated with beautiful lighting, tapestries, woodwork and a fireplace. the taproom was well kept and very clean and the glasses were free of nucleotides. overall, it was a great experience. we will be going back soon and often!
May 23, 2013
Selkirk Abbey Brewing Company in Post Falls, ID
Brewery rating:
3.89
out of
5
with
478
ratings