Ramée Ambrée

Abbaye De La Ramée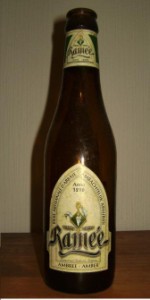 Rate It
Beer Geek Stats
| Print Shelf Talker
Style:

ABV:

7.5%

Score:

Avg:

3.62

| pDev:

14.36%

Reviews:

13

Ratings:

From:

Avail:

Year-round

Wants

Gots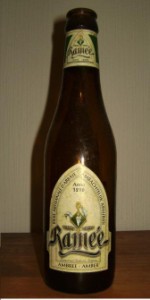 Notes:
JonnoWillsteed from England
4.07
/5
rDev
+12.4%
look: 4.25 | smell: 4 | taste: 4 | feel: 4 | overall: 4.25
Blind-tasted except for the beer's name and brewery/country, zero reviews below read (yet!)…
L- Chestnut reddish-brown, clear, pours with a 2Cm pillowy off-white head. ps 20mins later, holds very well.
S- Immediately engaging, classic vibrant Belgian (monastic) hop notes.
T- ... which follows directly into the taste. Aromatic timber, hints of leather and spice. Vibrant flavour, even a suggestion of sherbert like CO2 bubbling up in the mouth (this is a ref to the CO2 only, not a suggestion re: sherberty sweetness, at all!). This is of the style of trad Belgian monastic... what, Tripel, I'm guessing?
F- There's a lot going on but it's going down really easily. Probably a sign of a good beer. One for slow-sipping, too good to rush anyway.
O- Wow lovely, an unexpectedly good surprise this one. Funny how sometimes the most impressive beers have no need for clever/loud/eye-catching packaging. This bottle is certainly understated, not quite to the eponymous Westvleteren's Catholic minimalism but off that way in it's elegant simplicity.
Wow, *major* Belgian estery notes going on here. Complete with reminders of the taste of Pear Drop sweets. All in all a lovely beer!
Review/scoring all done, now the reveal, I get to read the bottle lables to see what I missed! Ok 7.5% Amber i/o Tripel. 'Bottle re-fermented'.
330ml bottle BB: 31/08/2022 £2.74 - Good value for a beer of this style/stature. Bought from BeersOfEurope, King's Lynn/UK as part of a large pick-your own consignment to London.
Yesterday at 07:26 PM

BMMillsy from Florida
3.73
/5
rDev
+3%
Bottle at an Italian joint in Antwerp. Pours amber colored, slightly hazy, with a big frothy white head on too. Aroma of some fruit, spice, little yeast funk. Flavor follows with sweet amber ale notes--light cherries, fig, bit of bready malt--and is supplemented by a subtle Belgian yeast and spice note. Very easy drinking brew, clean finish, with medium plus carbonation. Overall I found this to be a perfectly pleasant everyday beer. Not bad.
Sep 03, 2014

Jetulio from Spain
3.34
/5
rDev
-7.7%
look: 3.5 | smell: 3.25 | taste: 3.25 | feel: 3.5 | overall: 3.5
330 ml bottle poured into a Goblet glass
Appearance... amber dazy beer with head colour beige of 2,5 fingers
Aroma... light yeast and very fruity (pineapple). Fresh and not too strong smell with a touch of malty aroma
Taste... alcohol , caramel and malt, bitterness appears in the end,
Mouthfeel... medium body and medium/soft carbonation
Overall... a good one, maybe not spectacular but well balanced.
Oct 17, 2013

jonb5 from England
3.94
/5
rDev
+8.8%
look: 4 | smell: 3.75 | taste: 4 | feel: 4 | overall: 4
330ml bottle, poured into La Chouffe tulip.
A: Dark amber, medium tanned head, good retention, some lacing. S: Phenols, citrus.
T: Molasses, yeast, esters, citrus, suppressed the boozy burn.
M: Crisp, light, smooth, moderate carbonation.
O: Balanced, solid, hard to classify, not strong enough to be a tripel, also very dark in colour. I would say it's more of a strong belgian pale ale.
Sep 23, 2013
Petertauro from Spain
5
/5
rDev
+38.1%
look: 5 | smell: 5 | taste: 5 | feel: 5 | overall: 5
The Ramée Amber wears a dark ocher, crystalline, with orange tones, in which we see a medium carbonation. Its foam is white and creamy, stable duration. The aroma is very floral and fruity, with presence of malt and slightly licorice. It is also found that touch alcohol in perspective, presaging a powerful shot.
The drink is lighter than expected, with a flavor that hints at citrus and fruity notes, based maltose and alcohol. The final, herbal and spicy leaves the mouth tingling with a bitter aftertaste. Fully balanced, smooth beer.
Apr 10, 2013
benfons from Belgium
3.53
/5
rDev
-2.5%
look: 4 | smell: 3.5 | taste: 3.5 | feel: 3.5 | overall: 3.5
A: Clear amber colour; nice dense beige head
S: pineapple, caramel, some malts
T: loads of caramel and coffee; hints of pineapple and peach, burned accents
M: dry, low carbonation, not too much alcohol
O: It's a good beer, not a great one. It looks great but everything else is very mediocre
Jul 10, 2012

thierrynantes from France
3.83
/5
rDev
+5.8%
look: 4 | smell: 3.5 | taste: 4 | feel: 3.5 | overall: 4
Beer bottle (33 cl.), purchased from Le Comptoir du Poulpe tasted in 2012.
Appearance : dark amber color, with tan foamy head.
Smell : fruity and yeasty aromas.
Taste and mouthfeel : fruity and yeasty with caramel flavours.
Drinkability : a good beer in the style Belgian Strong Dark Ale.
Feb 06, 2012
yapi from Belgium
2.7
/5
rDev
-25.4%
look: 3 | smell: 3 | taste: 2 | feel: 4 | overall: 3
well,
tried this on a shopping day, the only beer the place had I didn't know of, so I was in for something new I thought
not impressed by this one, especially not the taste. Very weak, light body, not much more to say, won't try this one again. Far better beers in Belgium.
should have taken a regular Orval instead
Jan 21, 2011
ThaCreep from Belgium
3.65
/5
rDev
+0.8%
look: 3.5 | smell: 3.5 | taste: 4 | feel: 4 | overall: 3
In the olfactory flavors, with wonderful malting with a touch of sweet alcohol. Fort sparkling, his mouth is both spicy and pungent with tannins of old wood. Quite warm in the body, it gives the impression of an old beer to taste very bitter, especially in the finish. Force almost a beer style threefold, much less refreshing than her sisters.
Jan 03, 2010

weissbierdrinker from Belgium
3.46
/5
rDev
-4.4%
look: 4 | smell: 3 | taste: 3.5 | feel: 3 | overall: 4
Pours a semi clear amber color.
Smell has a hint of pears and yeast.
Taste is pear like up front then changes to a spicy sweetness that has a fruity finish.
You can feel the alcohol settle, but not in a bad way very nice.
This is a great beer. I'm glad I decided to pick it up I almost past it up.
Aug 22, 2009
jbphoto88 from Texas
2.94
/5
rDev
-18.8%
look: 4 | smell: 2.5 | taste: 3 | feel: 3 | overall: 3
A clear (but not crystal) amber mahogany beer with a good rising bleached khaki head. It washes up the edges of the glass like an ocean wave but quickly fades back into the liquid.
Smell is on the weak side. Slightly malty and... hmmmm, that's all I've got so far. I'll let it warm some more and see if anything else shows up.
Taste is on the cidery side of things. There is a baked apple taste and a lightly grain finish. Nothing great to the taste, just middle of the road.
Not bad but also not really great. This is a weak Belgian in my book. It looks great but doesn't finish strong.
Dec 24, 2008
paterlodie from Belgium
3.58
/5
rDev
-1.1%
look: 4 | smell: 3.5 | taste: 3.5 | feel: 4 | overall: 3.5
Best before oct 07. Beer poors out with nice head and beautifull and clear amber/copperbrown beercolor. Nice nose of caramellic sugar/malt and nice asterpalete with it giving banana& sweet apple. Taste is also quiet good being caramellic malty and having a good balance between sweet& bitterness! Missing a litle body and somehow gave me a litle soapy taste with it. No bad brew though IMO and nice moutfeel with good carbonisation( but could be more also). Easy drinkable but not one to remember cause of greatness.
May 08, 2005
stcules from Italy
2.3
/5
rDev
-36.5%
look: 3 | smell: 3 | taste: 2 | feel: 2 | overall: 2
Cherry-wood red, full and deep, brownish head, average in compactness and persistence.
The smell is caramel, cane sugar, and a hint of liquorice in background. Maybe some chickory?
In the taste the caramel sweetness prevails, and after a while it become boring. Touches of ripe fruit (peach) and tropical fruits.
In the aftertaste the ripe fruit sweetness again. Then caramel and, if you search very carefully, some hints of liquorice.
Medium-light in body.
Nov 28, 2004
Ramée Ambrée from Abbaye De La Ramée
Beer rating:
84
out of
100
with
29
ratings