Pacific Ridge Pale Ale
| Anheuser-Busch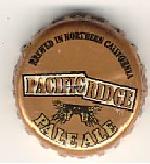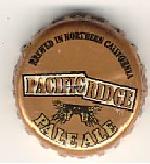 BEER INFO
Brewed by:
Anheuser-Busch
Missouri
,
United States
anheuser-busch.com
Style:
American Pale Ale (APA)
Alcohol by volume (ABV):
not listed
Availability:
Year-round
Notes / Commercial Description:
No notes at this time.
Added by BeerAdvocate on 01-08-2004
This beer is retired; no longer brewed.
HISTOGRAM
Ratings: 6 | Reviews: 6
Reviews by NorCalYeti:

2.36
/5
rDev
-29.8%
look: 3 | smell: 2 | taste: 2.5 | feel: 2 | overall: 2.5
light copper color, big head when poured from a pitcher into a cold beer mug, light malt and hop flavors, a little more palatable than mgd, it's sweet and malty with very little memorable about it. no real mouthfeel, weight, character, or interesting notes about it.
266 characters
More User Reviews:
3.06
/5
rDev
-8.9%
look: 4 | smell: 3 | taste: 3 | feel: 3 | overall: 3
Wow, this looks just like SNPA. Amber liquid, good head, good retention. Aroma, well, now you know it isn't SNPA, there isn't enough hops. But for Bud, it is pretty substantial.
Taste, similar to SNPA that has been cut with water. Not even up to the SNPA draught version snuff. But a decent gateway beer for people wanting to move into flavor country.
Not much else to speak of regarding this beer, its a lighter, less hoppy, less bitter, less caramel version of SNPA, with more water going for it.
501 characters
4.72
/5
rDev
+40.5%
look: 4 | smell: 4.5 | taste: 5 | feel: 4 | overall: 5
this is a great beer on tap at the local irish pub in orange only 6.50 a pitcher during happy hour can't go wrong with that unless you want coors light? I was just surprised it was from budweiser brewery. It should be bottled at least i cannot find this at any store not even Bev-Mo.
283 characters

4.1
/5
rDev
+22%
look: 4 | smell: 4 | taste: 4 | feel: 4 | overall: 4.5
It seems other reviews on this beer are taking into account that this is an A-B beer and may be clouding their judgement. Here's how I call it:
A - Nice amber color with a nice head that hung around and left nice lacing on the pint glass.
S - Subdued hop aroma, but I could make out the citrus and pine in there.
T - Very similar to SNPA, and very enjoyable. It had a dry finish, but was definitely tasty. I'd recommend this one...yes, it's an AB brew, but I call it as I see it. If the beer is good, it's good, doesn't matter who makes it...
D - I had 2 pints with dinner and could have had more had I been hanging out watching a game.
Overall, an enjoyable brew that I would have again.
696 characters

3.46
/5
rDev
+3%
look: 4.25 | smell: 3.25 | taste: 3.5 | feel: 3.25 | overall: 3.5
Amber and copper liquid, solid white head, off white, good retention. Aroma, ample cascades all over it. Look this is the Bud clone of Sierra Nevada Pale Ale. Straight up.
They watered it down a little, made it a little less bitter. Everything reduced a little bit. Still good, better than most anything else they make in Fairfield.
341 characters
2.46
/5
rDev
-26.8%
look: 3.5 | smell: 2.5 | taste: 2.5 | feel: 2.5 | overall: 2
Good old AB. Always looking for an angle, some way to steal someone else's thunder.
Had this at some bar one night in San Jose. Obviously, this beer must be considerably cheaper then Sierra Nevada Pale Ale, which one gathers is what AB is trying to mimick with this swill. Most people at this particular bar were ordering "pale ale," assuming they were getting Sierra Nevada. As the bar was charging Sierra Nevada prices, and as no one really seemed to be the wiser, I'm sure the bar owner figured he was the smartest guy around since Albert Einstein.
Personally, I ordered a pint of "sierra nevada pale ale." In filling my order, the bartender told me "here's your glass of pale ale, sir."
Appearance-wise, this beer looks very much like SNPA. It poured a nice peachy amber color with OK lacing and head retention. I don't get much on the nose, and as I'm pretty familiar with the SNPA aroma, I was a bit surprised by what I smelled (or didn't smell). However, it was crowded and the bar had a lot of kegs out for the outdoor tent, so I just assumed the beer was a bit off. The beer tasted OK initially on the palate, though a little bit light, short and watery. However, as I drank more and more of it I became increasingly suspicious that I was not drinking SNPA. The beer was really light and watery, with virtually no finish to speak of. It was fairly crisp and refreshing, but had nothing like the character and richness I normally associate with SNPA. However, it looked so much like the SNPA, I just assumed the keg had not been treated/stored properly, or that it was simply an off batch. When I went up for a second glass of beer, I asked the bartender if what I was drinking was actually sierra nevada pale ale. He told me all he knew was that it was pale ale, but that he would check the keg. Sure enough, he noted (completely non-chalantly) that it was the Pacific Ridge pale ale. Upon closer inspection still, he noted that the beer was apparently made by AB.
As AB beers go, this beer was by no means poisonous. However, it's difficult to come to any other conclusion except that this beer was brewed expressly with the idea and purpose of competing with SNPA. Quality-wise, there is no comparison between this beer and SNPA, but one can certainly understand it's attraction from a merchant standpoint. For good or for bad I rarely drink SNPA any more, so it's unlikely I will ever get fooled into ordering this stuff again.
2,444 characters
Pacific Ridge Pale Ale from Anheuser-Busch
Beer rating:
3.36
out of
5
with
6
ratings