Bud Light Lime Orange-A-Rita
| Anheuser-Busch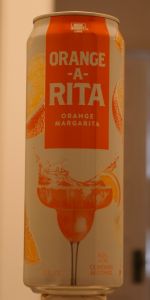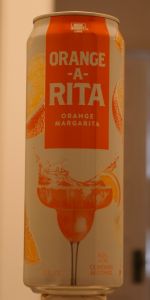 BEER INFO
Brewed by:
Anheuser-Busch
Missouri
,
United States
anheuser-busch.com
Style:
American Malt Liquor
Alcohol by volume (ABV):
8.00%
Availability:
Rotating
Notes / Commercial Description:
No notes at this time.
Added by emerge077 on 03-06-2017
HISTOGRAM
Ratings: 4 | Reviews: 1

2.45
/5
rDev
-10.6%
look: 2 | smell: 2.5 | taste: 2.5 | feel: 2.25 | overall: 2.5
2.4
/5
rDev
-12.4%
look: 2.5 | smell: 2.5 | taste: 2.25 | feel: 2.5 | overall: 2.5

3.26
/5
rDev
+19%
look: 1 | smell: 3.75 | taste: 3.75 | feel: 1 | overall: 3.5
At some point today, New Beer Sunday (Week 680) will open up & this will be my first entry in New Bud Light Lime Beer-A-Rita Sunday (Week 680) & more fodder for The CANQuest (tm). The impetus comes from a discussion yesterday at the FGBS in which I was queried as to having drank all of the new Ritas. I knew that I had a stash in abeyance, so I declined any new purchases until I could get home & see what I already had. I get the approved pic photo credit for this one, BTW.
The day will be dedicated to my late-Great Aunt Rita, one of my favorite relatives. She lived in a suburb of Kleveland with late-Great Uncle Max & was my late-maternal grandmother's sister. As a kid, they would come to visit my teetotaling, religiously morally upright grandmother with Max at the helm of his Caddy, its trunk laden with smokes & booze of every stripe. Y'see, PA has the State Store system & until recently wine & distilled spirits could only be purchased at a State Store & beer could only be bought at a distributor at a minimum of a case. Nothing was available on Sundays, a product of our Blue Laws, which is why NFL games start at 1300 - to be finished by sunset. Legend has it that on one visit, Max awoke early, was having a Vodka & Grapefruit, scandalizing my grandmother and offhandedly remarked that it was the last of his stash so following church, he would need to stop off & reload. Her response caused his mouth to fly open & his lit cigarette to fall into his lap & he began to weep. He informed Rita that right after church, they would be westbound for Ahia, toot sweet! Haha. After that, he was like a Boy Scout - fully prepared. I loved those two & I don't know if it was a tic or that Max knew that I got it, but he would always punctualize his conversations with me with a wink. Man, when they showed up, the Vice Squad wasn't far behind - alcohol, tobacco, playing cards & dice. Hoo boy, was it a great time with them!
From the CAN: "Orange Margarita"; "Contains Alcohol".
I have recently gotten hip to truly reviewing/rating to style, not to taste, following some jagov's taking another user to task for reviewing/rating to taste, something that you are NOT supposed to do & which I reported. Mine will probably be an outlier as a result, but at least you know the justification.
First of all, this was one of those massive new 25-fl.oz. CANs, as if they were doing anyone a favor with the added volume. They tend to fight me on the Crack! & this one was no exception. The other drawback of which to be aware (& it also happens with Crowlers) is that the vent sits further from the lip of the seam than in regular CANs, so dribbling (or worse) CAN occur during the Glug if you do not position the CAN right into the glass. My initial Glug produced two fingers of fizzy, foamy, orange (!) head that acted like pop & fizzed quickly into wisps. 8=( Color was that of orange pop (SRM = N/A), like Fanta/Sunkist/A-Treat Orange Soda. Wow! Nose smelled like orange pop & fusel alcohol, which is to be expected in the style. Super sweet & sugary & the CAN identifies "Natural Flavors". Man. Mouthfeel was the dictionary definition of Thin & Watery. The taste was very sweet, akin to orange pop, which may be just what you want. Finish was amazingly dry, but not totally unexpected, given that there are so many fermentable sugars CANbined with super-strong yeast that just have a field day.
3,403 characters

2.85
/5
rDev
+4%
look: 2.75 | smell: 2.75 | taste: 3 | feel: 2.75 | overall: 2.75
Bud Light Lime Orange-A-Rita from Anheuser-Busch
Beer rating:
2.74
out of
5
with
4
ratings