Mule Kick Oatmeal Stout
| Anheuser-Busch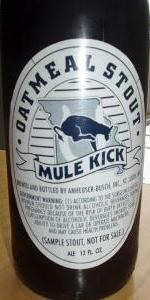 BEER INFO
Brewed by:
Anheuser-Busch
Missouri
,
United States
anheuser-busch.com
Style:
Oatmeal Stout
Alcohol by volume (ABV):
5.90%
Availability:
Limited (brewed once)
Notes / Commercial Description:
No notes at this time.
Added by beerphilosopher on 01-09-2007
This beer is retired; no longer brewed.
Ratings: 10 | Reviews: 9
Reviews by ch473:
4.34
/5
rDev
+22.6%
look: 4.5 | smell: 3 | taste: 5 | feel: 4.5 | overall: 4.5
Had a glass at the AB Brewery.
Dark brown/black color. Nice creamy head.
Not much smell (Unless you live on Arsenal, it's really hard to smell an AB beer.)
Very good taste. Chocolately, toasty, but somehow still kind of refreshing and light. Unlike other dark beers, I could drink 2 or 3 of these easily, and still enjoy the complex flavor.
Nice smooth carbonation, almost thick, but not quite Guinness-thick.
Very drinkable. Doesn't have the sickly sweet taste Spaghettio-taste other oatmeal beers I've tasted have.
A great beer, in my opinion. Just wished I could buy it at the store.
604 characters
More User Reviews:

3.12
/5
rDev
-11.9%
look: 4 | smell: 2 | taste: 3.5 | feel: 3 | overall: 3.5
It has a nice dark brown color. Very little smell to it at all. The taste was real good, pretty strong chocolate, oats, and roasted coffee with some light carmel to it. Mouth feel was average for an Oatmeal Stout. Has a nice dry finish to it. Very easy to drink, I would have it again.
285 characters
2.86
/5
rDev
-19.2%
look: 3.5 | smell: 2.5 | taste: 3 | feel: 2.5 | overall: 3
Pours a dark ruddy color, almost opaque until the light hits it. A head of light tan that starts strong, but dissipates quickly. Spotty lacing in the pint glass. Nose is of caramel malts, slight chocolate notes, and a touch of toasted oats. Nose is really lacking, even when aggressively swirled in the glass. Palate, unfortunately, follows suit .. tastes of roasted malt grains and a touch of chocolate. Very little, if any, oat character here. This stout tastes too watered down to me, when I would have hoped for more pronounced flavors. Subtle hop character (willamette, saaz) Mouthfeel is thin, lightly carbonated, and finishes dry. This is certainly an easy drinking stout, since it's flavor profile is so unchallenging, but this is also it's greatest flaw. Nothing stands out here. Further, there is little that defines this beer as an oatmeal stout. A one-timer for me ... you know, there is a drain cleaner called "Mule Kick" ... coincidence? I think not.
964 characters
3.56
/5
rDev
+0.6%
look: 4 | smell: 3 | taste: 4 | feel: 3 | overall: 3.5
Hmm. Made by AB? This, and the brewmaster private reserve are the best AB has to offer. Now, to get them to sell these more often.
Pours a beautiful brown, lacey, light head. Smells of chocolate, and nuts.
Taste of toasted malt, and and a slight nutty finish. This is a good beer for introducing people to the world of stouts. Much easier to drink that a "dry" stout.
373 characters
3.43
/5
rDev
-3.1%
look: 3.5 | smell: 3 | taste: 3.5 | feel: 3 | overall: 4
Welp, ol' AB has produced a decent craft brew – nothing outstanding but nothing offensive, either. This oaty would make for a good crossover, and if it's put into six packs with a price under $6, they make carve a piece outa the market.
Again, deep brown, good tan head. Subtle aroma and tastes of creamy toasted malts. No standout flavors, but semi-dry and very drinkable.
I'll most likely get a sixer, if/when available to try the bottled version.
460 characters
2.72
/5
rDev
-23.2%
look: 4 | smell: 2 | taste: 2.5 | feel: 3 | overall: 3.5
has a great dark black color to it, was disappointed with the smell or rather lack there of. taste of chocolate malt is strong with caramel undertones and other malty goodness, no hop presence at all, mouthfeel is a bit dry but definitely drinkable. its worth a shot
266 characters
3.24
/5
rDev
-8.5%
look: 4 | smell: 2.5 | taste: 3.5 | feel: 3 | overall: 3.5
Pours a deep, very dark brown color with a nice tan head, great lacing and pretty solid retention. Aroma is very faint and contains some chocolate and a bit of roasted malt (Not bad just nothing really there). Taste is definitely better than the aroma. It is a little nutty with some chocolate, and roasted malt with a bit of coffee in there as well. Mouthfeel is about medium bodied although I'd like a bit more in there. Decent drinkability as well. Pretty decent for a macro produced stout, I've had worse micro stouts for sure.
531 characters

4.58
/5
rDev
+29.4%
look: 4.5 | smell: 4 | taste: 5 | feel: 4.5 | overall: 4.5
Its funny because the area where this beer is reviewed is very close to the brewery. As I imagined with this one.
I got this beer from an employee of A&B. She gave some to me to try since she knew I enjoyed stout so much. This beer is a darker nutty kinda dude. Smell was the stout stamp all over it. Taste was just incredible, I was freakin out cause it was a Bud product, which to a level I despise.
Everything about this beer just was saying Euro all over it. I didnt expect to like it enough to write a review, but It was very close to almost a 5. I think that A&B is finally trying to grow out of that watered down lager age.
I would buy this all the time if they made enough, and if it was the right price. Dont get me wrong here, This isnt a Samule Smith Product, its BUSCH, so I gave a Higher score than I normally would for them.
Easy drinking, good taste, good smell, overall enjoyable experience.
KUDOS to A&B for this one.
951 characters

3.56
/5
rDev
+0.6%
look: 4.5 | smell: 3.5 | taste: 3.5 | feel: 3.5 | overall: 3.5
Had this on on-tap at the Anheuser-Busch brewery in Saint Louis. Poured a deep, dark mahogany brown color with a thick creamy tan head and good retention. Aroma was of chocolate and roasted malt. Taste was very smooth with hints of chocolate, coffee and roasted malt. Of the four beers I tried that day (I sneaked two when the first girl was not looking) this one was definitely the best.
388 characters
Mule Kick Oatmeal Stout from Anheuser-Busch
3.54
out of
5
based on
10
ratings.