Kutscher Alt
| Binding-Brauerei AG
BA SCORE
84
good
12
Reviews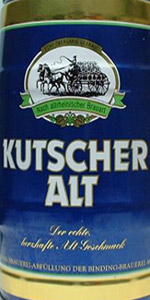 BEER INFO
Brewed by:
Binding-Brauerei AG
Germany
binding.de
Style:
Altbier
Alcohol by volume (ABV):
5.00%
Availability:
Year-round
Notes / Commercial Description:
No notes at this time.
Added by ernie on 06-29-2006
Reviews: 12 | Ratings: 16
3.96
/5
rDev
+8.2%
look: 5 | smell: 4 | taste: 4 | feel: 4 | overall: 3.5
Poured on tap into a Spaten stange? glass at Laschet's Inn in Chicago.
A very soupy off white head with some good retention and super tiny tight bubbles. Beer appears whipped up. A gorgeous dark copper bronze and clear brown body present with some streaky lacing while finishing. Fantastic looking beer.
Nose is kind of small and muted, but a basic mild toast and yeasty malt sense.
Taste is a roast malt density with some light bodied flavor. Texture is solid, but palate doesn't really open up.
Overall an enjoyable altbier, but kind of feels underwhelming and sort of basic. I would have this again no problem, but from an appearance perspective I was expecting real greatness and this didn't happen.
708 characters
3.85
/5
rDev
+5.2%
look: 3.5 | smell: 3.5 | taste: 4 | feel: 4 | overall: 4
The brew is clear, chestnut brown, an off-white small head leaving some lacing.
The smell is sweet, bread and raisins.
Tasting of sweet, brown bread, oranges and apples, a good bitterness.
Medium high carbonation, a rather small body, slightly coarse texture, refreshing and a soft dry finish.
In all a fresh and good Alt at Das Wirtshaus in Frankfurt.
356 characters
4.9
/5
rDev
+33.9%
look: 5 | smell: 5 | taste: 5 | feel: 4 | overall: 5
Nothing smoother. A good transition to full flavored beers. Tastes good cooled and on summer days. Has a slight bite that grows on you. Popular in Norther Germany during the late '70s and early '80s. Bottles were shaped to allow drinking from the bottle much like a long-neck. I'm not sure it is still produced; but, I would love to get my hands on some!
354 characters
4.03
/5
rDev
+10.1%
look: 4.5 | smell: 4 | taste: 4 | feel: 4 | overall: 4
On tap at Laschetes in Chicago & served in a 1/2 liter mug. The beer is a hazy brown with amber highlights. Very thick chiffon like tan head.
I like the aroma of apples, lightly toasted grains and bread dough.
The taste is a nice mix of malts (lightly roasted) fruit (apple and plum) and tea. It has a nice touch of sourness late.
The mouth is slick with a bit of a chalky finish. Very easy to drink and to pair with food.
425 characters
3.68
/5
rDev
+0.5%
look: 4 | smell: 3.5 | taste: 3.5 | feel: 4 | overall: 4
pour is amber with a decent head... 2 and half fingers. an american amber like nose. breadiness and protein. the palate is just that simple as well. there is a nice body with a mild bitter aftertaste and a light acidic quality but nothing too substantial for the style. mild and simple but very consistent body. not to elaborate.
329 characters
3.05
/5
rDev
-16.7%
look: 4.5 | smell: 4.5 | taste: 2 | feel: 3 | overall: 3
Look: Dark brown chestnut, inch plus of rich off white foam that lasted for a while.
Smell: Definite malty, aroma came through the foam, slight dried fruit
Taste: The foam had some taste which is a plus, but the body of the beer was weak. Malt with a little of that dried fruit from the aroma at first, but mostly on the bland side.
Feel: OK middle of the road to light
Drink: Could drink this all day, but that is the case with any bland beer.
448 characters
4.38
/5
rDev
+19.7%
look: 4.5 | smell: 4 | taste: 4.5 | feel: 4.5 | overall: 4.5
i was nicely surprised by this one. a deep chestnut in color with nice clarity and a voluminous pillowy, lasting head. nuts, caramel, dark dried fruit and rich deep malts in the nose and taste. the malts are the star here with just enough hops to provide balance. despite the prominence of the malts it manages to finish crisp and clean, has a refreshing quality for a beer of this deep color. medium in body with the high level of carbonation pitching in to provide balance. surely this being fresh and on-tap helped. i was wanting to try some other beers but couldn't get away from this one. chewy, malty, yet clean and frothy mouthfeel.
have had this a few times since, all on tap, and man is it drinkable, flavorful, sessionable and well balanced.
751 characters
3.8
/5
rDev
+3.8%
look: 4 | smell: 4 | taste: 3.5 | feel: 4 | overall: 4
On tap at Resi's Bierstube, listed as BBK Kutscher Alt.
Dark red-brown color, served in a dimpled HB mug. Creamy head of foam with staying power, a stiff merengue-like surface, with a slight glossy sheen. Dry bready aroma, malts and not much else.
Flavor of toasted malt, moderate bittering hops, slight oxidation or papery taste. Dry in the finish, and well carbonated. Easy enough to drink, not especially complex, but well made.
435 characters
3.68
/5
rDev
+0.5%
look: 3.5 | smell: 3 | taste: 4 | feel: 3.5 | overall: 4
On tap at Laschet's Inn
I had the choice of getting this in a liter of half liter. I chose the half in case I wanted a different brew.
It had a real nice head that had some nice lacing when it went away
Very nice smell. Malty and a little sweet. The beer was an amber color. But it was definitely a dark beer.
Real nice taste it was sweet a little nutty. But very refreshing. it was sweeter than I expected but the roasted maltyness balanced it out very well. I liked this alt beers. It was exactly what I wanted. So I got another half liter. I should of got a liter at first, but who cares?
596 characters
2.82
/5
rDev
-23%
look: 4 | smell: 2 | taste: 3 | feel: 4 | overall: 2.5
Appearance: Dark reddish-brown with a thin (1/2 finger width) white head which slowly dissolves away. Leaves thin lacing on the glass.
Smell: Malt and German noble hops, with a little touch of skunkiness not unlike sour wine or cheese.
Taste: Roasted malt and bitter noble hops dominate, with none of the skunkiness percieved in the smell. Leaves a bitter aftertaste which doesn't last very long. The beer itself becomes more bitter as time goes on.
Mouthfeel: A thick, chewy feel, with little carbonation. Not at all light.
Drinkability: An alright beer, but nothing special. Thickness and bitterness decrease the drinkability. Flavor is pretty average, there's better beer out there, especially in Germany where I sampled this brew.
746 characters
4.19
/5
rDev
+14.5%
look: 3 | smell: 4 | taste: 4.5 | feel: 3.5 | overall: 4.5
On-tap at Resi's
Pours a light chestnut brown with several fingers of head . The head dies a tad too quickly for my taste only to leave spotty lacing and absolutely nothing else atop the beer.
Strong malt sweetness is at the forefront combining something between hazelnut and honey with just a smidgen of grain.
Great roasted, nutty duality. Natural sweetness leads off only to yield to burnt bitterness on the finish. Provides a wonderful contrast from beginning to end.
A touch thin although this isn't supposed to be a stout. Still it's ridiculously easy to drink. The previous reviewer seemed to think that this was a bastardized stab at the style. I honestly have only tried one other altbier and it shared enough in common with this brew that I have to consider it fairly authentic. I'll eagerly look forward to having another.
846 characters
2.85
/5
rDev
-22.1%
look: 3.5 | smell: 3.5 | taste: 2.5 | feel: 3 | overall: 2.5
A very controversial Frankfurter response to Dusseldorfer Altbier. This type of German Ale should be dry, but Binding wants it sweet and malty.
Reddish-amber color, medium level of carbonation, medium head with a slight tan, tons of lace.
Aroma malty-candyish, very sweet but pleasant. Start surprisingly dry with more malts and caramelized sugar in the middle, body rather thin, hoppy finish, short bittersweet aftertaste.
An interesting beer as it is, Kutscher falls out of the style and cannot really compete with the Alts from Dusseldorf. Worth a try, though.
572 characters
Kutscher Alt from Binding-Brauerei AG
3.66
out of
5
based on
16
ratings.