The Future Is Now
| Gigantic Brewing Company
BA SCORE
84
good
13
Reviews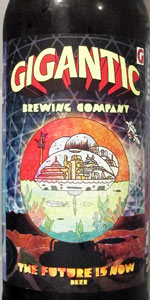 BEER INFO
Brewed by:
Gigantic Brewing Company
Oregon
,
United States
giganticbrewing.com
Style:
American Amber / Red Ale
Alcohol by volume (ABV):
6.40%
Availability:
Limited (brewed once)
Notes / Commercial Description:
No notes at this time.
Added by artoolemomo on 09-30-2013
This beer is retired; no longer brewed.
Reviews: 13 | Ratings: 33

3.63
/5
rDev
-3.2%
look: 3.75 | smell: 3.75 | taste: 3.5 | feel: 3.5 | overall: 3.75
A 650ml bottle with no visible BB date. Purchased a while back from the Brewdog webshop. Described on the label as a sort of amber ale/IPA fusion.
A: Poured into a Duvel tulip. Bottle conditioned. A deep, hazy marmalade-amber hue with fine sediment and medium carbonation. Yields a massive head of creamy off-white foam that lasts for a few minutes before reducing to a patchy surface layer. Nice lacing.
S: Aroma of sweet caramel malt and hops with hints of grain, caramel, barley sugar, pine, weed, subtle citrus peel, earthy yeast and stewed hops. Quite malty and rather nice.
T: Tastes of aromatic hops and sweet malt, with a seriously bitter finish. Notes of resinous pine, dank weed, mild citrus peel, caramel malt, grain, barley sugar, earthy yeast, stewed hops and husks. Quite sweet, followed by a strident, hop-driven bitterness upon swallowing.
M: Mouthfeel is smooth and tingly, with spritzy carbonation and good body. Somewhat astringent, accompanied by an aftertaste of bitter aromatic hops, pine, caramel malt and stewed leaves/cardboard.
O: Pretty good if not outstanding (it doesn't help that I can't tell how old it is). Looks alright, while the aroma and flavour are deeply malty with a nice side-helping of hops. Good body. A decent brew - the only improvement I'd want is enhanced hop definition. Worth sampling if you stumble across it.
1,363 characters
3.75
/5
rDev 0%
look: 3.75 | smell: 3.75 | taste: 3.75 | feel: 3.75 | overall: 3.75
Bottle: Poured a deep amber color ale with a medium size foamy head with good retention and some lacing. Aroma of citrusy and piney hops is well balanced against a huge caramel malt backbone. Taste is also a well balanced mix between a huge caramel malt backbone and some citrusy hops with some piney notes also noticeable with a bitter aftertaste. Body is full with good carbonation and no apparent alcohol. Solid hops forward amber ale.
438 characters

4
/5
rDev
+6.7%
look: 4 | smell: 4 | taste: 4 | feel: 4 | overall: 4
Poured into a Dogfish Head pint glass. Pours a a medium to dark bronze amber with a fine one finger ivory head with great retention and lacing. Aroma of caramel malt, nuts, citrus and lightly floral hops. Flavor is malty; rich biscuit and caramel malt, lightly nutty and grassy with tea and citrus hops. Finishes with lingering earthy biscuit malt and nice hop bitterness. Medium bodied with light creaminess. A nice malty red ale with good hop elements and rich flavor. The malt bill is sitting on the border of old ale territory.
531 characters
3.68
/5
rDev
-1.9%
look: 4 | smell: 3.5 | taste: 3.75 | feel: 3.5 | overall: 3.75
This was poured from a 650ml bottle. It pours a rich amber/copper colour. Rich caramel malt notes are complemented by citrus hop notes. Taste is like a mouthful of citrus zest. Big hop bitterness, but also some nutty, caramel malt notes. Medium bodied.
252 characters
4.26
/5
rDev
+13.6%
look: 4 | smell: 4.25 | taste: 4.25 | feel: 4.5 | overall: 4.25
Pours brown in color with hues of amber and some light making through the slightly hazy body. Some sediment floating around but not off putting.
Smell has some great big caramel malt notes forward followed by some lighter toffee aromas. Decent amount of herbal hoppy note midway through. Nicely balanced with some great malt aromas.
Taste is great and follows the nose. Big semi sweet caramel malt forward with some light almost undetectable flavors of cherry. Mild herbal hoppy bitterness dominates the mid section of this beer and persists along with some good toasty gran flavors into the aftertaste.
Mouthfeel is great medium body and moderate carbonation give this a fluffy soft feel. Mild bitterness a good amount of hoppy oils and resin.
Overall awesome beer. A little hoppy for an amber but it does it well.
819 characters
3.08
/5
rDev
-17.9%
look: 3.5 | smell: 3 | taste: 3 | feel: 3.5 | overall: 3
"The malty and caramelly flavors of an amber ale melded with the hoppy punch of an IPA" - description on label.
A: beer bottle brown; opaque
S: not much; some floral/tropical hops
T: simple, creamy, mellow malt with distinct hop piney-ness; noticeable bitterness at the end; this is much more hop dominant than malty. The taste loses something by trying to be too much of everything. IMO.
M: crisp, medium bodied
O: Tastes like they through a bunch of styles together to see what it was like. The result is not a beer I would buy again. It's not bad but I'd rather go for a more focused beer that knew what it was supposed to be and did it well.
645 characters
3.74
/5
rDev
-0.3%
look: 3.75 | smell: 4 | taste: 3.75 | feel: 3.5 | overall: 3.5
Clear reddish brown with about one inch of white head. Moderate lacing.
Smell is bold piney hop and grains. Some leather.
Taste is piney grapefruit hops with a semi sweet malt base.
Mouthfeel is dominated by long bitter dry pine resin finish.
Overall an unusual beer. Worth a try for those who appreciate something different.
327 characters
3.62
/5
rDev
-3.5%
look: 3.5 | smell: 4 | taste: 3.5 | feel: 3.5 | overall: 3.5
Bottle I brought to share at the DTLA bottle share held at Beer Belly in Los Angeles, CA.
Pours a hazy copper with a foamy tan head that settles to wisps of film on top of the beer. Small dots of lace form around the glass on the drink down. Smell is of toasted malt, earth, citrus zest, and herbal hop aromas. Taste is much the same with earthy citrus zest flavors on the finish. There is a mild amount of hop bitterness on the palate with each sip. This beer has a lower level of carbonation with a slightly crisp mouthfeel. Overall, this is a pretty good beer that has a much better hop presence in the aroma.
613 characters

2.76
/5
rDev
-26.4%
look: 3 | smell: 3.25 | taste: 2.5 | feel: 3 | overall: 2.5
Darkish amber with burnt orange coloring in the wine glass, with a thin but creamy head. Retention is not so great but plenty of spritz in the mouth.
Murky flavors like an herbal tea that has steeped too long combined with a fizzy seltzer water sensation. This is a rather unpleasant style of Red/Amber that seems to make the bitterness stand out along with the dank hops. Some roast malt taste but very dry and woody, astringent even.
My least favorite Gigantic brew. I call it undrinkable. From the 22 oz bottle purchased at Bine & Vine in San Diego for seven bucks.
571 characters

4
/5
rDev
+6.7%
look: 4 | smell: 4 | taste: 4 | feel: 4 | overall: 4
22 oz bottle bought from "Trader Joes" in Salem OR $4.99 Pours a nice deep amber colour with a lovely thick and frothy creme coloured head. Nice spicy/citric hop aromas well balanced by a pleasing caramel maltiness. Very nice drink. Taste well balanced,bitter coffee and dark chocolate balanced by nice spicy hops..finishes hoppy.. Nice mouth feel very smooth lowish carbonation..spicy hop after taste goes on and on. Nice.
423 characters
3.98
/5
rDev
+6.1%
look: 4 | smell: 4 | taste: 4 | feel: 3.75 | overall: 4
Bottle opened on 9.26.13
A - Pours a clear amber-brown with a nice tan head with great retention.
S - Nice hoppy pine, orange citrus, and a touch of sweet malt.
T - Nice subtle caramel-malty with a pine hop finish.
D - Good carbonation with a medium body.
O - A hopped up amber. Subtle, but very nice.
306 characters

4.17
/5
rDev
+11.2%
look: 4.25 | smell: 4 | taste: 4.25 | feel: 4 | overall: 4.25
Bomber poured into my Samuel Smith imperial pint glass. Color is chestnut with a creamy off-white head leaving foamy lace. This is a red IPA btw.
Smell is intensely dank hops, piney, cat pee, with sweet amber malt.
Taste is similarly robustly hoppy and malty. This is a seriously cranked up red IPA, and I'm really liking it. Nice resins, the hops counter the sweetness of the malt, keeping it balanced in it's bigness.
Mouthfeel is dry, oily, medium bodied. Almost a touch watery, oddly.
Drinkability is pretty high, I really like a hugely hoppy red IPA, which I rarely see. This one is killing it. Best of both worlds with the malty sweetness and pungent hops. Another really nice Gigantic brew. I'd love another!
723 characters
3.53
/5
rDev
-5.9%
look: 4 | smell: 3.5 | taste: 3.5 | feel: 3.5 | overall: 3.5
Appearance- Pours up a fair amount of head that looks, at the moment, to have pretty good retention. The head is a very light beige with hints of yellow while the body is dark amber with notes of maroon and garnet that appears as a medium to dark amber when held up to the light. Considerable lacing already.
Nose- Lacks presence and complexity. Definite caramel and citrus (orange and lemon) mostly but not much else. Some grapefruit and matchstick. I'm getting the sense that this is going to taste a lot like many East Coast IPAs. Some pine and resin. Very minor. Swirling shows mostly citrus.
Taste- Starts off with citrus notes (once again, orange and lemon) with notes of biscuit in the background that moves into grapefruit and slight notes of matchstick and earwax. Some caramel on the finish but could be more conspicuous. Very light malt bill places this more in the category of an APA/IPA. The only thing that makes it an amber (as with many) is the color. Citrus is the dominant aspect of this beer. Not bad, definitely above average, there's just nothing about this beer that really strikes or interests me. Good balance, nice integration. Not a lot of presence though. Really just an above average beer.
Mouthfeel- Between light and medium bodied. Some syrup to the texture. Right amount of carbonation.
Drinkability- Pretty easygoing. No flaws but nothing that challenges my palate either. For 6 bucks a bomber, I want something with a little more presence and pizzazz.
Overall- Above average. Worth a try if like ambers and wished they were a little hoppier. However, this will not sate a hophead. This is rather mild but it's still an okay beer. Almost solid. Will not be a repurchase.
1,721 characters
The Future Is Now from Gigantic Brewing Company
3.75
out of
5
based on
33
ratings.