Firebird

Gigantic Brewing Company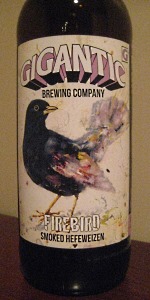 Write a Review
Beer Geek Stats:
| Print Shelf Talker
Style:

ABV:

6.1%

Score:

82

Avg:

3.65

| pDev:

13.97%

Reviews:

11

Ratings:

From:

Avail:

Retired (no longer brewed)

Wants

Gots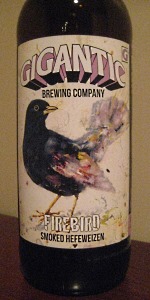 Notes: Smoked Hefeweizen

3.69
/5
rDev
+1.1%
look: 4 | smell: 3.75 | taste: 3.75 | feel: 3.5 | overall: 3.5
Bright, golden colored body; lots of slowly rising carbonation bubbles; thick, creamy head. Fine smokey aroma along with some faintly sweet malt notes. The taste mirrors the aroma with a bit more smoke lingering on the palate; fruity esters. Medium-light body; warm and smooth with a mild residual sugar presence.
This beer has been sitting in my beer refrigerator for a few years. The label on the bottle lists it as "BEER #18". Despite being 3-4 years old, there is a decent smokiness with the beer. The body is rather soft and light, very refreshing.
554 characters
3.02
/5
rDev
-17.3%
look: 3 | smell: 3.5 | taste: 2.75 | feel: 3 | overall: 3
After reading the description and some reviews I had high hopes for this but they weren't fulfilled. Appearance is average with a small short lived head, no lace, and a hazy amber color. Aroma is mainly smoke with some traditional hefeweizen in the background. Flavor's similar to nose, with yeast and smoke up front and dominating along with carbonic tang, malt sweet barely noticeable Body is ok. Finish is a long bitterness that clashes with the smoke. Oh well..
465 characters

3.85
/5
rDev
+5.5%
Poured from 22oz bomber into a weizen glass.
Appearance: nice yellow-golden hue with a moderate haze and a pretty strong effervescence. Head poured three fingers of frothy white foam, which receded slowly leaving a nice lace. An attractive hef!
Smell: nice smoky aroma, not too strong but not too subtle. There's also a little bit of a classic banana hefeweizen aroma here, although it is lower-intensity than the smoke. I kind of like it.
Taste: a good level of smokiness, although the rest of the beer reminds me a little more of an American pale wheat than a German hefeweizen. That said, there is still a little bit of phenolic clove character that works.
Mouthfeel: quite creamy and smooth right up front; not necessarily hugely carbonated or with a big body, but very silky. I quite like it.
Overall: this is a pretty good drinkin' beer. I would have liked it to be a little more traditional banana character, but it is quite good anyway.
961 characters
3.65
/5
rDev 0%
look: 3.75 | smell: 3.75 | taste: 3.5 | feel: 3.75 | overall: 3.75
Appearance - Pours a cloudy gold with two fingers of bubbly white head.
Smell - smoked malts, clove, banana, yeast, hint of wheat, kielbasa sausage aromas.
Taste - smoke malts and the kielbasa sausage aroma are predominate flavours. The clove, banana, yeast, and wheat round out the beer.
Mouthfeel - Medium bodied with moderate carbonation. Finishes with the smoked kielbasa sausage flavour and yeast (clove, banana, and wheat).
Overall - An interesting take on the Hefeweizen style by adding smoked malts. I think the smoked malts and smoked meat (kielbasa sausage) take over this beer while the traditional flavours of the hefeweizen are left in the shadows. An interesting variation but the smoked malts may need to be toned down to make it more true to the style.
772 characters
3.97
/5
rDev
+8.8%
look: 4 | smell: 3.75 | taste: 4 | feel: 4.25 | overall: 4
Bottle opened on 5.2.14
A - Pours a very hazy and cloudy pale orange with a silky cream-colored head with good retention.
S - Cloves, wheat, smoke.
T - Light wheat, cloves, then the smoke takes over.
D - Light body with good carbonation.
O - Nice light wheat, lots of smoke balances it out nicely.
302 characters

3.38
/5
rDev
-7.4%
look: 3.75 | smell: 3.25 | taste: 3.5 | feel: 3.75 | overall: 3
Cloudy yellow blonde in the De Proef narrow glass. Highly carbonated with lots of lacing. Spritzy and tangy in the mouth. Cloves all day long in the nose.
Somehow this tastes so cold and light, it's an interesting yet bizarre summer pleasure. This has to be the most intensely clove-tasting beer I have ever drunk. It's certainly smoked up too, but for some reason the sweetness and malt seem to have disappeared in favor of this crazy clove with the whiff of smoke. There is nothing of the barbecue or bacon here, it's just a snort of wood ashes and the dry, icy spice.
One of the strangest, yet somehow drinkable brews I have tasted. From the 22 oz bottle was purchased at Grapevine Liquor in Denver.
704 characters
3.72
/5
rDev
+1.9%
look: 4 | smell: 3.75 | taste: 3.75 | feel: 3.75 | overall: 3.5
22oz bottle, with one of my favourite Douglas Adams quotes on the label - 'Flying is learning how to throw yourself at the ground and miss'. Preach on.
This beer pours a murky, dark tarnished golden yellow colour, with two fingers of bubbly and loosely foamy ecru head, which leaves some broad vistas of cavern-heavy coral reef lace around the glass as it gently recedes.
It smells of fairly meaty smoke right off the bat, charred bananas and bubblegum (dibs on the new band name!), gritty wheat malt, faint citrus rind, musty clove, and an astringent yeastiness. The taste is much less smoky than the nose let on, with more of an ashy, wet embers sort of thing hovering over a sturdy wheat and caramel maltiness, some untainted banana chip and stewed orange fruitiness coming out of hiding, along with a white pepper and clove savoury spiciness, and a still heady Continental yeast zinginess.
The carbonation is fairly level and moderate, and plain in its rendering, the body a decent medium weight, way more smooth than a smoked beer should be, and even a tad creamy. It finishes off-dry, the wheaty malt poking along, letting the smoke drift off, so it can get back to dealing with its usual banana, clove, and yeast cohorts.
Just because ya can, doesn't mean ya should, is the general sentiment that I get from working my way through this offering - there's a pleasant, true to form hefe under all that extraneous scorched earth inanity (ok, 'experimentation'). Interesting, as always, but not worth returning to, save any smoke-head predilections one might have going on.
1,581 characters
2.94
/5
rDev
-19.5%
look: 4 | smell: 2.5 | taste: 3 | feel: 3 | overall: 3
22 oz bottle. Pours hazy golden yellow with a medium bubbly creamy white head that retains well and leaves a little lacing.
The aroma is bubblegum malts and banana and maybe a touch of smoke since I'm looking for it.
The flavor is sweet wheaty malts with some bubblegum, banana and clove. There's some smoke and bitterness in the finish. The mouthfeel is medium to full bodied with spritzy carbonation.
Overall, an interesting beer. A decent hefe (not my favorite style) with some smoke. I think I would have like more smoke and less hefe.
542 characters

3.85
/5
rDev
+5.5%
look: 3.75 | smell: 3.75 | taste: 4 | feel: 3.75 | overall: 3.75
Pours murky and with a scant head that flattens fast. tasted mildly smoky nose. Very aromatic. Only a faint trace of banana and that 's a surprise. Not too meaty. Some clove and a bit of smoke. Flavor is light dry biscuit malt. Floral hops come forward as this warms for a flower petal sweetness. A bit of clove and some citrus instead of lots of creamy banana. There is a faint bit of banana but I wish it was more.l The citrus and the smoke go very well together. Semi dry finish with lots of wheat crispness and a delightful yet somewhat prominent smoke character that is not weak but not drowning the beer either.
Pretty good.
631 characters
3.68
/5
rDev
+0.8%
look: 3.5 | smell: 3.5 | taste: 3.75 | feel: 3.75 | overall: 3.75
i love the style, the mix of traditions, its good stuff here from gigantic (who has very cool art by the way). this is a hefe before its a rauchbier or smoke brew type for sure, wheat malt is robust, slightly fruity yeast is there, and its still what i would consider a summery beer. it doesnt look super impressive, an off white bubble head goes flat rather quickly, while the murky rust tinted beer looks full bodied and a little sloppy. the nose is nice though, not freakishly smokey, not woody or earthy even, not meaty, just a little toasted. the grain is flush and fully aromatic, biscuity and different. the flavor is way sharper than the nose, but again, not over smoked. its mostly all in the finish. the yeast is awesome in this beer too, floral and spicy and as much belgian as german in many respects. i love how the flavor unfolds. there is a weird sensation though on the palate, like the burn you get on your tongue that you cant get rid of from eating too many raw onions or bits of garlic, that sting. its not harsh at all, but it lasts forever. not sure if its from the smoke or not, because it just isnt that smokey. great carbonation on the tongue too, despite looking flat in the glass. this is creative and delicious beer. gives me more confidence in a black coffee saison they also have on shelves right now.
1,331 characters

3.92
/5
rDev
+7.4%
look: 4 | smell: 3.75 | taste: 4 | feel: 3.75 | overall: 4
Poured into a Celebrator pokal. Pours a hazy caramel amber with a fine one finger white head with good retention and lots of lacing. Aroma of wheat, light citrus, clove and a hint of smoked malt. Flavor is semi-dry wheat, biscuit malt, very light citrus and clove, light smoke. Finishes with dry malt and light smokehouse smoke with a hint of grassy hops. Light bodied with peppery active carbonation. I'm a big fan of smoked dark malt ales like stout and porter, and less enamored of lighter smoked beers, because the lighter flavors often don't support the smoke. Most successful versions are very heavy malt forward. This is an exception, with a very nice balance of light neutral malt supporting the moderate smokiness. The wheat and smoked malt play very well against each other and I appreciate the lack of sourness in similar Grodziskie style ales. I would definitely get this again.
890 characters
Firebird from Gigantic Brewing Company
Beer rating:
82
out of
100
with
37
ratings