Pumpkin Ale
| Susquehanna Brewing Company
BA SCORE
83
good
12
Reviews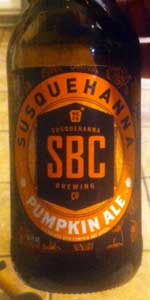 BEER INFO
Brewed by:
Susquehanna Brewing Company
Pennsylvania
,
United States
sbcbeer.com
Style:
Pumpkin Ale
Alcohol by volume (ABV):
4.80%
Availability:
Fall
Notes / Commercial Description:
No notes at this time.
Added by Knapp85 on 09-12-2013
Reviews: 12 | Ratings: 75
3.72
/5
rDev
+3.6%
look: 3.5 | smell: 3.25 | taste: 4 | feel: 3.75 | overall: 3.75
This definitely has a little bit of a root beer/sarsaparilla flavor to it towards the end. Not my favorite pumpkin beer, but by no means bad, just might not get again.
★
167 characters

3.43
/5
rDev
-4.5%
look: 3.75 | smell: 3.25 | taste: 3.5 | feel: 3.25 | overall: 3.5
A- pours a clear amber color with a one finger head that dissipates rather quickly.
S- clove spice, nutmeg and allspice/pumpkin. malty as well.
F- malty pumpkin flavor with clove and allspice.
M- malty and with a mild sour tang.
O- not a bad pumpkin but i have had better. decent brew.
★
291 characters

3.7
/5
rDev
+3.1%
look: 3.75 | smell: 3.75 | taste: 3.5 | feel: 4.25 | overall: 3.75
12 ounce bottle and poured into a pint glass, no bottle date
A- Pours a clear amber color with a thin creamy and foamy off white head that retains long after the pour
S- aroma had a bit more pumpkin flesh aroma than most pumpkin ales, followed by the typical cinnamon, nutmeg & clove. Also some earthiness, with sweet malt undertones
T- slightly sweet and malty up front with notes of cola, spicing is a bit subdued, there's a nice cinnamon linger after the finish
M- medium body with locsrbonstipn leads to a thick and creamy mouthfeel that continues into the finish
O- his one has high drinkability because the spices are more of an afterthought, rather than dominating the beer
★
690 characters
3.94
/5
rDev
+9.7%
look: 4.25 | smell: 4 | taste: 3.75 | feel: 4.25 | overall: 4
I tried this from the bottle in a mug chilled purchased at Wegmans i nMechanicsburg.
The color is deep golden amber with very good clarity and head retention. The head rises and falls with visible carbonation in solution and no lace or retention. The smell has a very nice spice aroma up front with a moderate amount of clove and nutmeg scent with low malt odor and light vegetal aspect. The feel is medium in body with light sweetness on the tip with medium high carbonation and light toast texture with moderate spice mid palate into a dry finish.
The flavor is mild when chilled with clove flavor and slight malt sweetness with a pumpkin bread type flavor with mild nutty and cinnamon qualities. The slight yeast flavor comes more as it warms with mild bitterness and earthy element in the mostly dry finish. Overall I liked this, a pretty decent pumpkin taste without an overload of spice with nice natural flavor in a sessionable base ale -I would drink this again.
★
973 characters
4.26
/5
rDev
+18.7%
look: 4 | smell: 4.25 | taste: 4.5 | feel: 4 | overall: 4
Poured into a mason jar: color is pumpkin orange/copper, head is bright white and presents about 1 inch thick then dissipates to a top and ring on the glass.
Smell is pumpkin spice mix, then malt and wheat and biscuit, then some fruitier notes.
Taste is great blend of spice, pumpkin and malt: pumpkin ales at this strength tend to allow more pumpkin flavor to come through, the subtle fruity flavor reminds me of the flavors that came through in my homebrewed pumpkin ales when leaning towards a thinner malt bill (less caramel). The spice mix is very pleasant, good balance and not overpowering. Some subtle malt flavor comes through as biscuit, wheat.
Mouthfeel is very nice on first quaff, crisp and full bodied with good presence on the tongue; then it does dry the tongue out quite well.
Overall a good pumpkin ale, not over sweet and even subtle enough to provide some thin pumpkin taste with a subtle, balanced spice profile
★
937 characters
3.75
/5
rDev
+4.5%
Pours a clear orange-gold with minimal head. Essentially no aroma. Taste is exceptionally smooth with minimal sweetness and spice. While this does gives room for the pumpkin to shine, overall this is a rather weak pumpkin ale. The good news is that there is no bitterness in the finish. Overall an exceptionally smooth, highly sessionable pumpkin that is well balanced and easy drinking. The low ABV makes this brew one I would definitely like to pick up again.
★
461 characters

4.31
/5
rDev
+20.1%
look: 5 | smell: 4.5 | taste: 4 | feel: 4.75 | overall: 4.25
I am now searching for Johanna from Susquehanna (or thereabouts). I assume that she hails from NEPA and lives down by the river, but one never knows with these things. I may give Craigslist a shot to see if she responds.
From the bottle: "People Beer by Beer People"; "Ahh, fall. That colorful time of year when America piles into the family station wagon on a mission to pick out the prettiest pumpkin in the patch to take home and carve a scary face into. Well, we must admit we've never been too good at carving. But we're pretty good at turning a simple pumpkin into a tasty pumpkin ale. And that's exactly what we've done here. This one's got the right amount of spice - just enough to inspire anybody to give pumpkin carving one more try. So, if you'd excuse us, the family wagon awaits."
I purchased this from the fine folks at The Friendly Greek, a local bottle shop that caters to my whims. They happily broke a six pack of Pils-Noir into singles for me so that I could do a horizontal tasting, but I bought this out of their Pumpkin seasonal cooler and set it aside for a more appropriate occasion.
The pour was just downright pretty! Two fingers of luscious, dense, tawny head with great retention formed and beneath it sat an orange beer (SRM = > 9, < 13) that seemed to scream "Pumpkin!" along with NE-quality clarity. Nose was spicy, like fresh pumpkin pie, straight from the oven. My Pops and I used to cook and I wanted to be a pastry and dessert chef until my teenage plans got sidelined, but we made a great pumpkin pie for Thanksgiving during my Junior year of high school and this beer was evocative of that pie. Mouthfeel was full and creamy and although not quite as good as everyone's seeming favorite, Southern Tier's Pumking, this ranked up there for me. The taste was immediate with cinnamon, then nutmeg and allspice, giving my mouth a warm, comfortable feeling. My Hallowe'en pumpkin still sits on the porch, uncarved and unassailed, but I am anxiously awaiting Thanksgiving. This would be a great accompaniment to Thanksgiving dinner as it is like Baby Bear's version of a pumpkin beer - not too watery, not too spicy, but just right. The finish was slightly warming and quite dry as a result of the spices. I now really want one of Isaac's hot turkey sandwiches with gravy and cranberry sauce!
★
2,333 characters

2.9
/5
rDev
-19.2%
look: 3.5 | smell: 3.5 | taste: 2.5 | feel: 2.5 | overall: 3
Appearance is copper in color with a finger of head that dissipated down to a thin film in no time. The nose has spice, but no discernible pumpkin notes. The body is quite light and the flavor profile is dominated by something that is hard to place but tastes artificial. The artificial flavor lasts through the finish and makes for a decidedly unpleasant experience.
★
367 characters

3.25
/5
rDev
-9.5%
look: 3.25 | smell: 3.25 | taste: 3.25 | feel: 3.25 | overall: 3.25
Has a pretty orange amber color with a small head,
The aroma is a light spiced malt. Think pumpkin spice.
The taste is mostly lean malts and pumpkin spice. I didn't pick up any pumpkin notes.
Drinks medium feel, smooth and clean.
A pretty good beer but really isn't that good.
★
277 characters
3.15
/5
rDev
-12.3%
look: 3.25 | smell: 3.25 | taste: 3 | feel: 3.25 | overall: 3.25
When poured it has a nice orangeish color body with a small fizzy head that quickly disapears. Its aroma is strong of spice not much else. The taste follows the aroma, spice is defiantly dominate in this beer. I get some pumpkin on the finish but not a lot. It has a great flow and overall is a regular pumpkin beer.
★
316 characters
3
/5
rDev
-16.4%
look: 3 | smell: 3 | taste: 3 | feel: 3 | overall: 3
This is a mild and mediocre example of a pumpkin ale. The ABV is too low for this style, in my opinion. The flavor is decent but nothing that leaves you really craving this beer. It has a blended pumpkin and citrus taste which, though confusing, sort of works. I will have no problem finishing the 6-pack, but doubt I will purchase another. Better pumpkin ales are available in the same price range. I'll try again next year.
★
425 characters

3.43
/5
rDev
-4.5%
look: 3.5 | smell: 3.5 | taste: 3.25 | feel: 3.75 | overall: 3.5
Poured out as a bright orange color with a good clarity, there was a quick fading white head on top that didn't leave much behind in way of lacing on the glass. The smell of the beer is a mixture of sweet and spicy. The taste of the beer gives off some kind of spiced orange zest flavors more so than pumpkin. It's not a bad tasting beer, it's still warms you for the season but it doesn't come off as a true pumpkin ale to me. The mouthfeel is light bodied and rather sessionable. Overall this beer is good, it's a little different than what I was expecting so it made the experience a bit more enjoyable. If you're looking for a spicy/fruity beer this one might be a good place to start.
★
689 characters
Pumpkin Ale from Susquehanna Brewing Company
3.59
out of
5
based on
75
ratings.