Rye Baby IPA
| Union Craft Brewing Company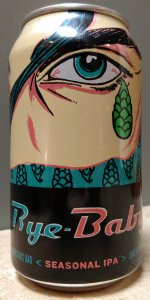 BEER INFO
Brewed by:
Union Craft Brewing Company
Maryland
,
United States
unioncraftbrewing.com
Style:
Rye Beer
Alcohol by volume (ABV):
6.50%
Availability:
Rotating
Notes / Commercial Description:
No notes at this time.
Added by duceswild on 04-01-2013
Reviews: 10 | Ratings: 61
4.43
/5
rDev
+7.3%
look: 4.25 | smell: 4.25 | taste: 4.5 | feel: 4.5 | overall: 4.5
L: Dark, copper with sticky, rich, creamy head.
S: Great pine notes, with the rye more evident in the very beginning and the finish.
T: Definitely on the bolder, bitter side. Thick pine flavors, bordering on notes of tar with ever-so-slight tropical notes. Awesome finish, which is what keeps me coming back to this beer. Not only goes it go down smooth, but there are no heavy lingering tastes after it goes down. It starts thick with hops, ends with a definite but gentle pine fragrance cut with peppery rye.
F: Very liquidy, but very smooth. Carbonation does a lot to contribute to the balance of the beer. I could drink this all night, its substantial but not heavy.
O: Heavy hop flavors well-balanced with earthy and peppery rye, carbonation and a thinner texture. I love sipping on this.
799 characters

4.59
/5
rDev
+11.1%
look: 4.5 | smell: 4.25 | taste: 4.75 | feel: 5 | overall: 4.5
Wow! What an IPA. The best thing about this beer is the mouthfeel. It's so silky smooth. Unlike most anything I've had for a well carbonated beer. My new favorite Union beer offered in distribution.
203 characters
4.07
/5
rDev
-1.5%
look: 4 | smell: 3.75 | taste: 4.25 | feel: 4.25 | overall: 4
A more subtle rye driven more by it's IPA-ness. The subtle sour/spiciness comes through on the backend pleasantly. Slightly resinous. The Chinook and Simcoe hops are the stars of the beer with an awesome eye crew backing it up.
227 characters

4.03
/5
rDev
-2.4%
look: 4 | smell: 4 | taste: 4 | feel: 4.25 | overall: 4
Pours nice and thick, like Monocacy Riot Rye. Same deep hue too, like a marzen but a bit hazy.
Smells of minty, fruity hops and maybe a little vanilla from the rye.
Tastes pretty bold and brash, with biting hops and peppery rye. Hops have an indistinct sort of fruit salad character, with fairly aggressive minty pine bitterness around the edges. Some nutty toasted malt mid palate and a little orange juice flavor on the finish.
Feel is medium-full, somewhat creamy, with plenty of resin coating the palate.
I love a good rye IPA and this one is no exception. I think Riot Rye still holds the local title, but Union put in a solid effort here. Peppery and full-bodied.
673 characters
3.97
/5
rDev
-3.9%
look: 3.5 | smell: 4 | taste: 4 | feel: 4 | overall: 4
Now in cans!
Pours a murky copper color. The head is two fingers high and off-white in shade. Retention is excellent, and the creamy head leaves behind a spectacular wall of lacing on the glass. Still, it loses some points for having ugly chunks of sediment floating around.
Rye IPAs tend to be malty in order to showcase rye malts more effectively, with the hops existing mainly as a balancing feature. In that regard, this beer's aroma is incredibly successful. Rye is the dominant note, backed by some caramel and earth. There isn't a significant presence of fruity hops here - they're mainly piny and floral, with a grassy touch. Actually, some touches of melon and mango appear if I properly focus the olfactory senses. It's hard to complain with the aromatic qualities, as it shows off exactly what the (rye IPA) style dictates while adding a moderately complex touch.
The flavor reveals some gentle fruity notes at the front of the palate. Afterwards, the rye takes over in a big way. I don't pick up a significant Maris Otter malt presence apart from a touch of caramel. This is all about rye malts, as it should be. Even better, the hops balance the malt backbone without coming across harshly - everything exists harmoniously. Simply put, it's a damn tasty beer.
Most rye IPAs tend to be heavy, thick, and sweet. The palate feel nails the first two aspects, but it really isn't sweet at all. Instead, it's malty yet dry, and that's how it should be. It's a bit slow drinking compared to other IPAs, however. That doesn't bother me because of how nicely balanced everything is. Carbonation is medium-low.
Union makes good beer. This is more good beer from Union. Get some if you're in Maryland.
3.97/5: This one's rye-ly (ARGH) damn good
1,753 characters
4.19
/5
rDev
+1.5%
look: 4.25 | smell: 4 | taste: 4.25 | feel: 4.25 | overall: 4.25
Poured from a 32 oz crowder filled at the brewery. Pale Amber body with a thick, tan head that clings to everything. Aroma is big toasty malts, spicy rye, citrus, piney hops. Flavor follows suit, rye comes through nicely, grapefruit, pine. Feel is very nice, medium bodied, medium carbonation. A really solid rye IPA that showcases the rye nicely.
347 characters

4.24
/5
rDev
+2.7%
look: 4 | smell: 4.25 | taste: 4.25 | feel: 4.25 | overall: 4.25
First off I love Rye IPA's. This one was excellent with a very pronounced rye flavor with all the hops you would expect from an IPA. In a tasting of 22 beers this was my favorite.
183 characters

4.27
/5
rDev
+3.4%
look: 4.5 | smell: 4.25 | taste: 4.25 | feel: 4.25 | overall: 4.25
On-tap at Meridian Pint, Washington, DC (back in March):
First off...loved this beer. Big fan of the Rye/IPA combo. The beer appeared a darker, hazy amber/orange color with a thick, creamy white head that was very well retained. The beer gave off a nice pine hop aroma and the taste had a nice rye flavor, but was a bit overpowered by the citrus hops, instead of being more complimentary, but I still found the flavor very enjoyable. The beer had a good feel to it, chewy, but not too heavy, with a dry aftertaste. Overall, I wish that I could get this beer in Georgia, but the next time that I see it, I am definitely going to buy one.
637 characters
4.25
/5
rDev
+2.9%
look: 4.25 | smell: 4.25 | taste: 4.25 | feel: 4.25 | overall: 4.25
On tap in a pint glass.
A-Poured a dark copper color with a one-finger head, off-white, streaky lacing. This beer looks solid and inviting.
S- Prominent citrus hop aroma, all the goodies: grapefriut, orange rind.
T- More citrus, like the smell. The rye malt and spices show up to round out its big flavor.
M- Dry rye finish with lingering hop bitterness. Some chewiness. A healthy hop-driven kick.
O-Strong effort here results in an effective blend. Tasty and drinkable.
476 characters
3.75
/5
rDev
-9.2%
look: 3.75 | smell: 3.75 | taste: 3.75 | feel: 3.75 | overall: 3.75
Had this on tap at Max's recently during the beer's release, then later at the brewery.
Poured on draft to a tasting glass. Pours a burnt orange color, with a minimal amount of off white head. Smell is of hops, juiciness, grapefruit, and some orange. Taste is similar though this is where the hops really come through. Also get some caramel and rye notes. Overall a decent beer and one I'd seek out from Union again.
The beer is listed as follows:
Rye baby IPA ain't for no square! Brewer with floor malted English Marris Otter and hefty charge of rye malts this beer brings a spicy malt presence to the scene, but its the hops that are the stars of this Ale. We hopped Rye Baby with copious amounts of Chinook and Simcoe hops and then dry hopped it with a blend of the two to give it an amazing hop character that will make you the happiest juvenile delinquent in Baltimore! We think Rye Baby is a delicious beer that you'll be burning inside to drink, and if that's a crime we'll stand convicted!!
1,007 characters
Rye Baby IPA from Union Craft Brewing Company
4.13
out of
5
based on
61
ratings.