Portsmouth Brewing Co. / Mault's Brewpub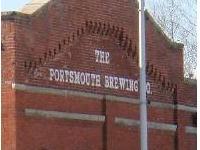 PLACE INFO
Type:
Brewery, Bar, Eatery
224 Second St.
Portsmouth
,
Ohio
, 45662
United States
(740) 354-6106 |
map
portsmouthohbrewing.com
Notes:
No notes at this time.
Added by Dogbrick
Reviews: 13 | Ratings: 18

4.24
/5
rDev
+15.8%
vibe: 4.25 | quality: 4.25 | service: 4.5 | selection: 3.75 | food: 4.75
Portsmouth Brewing Co./Mault's Brewpub in Portsmouth, Ohio.
Vibe & Service: Great relaxing vibe, and friendly staff working.
Quality & Selection: Not a whole lot of beers on the menu here, but the ones I ordered were pretty good, regardless.
Food: Absolutely amazing food here, but the menu is quite small.
Took a trip up to Portsmouth to visit this place. Great place to eat and have some good beer, and check out the brewery.
431 characters
4.06
/5
rDev
+10.9%
vibe: 4 | quality: 4.25 | service: 4.25 | selection: 3.5 | food: 4.5
A pretty cool old building tucked away on the riverside of 2nd street. Brick floors and walls on the inside through the entrance way. A couple little shops are scattered around on the bottom level. The eatery & bar are up & to the left. Spacious seating, and the food we got was absoloutely awesome. Loaded fries and a 16" pizza - couldn't have been much better, so cheers to the cooks there. The wait staff and bartender were friendly and nice. Had 2 beers while there (Vulcan and a DIPA) and both were pretty good - better than the reviews here let on. Only downside is their selection of beers; there isn't much of one. But I'd advise anybody to stop in and have a beer and a bite to eat if you're in the area.
713 characters
4.36
/5
rDev
+19.1%
vibe: 3.5 | quality: 4.25 | service: 4.25 | selection: 5 | food: 4.25
Not a bad place they need to work on the menu. Bring some of the ribbers menu down and mix it up. The outside area is nice the inside needs a little work. The beer isn't bad I have had almost all of what they have to offer and haven't hated it. They did a pumpkin beer this year I liked it. Not over priced and made from good local pumpkins.
341 characters
3.35
/5
rDev
-8.5%
vibe: 4.75 | quality: 4.5 | service: 2 | selection: 2.5 | food: 4
I visited this place back in my college days (before I developed the craft beer palate) and wasn't overly impressed. I have since developed a taste for craft beers and decided to give the Portsmouth Brewing Company a second try. I was impressed with several things and disappointed in a few.
The positives; The River Star IPA is amongst my favorite beers from any location (including Great Lakes, Fat Heads, Rheingeist, etc.). The Vulcan Dark and Oatmeal Stout are also very good beers. Outside of these, the remaining are either so low in ABV or just mediocre. The building/atmosphere is something that I also enjoy about this place, although they could find better use of the space. Pricing is exceptional at PBC when you compare it to other breweries. The food is also very good.
The negatives; I find myself with very spotty service, frequently. I don't think this is the fault of any employee but of the lack of employees. The poor bartender was rushing around, serving several tables while trying to keep the people at the bar happy. Another negative is the lack of beer selection. It would be nice to see more seasonal brews of varying styles. I found it odd that they are unsure if they'll keep the River Star IPA (my PBC favorite) despite several local patron's love. CHECK UNTAPPED FOR CRYING OUT LOUD!! The hours of operation are a huge disappointment. Weekdays close at 9pm and weekends close at 10pm.
1,434 characters
3
/5
rDev
-18%
The best thing about Portsmouth Brewing is the building, great, historical old place. 5 beers on tap, and they were all pretty mundane, with the best being the IPA. The Redbird Ale tasted exactly like Manny's from Washington State, for better or for worse.
We opted to eat at another Mault owned Portsmouth establishment, Ribbers, so didnt try the food. Menu at the brewpub was pretty small and basic. Ribbers has a larger menu, great steaks, and some Portsmouth beers on tap FWIW.
We sat at the bar and our server was friendly. She did get busy after awhile, and got hard to track down, but she was apologetic.
Ok place to check out for the building, just don't expect fantastic beers.
691 characters

3.48
/5
rDev
-4.9%
vibe: 3.5 | quality: 3.5 | service: 3.75 | selection: 3.25 | food: 3.25
Visited on a Thursday evening. The bar and seating areas were about 1/3 full, not counting a nice outside beer garden than was unoccupied when I arrived around 6:30pm.
The 2-sided bar seats 8 with 1 flatscreen overhead.
Six beers available on tap, all house brews. A good range with a light lager, a pilsner, a Scotch Ale, a doppelbock, an APA and a steam beer. All were quite drinkable and competently brewed. The Scotch was the best of these.
445 characters

4.1
/5
rDev
+12%
vibe: 4 | quality: 4 | service: 4 | selection: 4 | food: 5
On the main drag by the retaining wall sits this brewpub, that in my opinion, is pretty nice. Though I missed the smallish parking lot, a quick turnaround and I was there. An older building with the "brewery" on the right, the bar/restaurant on the left, and a outdoor area next to their parking lot and side of the building. The strange internal layout caught me off guard, but was pretty interesting once I got my bearings.
They had 6 of their beers on tap, from a light lager to a stout and a couple in between. I thought all were pretty good besides their light lager, an attempt at a low calorie beer that didn't work out so well. Someone who worked there gave me a good account of the beers and what went into them. They also recommended their pizza special.
Their pizza was outstanding. I can only think their other foods would be as good.
Would I say their beers blew my mind? No, but they were better than many others I've had. It's a little out of the way for a specific trip, but considering the food and atmosphere, it is well worth stopping by if you're in the area.
1,080 characters

3.58
/5
rDev
-2.2%
vibe: 3.5 | quality: 3 | service: 3.5 | selection: 4 | food: 4.5
Been here a couple of times.. The beer isn't amazing, but it isn't horrible either. I did the sampler, and much to my dismay it was handed over in cheap shitty wax coated paper cups that started falling apart almost instantly.
I found one that I liked and luckily it was the special, so the dollar sample, and the pint costed me the same which also seemed a bit off to me.
Atmosphere isn't bad, it's a typically bar.. the service seemed a little lack luster when I went, but it seemed like they were short staffed so I won't focus on that.
There are 5 or 6 beers to choose from, although I wasn't found of half of them, and surprisingly the styles I tend to shy away from were my favorites there.
Food was by far better than the beer. I had pizza and the hot wings and was pleased with both. The menu is a little small, but they do pizza right, and while the wings weren't killer, they were certainly tasty.
Stop in if you are in the neighborhood, but don't expect a beer revelation.
992 characters

4.15
/5
rDev
+13.4%
vibe: 4 | quality: 4.5 | service: 4 | selection: 4 | food: 4
I am a regular customer of Portsmouth Brewing Co. when traveling in that part of the Ohio River Valley.
They've been making beer for about 14 years now so I don't think they're going anywhere anytime soon, barring any unforeseen circumstances.
Let me just start by saying that a majority of the reviews of PBC have failed to mention that it resides in a pre-Prohibition brewery building full of history and charm.. This alone makes it well worth the time to go. I have yet to visit Mault's without getting pulled into a conversation with other bar patrons. I would call this an extremely friendly, relaxing place to have a good beer.
Ok. So their beer isn't on par with the greatest of the greats. But it is still good beer. I'm absolutely in love with their Pilsner. I find it quite refreshing. The Porter is also a strong contender. I don't care what people say. I've tasted hundreds of beers and dozens of beer styles. I like the beer they make at PBC! More importantly, I like THAT they make beer at all!
The pizza is phenomenal. And though I haven't really tried much of their other food, it too looks like it's decent.
There is also a cool beer garden out on the side.
Worth the trip if you like history, are open-minded and accept the fact that - it's just good beer - nothing like the quality at Columbus Brewing or Dogfish Head, etc. But good.
Also an ideal place to take the family.
1,401 characters

3.73
/5
rDev
+1.9%
vibe: 4.5 | quality: 3.5 | service: 4 | selection: 3.5 | food: 3.5
Portsmouth Brewing is located a couple miles from the US 23 bridge along the flood wall on 2nd street. There is a pretty good-sized parking lot across the street.
The brewpub is located inside a large and beautiful brick building. Once inside the brewpub is on the left and the space is shared by a couple other businesses in the rear. Interesting collection of old PBC breweriana (evidently they used to make ice too). There are 2 entrances, one to the restaurant and one to the bar.
PBC has 4-5 beers available, ranging from a Pils to a Doppelbock. Nothing really unique in their portfolio, and the beers are all average to above average. There is also a sampler available with all the available beers.
Service here was good during an early weekday dinner. The bartenders were friendly and knew a bit about the available beers.
The menu at PBC is pretty small but the pub grub they have is decent. I tried the wings and a house salad and both were pretty good.
Overall it was mildly surprising to find a place like this in the region and according to the staff the place does get pretty busy so hopefully they stick around. I will definitely stop in next time I am in the area if for the atmosphere and charm (they sell PBC growler bags which was an interesting touch). Worth a stop in the northern KY/southern OH area.
1,328 characters
3.5
/5
rDev
-4.4%
vibe: 3.5 | quality: 3.5 | service: 3.5 | selection: 3.5 | food: 3.5
One might imagine how a place like this survives in what is clearly a NASCAR-dominated mentality that is Southern Ohio. I feel somewhat qualified to speak on this, given that I spent 17 years of my life growing up in this area. Good beer is hard to find in this neck of the woods.
The PBC sits almost at the very end of the floodwall in Portsmouth, well away from just about everything and everyone. A charming sign hangs outside and the building occupied by the PBC is loaded with character (my dad, a civil engineer, took many minutes explaining the various interesting architectural details not found in modern structures...), with a bricked sidewalk and insider area. Going trough the double doors into the arcade area, you'll see the brewing tanks on the right through giant windows. The brewing apparauts is also visible from the front sidewalk, giving a clue as to what goes on in here. The restaurant/bar itself boasts about 15 booths and a very nice (though somewhat small) bar. Lots of nick-nacks on the walls, though something NASCAR is always in your line of sight.
Outside, behind the parking area, was a decent-sized outdoor area, with plenty of standing and sitting room, with a covered stage for seasonal outdoor performances. According to the staff, they do have live music at times.
We were the only patrons in the place for the longest time (around noon on a Friday...one would think there'd be SOME lunch "crowd"). The waitress was quick and efficient, if not terribly well-versed in the beers. 6 beers on tap, in addition to the canned and bottled macro that must be available for the uneducated. I started with a sampler of the 6 beers (by far the smallest sampler glasses ever seen...barely larger that a shot glass) for $5.00 and had a pub burger for $7. Decent menu that included a few appetizers, 2 salads, and about 10 different sandwhiches. The back of the menu explains the different types of beers brewed here. The burger was certainly one of the best I've had in a long time (ground Angus makes for a good burger) and the sweet and spicy coleslaw slathered on top was just icing on the cake.
Beer-wise, PBC offerings are solid but not great. A wide variety (pils, hefeweizen, amber, stout, etc.) for people to try. Prices for the regular tap selections are $3 with the special beers (like the stout) running a steep (especially for the area) $5. Gallon jug screw-top growlers with the PBC logo etched into the glass (quite pretty) availble. $16 for the growler filled with the stout...less for the lower ABV beers.
Overall, I was quite impressed with what the PBC had to offer. Sadly, given the area and the economic difficulties this region has not only endured but brought about itself, I question how long this place can survive. There is a state university nearby, but many of the students commute on a daily basis. Craft brewing is something that is foreign to the vast majority of the community but this place deserves a chance and I hope they do well. I will certainly come back each time we visit my parents. If you are passing through, or if by some strange reason you are staying in Portsmouth, stop in and try Portsmouth's contribution to good beer.
3,207 characters
3.64
/5
rDev
-0.5%
vibe: 3.5 | quality: 3.5 | service: 4.5 | selection: 3
I was surprised to find this spot in Porstmouth, Ohio and somehow my Beerfly visual search, not the Search function, (thanks Dogbrick) for this roadtrip didn't turn up this spot. I first found the Red at a local restaurant and inquired about the brewery. Turned out to be a mere 3 blocks away so I drove on over to check it out.
The Portsmouth Brewing Company brewpub is located in a historic buiding just above the Ohio River. Built in 1840 to house the first area brewery, the original building and a tunnel that led from the river to the main street served as a leg on the Underground Railroad. The owner/operator Steven Mault is in the process of restoring the building and the adjacent outdoor area and courtyard along with the tunnel and underground area. A small parking lot is next to the main building, but street parking and other lots are nearby.
Offset from one side of the main entrance is the brewery proper, enclosed behind glass walls. On the other side of the central arcade is the bar and restaurant facilities. Neat memorabilia lines many of the walls and arcade facade.
A minimum of six beers are kept on tap with seasonals and special additions filling in for the regulars at times. The beers are good if not spectacular and it is clear that Steve Mault takes a great deal of pride in his work. I'll be returning November for an interview and a more in-depth look at this rarity in Appalachian Ohio.
1,430 characters
2
/5
rDev
-45.4%
vibe: 2 | quality: 2 | service: 2 | selection: 2 | food: 2
Admittedly it's been a year or so since I stopped in here. I definitely expected better. The place is a dump (as is Portsmouth in general). And the beers are so-so at best. I felt like I was in west Virginia (i apologize to all of you West Virginians, the state has other admirable qualities but the quality of the restaurants and brewpubs are not one of them).
361 characters
Portsmouth Brewing Co. / Mault's Brewpub in Portsmouth, OH
3.61
out of
5
based on
106
ratings.