St. Peter's Suffolk Gold

St. Peter's Brewery Co Ltd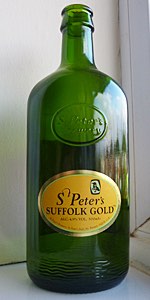 Write a Review
Beer Geek Stats:
| Print Shelf Talker
Style:

ABV:

4.9%

Score:

Avg:

3.75

| pDev:

11.47%

Reviews:

14

Ratings:

From:

Avail:

Year-round

Wants

Gots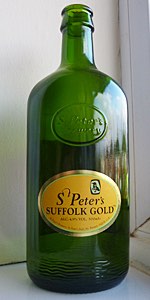 Notes:
Reviews: 14 | Ratings: 23
3.45
/5
rDev
-8%
look: 3 | smell: 3 | taste: 3.5 | feel: 4 | overall: 3.75
L- Mid amber, clear, pours with a thin white head that's soon to lacing.
S- Some light toastiness.
T- Hoppy/dry, dry toastiness follows.
F- Toasty and refreshing. Despite lacking richness it comes over bit of it's 4.9%.
O- Dry, refreshing, would work very well in summer for people who want a refreshing beer with more flavour than say a lager.
BB 08/05/19
356 characters

4.09
/5
rDev
+9.1%
look: 3.25 | smell: 4.25 | taste: 4 | feel: 4.25 | overall: 4.25
Bright golden color with moderate activity. Slightly creamy beige 1 finger head, lasting around 2-5 minutes, with mediocre legs and swirl reaction. Flavors of butterscotch, caramel, sweet barley, soft clove and orange, and herbal hops (first gold). Slick and oily medium body with prickly carbonation. Medium strength finish, dominantly toasty and caramely, also bready and leafy. Slightly dry, inviting scent, good freshness. Really feels like a golden ale, but with an added pleasant maillard profile. Great balance between sugars and bitterness, very well intensified. High drinkability. Overall excellent quality craft.
623 characters

3.68
/5
rDev
-1.9%
look: 3.5 | smell: 3.5 | taste: 3.75 | feel: 3.75 | overall: 3.75
Pours clear orange-golden beer with a ring of off-white head, mediocre retention. Smell - semisweet, floral, grassy, hardly caramel. Flavor with relatively intense hop bite, delightfully. Drinkable one.
202 characters

4.5
/5
rDev
+20%
A: Copper with a chunky off-white head which dissipates a fair bit.
S: Fudge and caramel, honey, Bassetts Refreshers and liquorice.
T: Nice and sharp – bitter and hoppy. A nice bit of heady caramel as the backbone. It's medium sweet and, as usual with this brewery, there's an equilibrium between bitterness and sweetness. Some liquroice.
M: Lovely and creamy and works with the bitteness.
O: These guys certainly make some of the better bottled English ale. I award 4.5 to beers that are perfect but not quite special.
521 characters

3.45
/5
rDev
-8%
look: 3.25 | smell: 3.25 | taste: 3.5 | feel: 3.75 | overall: 3.5
Appearance: Light amber color, 1 finger off-white head that gradually recedes.
Smell: A touch of grass
Taste: A tart bitterness that manifests itself at various levels, without annoying me; citrusy.
Mouthfeel: Light to medium body; medium carbonation; dry aftertaste. The bitterness really is the overwhelming feeling you get from this.
Drinkability: I liked it, but it's not nearly as complex as their signature Organic Ale.
427 characters
3.19
/5
rDev
-14.9%
look: 3.75 | smell: 4 | taste: 2.75 | feel: 3 | overall: 3
Bottle serving purchased as part of a three for £5 deal. Got the Ruby to try next! Drank from my usual half pint glass. What struck me in the shop was the bottle shape, this aroused my curiosity.
Light amber in colour with a fruity smell. Effervescent fizz with a pleasant mouth feel. I personally find it hard to drink although I will finish it all. It's very bitter to drink and the bitterness lingers. There's no sweet notes just strong bitter hops.
455 characters
3.65
/5
rDev
-2.7%
look: 4 | smell: 4 | taste: 3.5 | feel: 3.5 | overall: 3.5
500 mL in the classic green St. Peter's bottle (I love those things!) but poured into a pint glass tumbler.
A: although "gold" is in the title it's a bit more in the amber vein of things--lovely and transparent. Sights whet one's appetite for what's to come.
S: rustic, grainy
T: very bitter and pronounced, not a whole lot of sweetness or maltiness to this beer. This is even more bitter than the flagship Organic Ale. It's a bit too bitter for my personal tastes, although I do find it particularly pleasant in this style.
M: crisp, mildly carbonated, light on the tongue--very refreshing
O: not a bad beer at all, in fact a very representative, world class ale, just not one I'd prefer to have every day.
712 characters

3.5
/5
rDev
-6.7%
look: 3.5 | smell: 3.5 | taste: 3.5 | feel: 3.5 | overall: 3.5
Beer bottle (50 cl.), tasted in 2010.
Appearance : orange color, with white foamy head (not persistent).
Smell : malty with notes of hops.
Taste and mouthfeel : hoppy with very bitter and dry end.
Drinkability : an average beer in the style English bitter.
257 characters
3.78
/5
rDev
+0.8%
look: 4 | smell: 3.5 | taste: 4 | feel: 4 | overall: 3.5
BB 04/03/2010, served cool in a straight imperial pint glass. NOTE: The beer is said to be brewed with Suffolk-grown First Gold hops and Suffolk malts.
A: pours a dark golden to light amber hue, coming with full clarity, very mild carbonation, and a well-lasting thin layer of off-white froth.
S: quite sweet on the nose, hinting at syrupy pale malts with a hint of caramel, apricot-ish and floral-aromatic hops (First Gold), and a subtly sour edge of candy-ish citrus fruits. The overall impression is a straight forward but very pleasant aroma.
T: the soothingly carbonated swallow of clean & fine pale malts comes along with old citrus-peels' "stinky" aroma and lightly spicy-floral hop flavour; in place of the foretaste, as it settles, comes a lengthy aftertaste of hops that gradually intensifies in terms of bitterness but is still delicate and full of aroma (just like what the beer label suggests). A semi-"chewy" palate of hop bitterness lingers in the very end as a loyal witness to the good level of hops used in the brew.
M&D: the carbonation is pretty light but refreshing enough to buttress a medium body and lively hoppy flavour (by the British standard). This Golden Bitter has slightly more hops than malts on the overall balance, while the bitter elements are surprisingly lingering to underline a vertical flavour structure - a good quaffable ale overall.
1,376 characters
4
/5
rDev
+6.7%
look: 4 | smell: 4 | taste: 4 | feel: 4 | overall: 4
This golden hazy quiet looking offering was difficult to find adequate descriptors for.
It is essentially a very nice and enjoyable ale , having little maliness and a slightly fruity bouquet and taste.
It goes quietly about being a solid characteristically British Alew, that has nothing unique or individual about it , but is just good.
If this was my locals basic ofering I would be more than happy
400 characters
3.53
/5
rDev
-5.9%
look: 4 | smell: 3.5 | taste: 3.5 | feel: 3.5 | overall: 3.5
A - Poured from the bottle into a pint glass a slightly hazy deep orange coloured body with a 2.5cm dense white head that slowly falls away.
S - Floral & light fruity hop aroma with some toasty, light caramel malt notes.
T - Floral & fruity hops also in the taste along with a dry, toasted caramel maltiness.
M - Medium bodied, fairly low carbonation with a dry, bitter finish.
D - A decent beer with enough flavour to keep things interesting for a few.
453 characters
2.63
/5
rDev
-29.9%
look: 3 | smell: 2.5 | taste: 2.5 | feel: 2.5 | overall: 3
Coppered red color, with a finger of foam.
Tea and hop in the smell. Earthly notes. And a light citrus fruitiness.
At the taste, a sweetish start, and then a decent bitterness, but somewhat, untied to the rest.
Citrusy and bitterness in the aftertaste, too. Quite long.
Light in body.
Not completely satisfactory.
318 characters
3.82
/5
rDev
+1.9%
look: 3.5 | smell: 4 | taste: 4 | feel: 3.5 | overall: 3.5
500ml bottle bought from The Vineyard, Belfast...
Poured a light coppery orange colour... White head poured quite thick and foamy but faded to almost nothing... very patchy lacing...
Aroma - Quite sweet toasted bready malts, fruity (oranges, apples), light caramel notes, nutty, light spices (nutmeg ?), light hope notes...
Taste - Very strong spicy hop bitterness, floral, juicy fruits (burnt oranges, pears, lemons), definite nuttiness, some slight dusty notes, light bready malts...
Feel - Quite smooth. Light / medium body. Quite refreshing and pretty drinkable although the strong hops might be too much for some...
Overall - A pretty good beer !! Definitely worth a try...
693 characters
4.07
/5
rDev
+8.5%
look: 4 | smell: 4.5 | taste: 4 | feel: 3.5 | overall: 4
Comes in the trademark St. Peter's half liter greenish-brown oval flask with a plain beige and gold label. Ingredients listed on the Russian import label conform to the purity law. Best before 2/9/05, I opened it on 4/18/04.
Pours a clear deep golden hue under a one finger bubbly off white head that settles quickly but leaves excellent lacing all the way down the glass. The nose is strong and crisp, full of spicy hoppiness. The mouth is medium carbonated and fairly light. Hops dominate, slightly metallic, mainly flowery, and quite smooth. This is definitely a British ale, crisp and clean. The aftertaste is bitter and long lasting. There's really not much balance here, as malt is hard to detect, but hop heads like me don't miss that at all!
752 characters
St. Peter's Suffolk Gold from St. Peter's Brewery Co Ltd
Beer rating:
82
out of
100
with
23
ratings