St. Peter's Amarillo Ale
| St. Peter's Brewery Co Ltd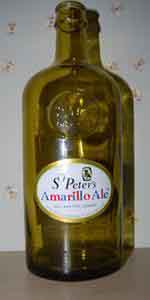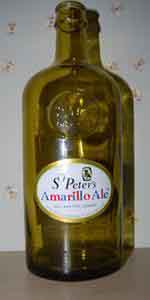 BEER INFO
Brewed by:
St. Peter's Brewery Co Ltd
England
,
United Kingdom
stpetersbrewery.co.uk
Style:
American Amber / Red Ale
Alcohol by volume (ABV):
4.80%
Availability:
Year-round
Notes / Commercial Description:
No notes at this time.
Added by Antilochus on 08-19-2008
HISTOGRAM
Ratings: 6 | Reviews: 6
Reviews by thepeter:
3.47
/5
rDev
-3.6%
look: 2.5 | smell: 3 | taste: 3.5 | feel: 4 | overall: 4
Got this at Sainsbury's and had wanted to try it for a while. Hazy Orange appearance looked a bit off to me but the smell was of citrus grapefruit and hops. Low carbonation made it feel like a cask conditioned ale making it very easy to drink. Tasted like it smelled with a bit of bread in the aftertaste which was a pleasant one. I will get this again, sometime.
363 characters
More User Reviews:
3.69
/5
rDev
+2.5%
look: 3 | smell: 4 | taste: 4 | feel: 2.5 | overall: 3.5
A new St. Peter's release, this one picked up at a Sainsbury's in Clapham, South London. 4.80% abv, 50cl. Cute little stars and stripes on the label, although the bottle colour makes the beer look a bit unappetizing. Fridge temp into my stein.
Bubbly head quickly settles to a very thin cloud and small rim. Ever so slightly hazy amber body.
Nose is yeasty and fruity, with citrus, banana, pale malt all showing up. Cake mix. Not as fresh as I would like but still quite good.
Palate is extremely spicy, fresh grapefruit, pale malt, a bit of alcoholic burn to it even at 4.8%. Pure taste buds suggest it is on the sweet side with a hint of sourness. Low carbonation - a bit watery too. Finishes on lots of grapefruit, fresh hops, alcohol. Very simple but effective. I like it.
779 characters
3.24
/5
rDev
-10%
look: 2.5 | smell: 3.5 | taste: 3 | feel: 3.5 | overall: 3.5
500ml bottle bought from Sainsburys...
Poured a light straw yellow colour. White head poured loose and frothy and faded almost instantly to patchy covering. No carbonation at all and no real lacing to speak about...
Takes quite a while for all the aromas to develop in this one... spicy citrus fruits with some tropical notes (limes, grapefruits, apples and light peach), some yeasty and bready hints coming through, slight Belgian Tripel notes, pale malts, piney sap traces, some saltiness, light floral honey, grassy, some light oakiness..
Taste is a little on the bland side... as above but with some soapy / dishwater hints, also some wet paper, decent spicy hop bite, some metallic and salty notes, quite floral and perfumed, chalky, some very faint tobacco...
Feel - Sharp and dry... light bodied... pretty refreshing but a little boring to have me going back for more than one...
Overall - A pretty average brew which i don't think i would be going back to in a hurry... In my opinion this is not an American Amber / Red ale as described here - more like an IPA..
1,075 characters
3.72
/5
rDev
+3.3%
look: 3.5 | smell: 4 | taste: 3.5 | feel: 3.5 | overall: 4
Appearance: pale straw-yellow, quite hazy, lots of bubbles but no head
Aroma: grapefruit rind, passion fruit, pears, mustard, and biscuity malt
Flavor: medium malt sweetness that quickly gets scrunched by a hearty hop bitterness; slight tartness; grapefruit juice; biscuity maltiness; finishes dry with a lingering bitterness
Mouthfeel: medium body, mild carbonation, somewhat astringent
390 characters
3.64
/5
rDev
+1.1%
look: 3 | smell: 4 | taste: 3.5 | feel: 3 | overall: 4
A - Comes in a very different flask shaped oval bottle, apparently a replica of a 1770 one. Head is minimal as is lacing. Pours a cloudy orange.
S - Lots of citrus along with a hefeweizen smell.
T - Pleasant taste, definately german wheat flavor. Bottle says it is made with Champagne yeast and amarillo hops. Hops are present although the wheat definately is most prominent
M - A Little heavier than you would expect but after you get used to it becomes pleasant. Medium carbonation.
D - A good beer that after I got over the surprise in taste I enjoyed drinking. Not my first choice due to style preference but I can imagine a lot of people using this as a session beer.
676 characters
3.85
/5
rDev
+6.9%
look: 3.5 | smell: 3.5 | taste: 4 | feel: 4 | overall: 4
Purchased at the Sainsbury's supermarket. Besides the usual flask-shaped packaging, the beer looks rather hazy from the outside. I suppose it's meant to be like this? Another interesting fact: this beer is brewed with Amarillo hops and Champagne yeast, in order to create a "new-world" style ale... so champagne yeast plus US hops give one a taste of the New World. Well... BB 11 JUN 09, served cool in a straight imperial pint glass.
A: pours a murky, dark golden hue with very little carbonation and a thin, dissipating white head. Looking unconventional.
S: upon the opening of the bottle, a lightly skunky note sneaks through; in the glass, the aroma is much more pleasant, bursting with sharp, intense grapefruit-juice and zesty notes on a par with a thick cane-sugary and nectar-ish maltiness skirted with a little banana-esters... a wee bit of lactic-mustiness also lingers - overall smelling even quite like some Belgian blond ales! Alas, the aroma is slightly too sweet overall.
T: a spicy, bitter-sweet foretaste is fast ensued by lots of dry and zesty sour citrus, light phenol, light banana-bread with a tar edge of grilled sugar-cane, then softening in taste and giving way to a long-lasting tannic, spicy, and extremely chewy palate of grapefruit peels. Also, the lightly lactic, zesty and estery finish remotely resembles that of a dry Saison, to me at least...
M&D: the mouthfeel is actually surprisingly refreshing w/o being too fizzy, while the consistently zesty and dry palate makes this beer really quaffable. Supported by a decent hop depth, the intriguing work of champagne yeast seems to do a good job in transforming this beer into a cross b/w the OLD and NEW worlds. One can pick up hints of Bitter, American Pale, Belgian Blonde, even Saison and wheat beer! Regardless of the style, this ale is quite an interesting and enjoyable drink in its own right.
1,881 characters
St. Peter's Amarillo Ale from St. Peter's Brewery Co Ltd
Beer rating:
3.6
out of
5
with
6
ratings