Wits End
| Ritual Brewing Co.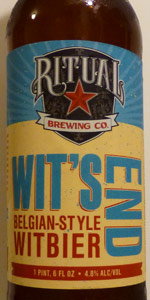 BEER INFO
Brewed by:
Ritual Brewing Co.
California
,
United States
ritualbrewing.com
Style:
Witbier
Alcohol by volume (ABV):
4.80%
Availability:
Year-round
Notes / Commercial Description:
No notes at this time.
Added by UCLABrewN84 on 10-04-2012
Reviews: 7 | Ratings: 35
3.86
/5
rDev
+4%
look: 4.5 | smell: 3.5 | taste: 4 | feel: 3.5 | overall: 4
It has a really nice hazy look to it, and it goes down as refreshing as it looks. Has a really sharp crisp citrus flavor (orange, maybe even lemon), very light bite of hop and spice. My only disappointment was a real lack of body to the finish, which I likeep about witbier and hefeweizens. Still, this would be an excellent beer for a hot summer day or after a tiring day at work.
381 characters
4.15
/5
rDev
+11.9%
look: 4 | smell: 4.5 | taste: 4 | feel: 3.75 | overall: 4.25
Poured 22oz into Erdinger weisbier glass, sweat full and slightly fruity aroma, initial taste of malt and a touch bitter, dryer than most Bavarian wheat beers and much dryer than most Belgians. Overall a good wheat beer, but Saint Archer's white is in my opinion a better example of domestically produced wheat beer.
316 characters
3.12
/5
rDev
-15.9%
look: 3.25 | smell: 3 | taste: 3 | feel: 3.5 | overall: 3.25
Served in a pint glass
A: Golden, hay, light honey color, and brilliantly clear (not characteristic of the Witbier style probably due to filtering out the yeast). Thin white head with good amount of lacing; small uniform bubbles likely from malt fermentation
S: Orange, peppery, spices, floral scent from the hops, no off odors. Not a very strong bouquet, not a whole lot there
T: Spices, floral, potpourri, a little hoppy with a malty finish and bitterness towards the end at the back of mouth.
M: Astringency from the amount of carbonation present; medium bodied beer. Medium to high carbonation.
O: Very refreshing and crisp. Not totally representative of a true Belgian Witbier, however overall a good beer
717 characters
3.96
/5
rDev
+6.7%
look: 4.25 | smell: 3.75 | taste: 4 | feel: 4 | overall: 4
On-tap at the brewery itself in Redlands. Served in a plastic cup. On to the beer:
That slight pale yellow color with a cloudiness and topped with a creamy head is the look that I like to see out of a witbier. I already feel refreshed just by sight. I'm only teased more by the aroma, which is a little dry and brings a good duet of coriander and orange peel. Refreshment achieved. Ritual's witbier is a little drier in taste, with a little less of the yeast and malt pulling through. This allows the coriander and bittering orange peel to shine, which doesn't become obnoxious as there's a little creamy sweetness from oats coming through. The beer is lighter medium bodied and has some sizzling crispness.
Hangar 24 has the Orange Wheat. Ritual has the Wits End. Both are options which I imagine are great for those unforgiving summer days in the city. Even on a 70F day, Wit's End is a good drinking choice.
913 characters

3.53
/5
rDev
-4.9%
look: 3.5 | smell: 3.5 | taste: 3.5 | feel: 3.75 | overall: 3.5
Pours a clear golden in the Mort Subite globe. Sediment in the bottle, but not in the glass. A frothy foam when poured over the falls, which dissipates but leaves some rings of lacing. Pleasantly spritzy in the mouth. A little aroma of malt and faint spice. A touch of pencil shavings.
This is less wheaty and more like a lager, but it's thoroughly drinkable. The spices are gentle, but the orange comes through gradually. Slightly tart. A smooth and likable brew, but not a competitor in the Witbier category. From the 22 oz bottle bought at Olive Tree Market in Ocean Beach.
577 characters

3.72
/5
rDev
+0.3%
look: 3.5 | smell: 4 | taste: 3.5 | feel: 4.5 | overall: 3.5
Light golden beer with white, foamy white head that settles to a ring, leaving spotty lacing on the pint glass. It is unexpectedly clear and crisp--no haze or unfiltered look at all. Thus, I assume it is filtered.
The orange zest is noticeable on the nose and follows in flavor, along with lemon. The flavor and body are clean, crisp, smooth. I would expect more estery flavors from yeast. Apart from a smooth, light malt and wheat profile that made for a highly drinkable beverage, I only briefly noticed a subtle spicy hop flavor and faint bittering. The coriander did not stand out, but it may have been mingled with the spiciness that I interpreted as hops.
An easy and refreshing beer, but I wouldn't have minded a bit more yeast flavor to complement the citrus, which seemed to be just right and not at all overdone.
824 characters
3.55
/5
rDev
-4.3%
look: 3.5 | smell: 3.5 | taste: 3.5 | feel: 4 | overall: 3.5
On tap for the 4th Annual LA Beer Week Beer Festival at Union Station in Los Angeles, CA.
Pours a murky light yellow with a foamy bone colored head that settles to a film on top of the beer. Small dots of lace slowly drip into the remaining beer on the drink down. Smell is of malt, grain, spices, and yeast. Taste is much the same with a mild spice bitterness on the palate with each sip. This beer has a good level of carbonation with a crisp mouthfeel. Overall, this is a good beer that is pretty tasty and drinkable.
524 characters
Wits End from Ritual Brewing Co.
3.71
out of
5
based on
35
ratings.