Hop Junkie / Detox Session IPA

CREW Republic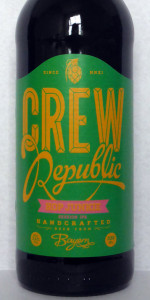 Rate It
Beer Geek Stats
| Print Shelf Talker
Style:

ABV:

3.4%

Score:

Avg:

3.58

| pDev:

12.29%

Reviews:

10

Ratings:

From:

Avail:

Year-round

Wants

Gots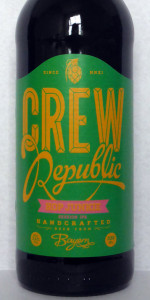 Notes:
vinicole from England
3.58
/5
rDev 0%
look: 3.5 | smell: 3.5 | taste: 3.5 | feel: 3.75 | overall: 3.75
Bottle. Thin looking straw colour. Misty.
Mild hoppy smell. Lemon aroma and taste. Light tart astringency.
Thin feel. Refreshing.
Drunk in Autumn. Better on a hot summers day.
Nov 14, 2020

jazzyjeff13 from England
3.4
/5
rDev
-5%
look: 4 | smell: 3.25 | taste: 3.25 | feel: 3.75 | overall: 3.5
A 330ml bottle with a BB of April 2018, so it's a little out of date. Acquired a while back from a webshop. Most of the label blurb is in German, but I can make out that this is a session IPA hopped with Comet, Chinook and Galaxy.
A: Poured into a tulip. Bottle conditioned and pretty lively. A deep, hazy orange-amber hue with seriously intense carbonation and floating sediment. Yields a vast head of fluffy white foam that lasts for a while before steadily reducing to a patchy surface layer. Slight lacing.
S: Aroma of mildly fruity hops with hints of vague tropical fruit, melon, hay, leafiness, caramel malt, subtle barley sugar and ale yeast. Kinda meh - smells rather faded.
T: Tastes of understated fruity hops with notes of subtle tropical fruit, hay, leafiness, caramel malt, mild barley sugar, ale yeast and a touch of cardboard in the background. Pretty dry, followed by a modest bitterness upon swallowing.
M: Mouthfeel is smooth and tingly, with lively carbonation and decent body for the strength. Slightly astringent; dries the palate. Aftertaste of vague fruity hops, leafiness, caramel malt and ale yeast.
O: A bit too old - the hop character seems to have faded significantly. Looks good, while the aroma and flavour are malty and yeasty with a vague hoppiness. Body is alright. Drinkable but past its best; I'll have to try and re-review a fresher example.
May 22, 2018

Catalin90 from Romania
3.31
/5
rDev
-7.5%
look: 3.25 | smell: 3.5 | taste: 3.25 | feel: 3.25 | overall: 3.25
Quick and pleasurable to drink. A "baby" IPA, with Cornet, Galaxy and Chinook, hops which get along pretty good. Tastes like citrus and is hoppy enough for its alcohol content.
Mar 07, 2016

Jugs_McGhee from Louisiana
3.1
/5
rDev
-13.4%
look: 2.75 | smell: 3.25 | taste: 3 | feel: 3 | overall: 3.25
33cl brown glass bottle with a green & yellow label purchased at Ambrosetti in Berlin:
3.40% ABV. Session IPA. Brewed with Comet, Galaxy, and Chinook. Best before: 17.06.2016.
APPEARANCE: A scant ~2.5cm head of white colour. Body is a pale yellow-copper - somewhat dull (i.e. lacking vibrance). Head retention is above average - ~5-6 minutes.
AROMA: Pale malts coupled with a new world hop profile - blueberry (though Mosaic wasn't used - why do I detect this?), floral notes, vague fruit, maybe a hint of clean citrusy lemon.
Mellow, and suggestive of a balanced enjoyable beer.
TASTE: Follows the aroma. Muted, shallow, and underwhelming, with a subpar hop profile (in spite of its new world trendiness). It's not unbalanced, but there's just no complexity here given the style and it's rather rudimentary.
TEXTURE: Medium-bodied, smooth, wet, somewhat refreshing, and overcarbonated. There's no harmony of texture and taste here.
OVERALL: Crew Republic is quickly gaining a reputation as one of Germany's most exciting nontraditional breweries. Drinking this offering, I cannot see why.
It's drinkable, but the flavour just plain isn't there. Still, it's easily above average - provided one considers session IPA a style.
C+ (3.10) / ABOVE AVERAGE
Feb 16, 2016
BeerAdvocate from Massachusetts
3.94
/5
rDev
+10.1%
look: 4 | smell: 3.75 | taste: 4 | feel: 4 | overall: 4
Bitter, Juicy, Grassy, Crisp
Proof that the Session IPA trend has reached past America. Hopped with Comet, Galaxy, & Chinook to bring forth suggestions of pine, marmalade, and faint mint. Just enough malt backbone for this light brew to keep it together, some softness of yeast and Crystal Malt rounds out the palate as well. Doing it right.
STYLE: American IPA | ABV: 3.4% | AVAILABILITY: Year-round
Review from BeerAdvocate magazine issue #93 (Oct 2014)
Aug 14, 2015
Arminius757 from Connecticut
3.09
/5
rDev
-13.7%
look: 3.5 | smell: 3.25 | taste: 3 | feel: 3 | overall: 3
If you read the label on this beer, it seems to be that it was crafted as a hangover beer, for when you still wanna drink, but dont want something with a high ABV. That explains a few things about this beer. Out of the line up of Crew Republic thus far, I have to say that this is their weakest option.
Pours a pale yellow.
You get the smell of citrus predominatly, nothing else really.
Tastes like citrus and is sour, not very bitter ether.
It has a really light, almost watery feel. Nice carbanation though.
Just gotta say, this beer didnt do it for me. The rest of the Crew Republic line up is great, but this falls short. Reminds me more of a sparkling juice than a beer.
Apr 28, 2015

JaimeLondon from Brazil
3.3
/5
rDev
-7.8%
German Detox IPA of a somewhat transparent orange color and a whitey foam.
Is the first detox I've drank and I must say is a disappointing. Alocohol level and bitterness is extremely low, to the point that the beer seems "waterly".
Nevertheless, the carbonation on this beer is at good level and there are nice - but smooth - citrus tones.
This beer is almost like a sparkling juice - not that bad, huh?
Oct 11, 2014
mountdew1 from New Hampshire
3.5
/5
rDev
-2.2%
12oz bottle poured into an imperial pint. Brought overseas by an awesome colleague. Very hazy/cloudy with a thin white head that clung extremely well. Aroma was primarily a mild citrus orangey lemoney with a hint of wheat. Flavor was much maltier than I would expect for an IPA, but seemed to be inline with German beers, small hint of citrus taste in the backend. Coated ok, a bit of tingle from the carbonation. Not a bad beer, not what I would expect from the style.
Sep 07, 2014

clarknova from Germany
2.5
/5
rDev
-30.2%
first of all, I think "session IPA" is a paradox term. and this beer is definitely not an IPA as you might know it. 3.4% ABV and 32 IBU? anyway.
a - pours very cloudy pale-yellow with thick head and good lacing
s - smells ike lemon and tangerine, but not in an extreme way
t - taste like that, with a gentle hoppy bitterness
m - due to the low alcohol level it feels a bit thin, but very refreshing
o - a weird-labeled summer ale, easy to drink
Aug 19, 2014

beerdrifter from Germany
3.58
/5
rDev 0%
look: 3.75 | smell: 3.75 | taste: 3.5 | feel: 3.5 | overall: 3.5
Picked this up at a great beer shop in Darmstadt, Germany, Maruhn Welt der Getränke. Slightly hazy orange-yellow pour with a two finger foamy white head with decent retention and lacing. The Comet hops dominate the nose along with hints of lemon, grain, and subtle pine. The taste is a bit less bold with subtle hoppiness, hints of lemon zest, pine, and grass. The mouthfeel is light bodied with medium carbonation and good drinkability. Overall, this is a decent session IPA and a great lawnmower beer.
Jul 24, 2014
Hop Junkie / Detox Session IPA from CREW Republic
Beer rating:
84
out of
100
with
21
ratings