BAD Brewing Company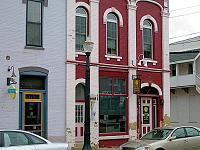 PLACE INFO
Type:
Brewery, Bar
440 S Jefferson St
Mason
,
Michigan
, 48854-1654
United States
(517) 676-7664 |
map
badbrewing.com
Notes:
No notes at this time.
Added by Judson on 09-08-2012
Reviews: 12 | Ratings: 20
4.64
/5
rDev
+20.5%
vibe: 4.5 | quality: 4.5 | service: 4.5 | selection: 5
Looks like a recent review is in order for BAD Brewing. They certainly have come a long way since the first review back in 2012.
Bad B is a small town establishment focused on beer, rather than food. Thus, their partnership with Good Bites gourmet food truck. A good combination, although some have suggested the price of the food is a bit high. I would point out that the food quality is excellent, and the cost of craft beer is always higher than commodity beer... it seems the same would apply to food as well.
Okay, since the latest reviews... BAD B has expanded. They have approximately doubled their seating capacity, added a second bar, and a patio/beer garden. They have also increased the number of taps, having twenty plus varieties available for your tasting pleasure.
The atmosphere is still small town friendly, but now with a little more elbow room. Service is good and the bartenders seem genuinely pleased you are there. I feel that the beer selection is the top reason to visit, and revisit BAD B. Unless you have all day and a driver, It would be a pretty big task to properly sample all the choices. I won't talk about the beer, as this isn't a beer review. I will however say, you can tell the the brewers here love their craft. They are willing to experiment and not stop creating just because they've found something that sells. For example, there are currently at least four IPAs on tap, and I think having the task of finding a favorite (for now), is something worth looking forward to!
1,514 characters
4.12
/5
rDev
+7%
vibe: 3.75 | quality: 4.25 | service: 4 | selection: 4.25
Friendly small town environment with a great food service partnership (Good Bites). Great beers and ciders, and great service. Can get a bit noisy when crowded. Could use a upgrade in their music sound system.
209 characters

4.25
/5
rDev
+10.4%
vibe: 4.25 | quality: 4.25 | service: 4 | selection: 4.5
Really small, but a large selection of beers. There are at least 15 different beers on tap at any given time. They make a killer strong ale and are not afraid to take chances with new styles of beer. You would be pysched if this was close to your house.
253 characters
4.25
/5
rDev
+10.4%
vibe: 4.25 | quality: 4.25 | service: 4.25 | selection: 4.25
Pretty cool little place. Off the beaten path, I feel like this place is under the radar.
Nice food truck paired with them.
Lots of potential here, though they appear a bit limited space wise. Perfectly fine for where they are though as long as they don't desire to become a walez bro kind of place.
301 characters
4.25
/5
rDev
+10.4%
Small brewery with amazing beers. Great atmosphere with brick, old wood, a cool concrete bar and dart boards. Even when the place is full it never seems to get too loud. Staff has been hit and miss. Some are very nice and willing, while others seem to have a "not interested" attitude. Owners are present and very friendly most of the time and willing to show the brewing room upon request. Very nice place and we frequent very often and will for a long time. These guys are some up and comers in the Michigan beer scene. Keep an eye out, Grab a beer, You will be glad you did.
577 characters

3.71
/5
rDev
-3.6%
vibe: 4 | quality: 3.75 | service: 3.25 | selection: 4 | food: 3.75
First tried Bad Brewing about a year and a half ago. Their beers were good but it always seemed like they were lacking in carbonation. I've checked back in periodically and up until recently I still felt like almost everything was under carbed. I'm pleased to say that they seem to be getting past this issue finally, tried a Super D's IPA yesterday that was about perfectly carbonated. Their Rye Pale Ale had less than I expected but tasted great.
Another big positive is the food truck thats opened up shop behind the brewpub. Cleverly called "Good Bites", a server from the truck will come in and take your order and bring it back to you in the pub. Really good, locally sourced food with a menu that changes up often. I think this move will really help both businesses.
All that said, I think Bad Brewing is starting to hit its stride and is definitely worth a stop if you're in the area. I know I'll be going in a lot more now that food is an option and that, fingers crossed, they stopped serving almost flat beer.
1,024 characters
4.1
/5
rDev
+6.5%
vibe: 4.25 | quality: 4 | service: 4.5 | selection: 3.75
We love coming to this place. The beers rotate frequently so we are often able to try something new when we visit. The atmosphere is excellent but maybe a bit small. It used to be a flower shop and what they did to the inside was really great. The owners and staff are very friendly and the service is great. My only request would be for a larger variety of beers. They have 14 taps and the majority of those are IPAs. I'd love to see a couple more darker beers or some other experimental or seasonal beers. Overall one of my favorite bars.
540 characters
4.44
/5
rDev
+15.3%
vibe: 4 | quality: 4.5 | service: 4.5 | selection: 4.5
I love this place!
They have a great selection of beers.
Right now they have eleven beers on tap.
If you like Nut Browns you need to try one from here!
The building is an old flower shop.
Lots of brick inside and out.
Cool concrete topped bar.
They have no food but allow you to bring your own in.
Every time I go they have something new on tap.
Right now they have a tasty wheat with fruit series going on.
All the beers are complex with a good balance.
Give them a try!
476 characters

4.28
/5
rDev
+11.2%
vibe: 4 | quality: 4 | service: 4.5 | selection: 4.5
Great atmosphere low key the way i like it
Service is nice and fast
Great selection for a smaller brewery
They have snacks and allow you to bring your own food
which is very cool in my opinion
overall value is great, great atmosphere and great beer
will be back for sure.
275 characters
2.94
/5
rDev
-23.6%
vibe: 4.5 | quality: 2.25 | service: 3.25 | selection: 2.75
Building was awesome. Small, and cozy. Almost felt as a coffee shop. Bar was cool too, their draft tap set up is made from an old whiskey barrel.
Their beer was pretty off when we visited. I know they are just getting started so I am hoping with time they improve. But when we were there it tasted like a home brew kit with a fancy name.
I would stop in again if i was in the area but as of right now it is not worth the drive solely for a visit (IMO).
456 characters
4.6
/5
rDev
+19.5%
vibe: 4.75 | quality: 4.5 | service: 4.75 | selection: 4.5
Of the regular beers, I enjoy the IPA, brown and stout. The Raspberry version of the wit is well done. I am not an amber or wit fan to begin with so I don't have an opinion on those two. There are usually another 1-3 beers rotating on special. The inside of the building is cool, very nice bathrooms and cozy. There are darts and table space to play cards. A couple of TVs to watch the game and they allow you to bring your own food and there are a number of restaurants within 200ft. The beers are getting better than when they first opened and the specialty beers have been a great change of pace. Overall a good place to hang out and the beer is priced right.
Update...Beer has gotten a lot better and now 14 beers on tap almost at all times.
746 characters

2.76
/5
rDev
-28.3%
vibe: 3.5 | quality: 2.5 | service: 3 | selection: 2.5
This brewery just opened in 2012, and I think they did so before they have their beers dialed in to the taste that I think is correct for the styles offered. My wife, my daughter and I ordered a sampler flight of 4 of their 5 beers, but we added the 5th one too just so we could try them all. They included: an Amber, an IPA, a Wit, a Brown and a Pilsner. Only the Brown was close to tasting where I thought it should be. My wife and daughter liked the Wit, but I didn't (possibly because it's one of my least favorite beer styles). I'll give the Brown a C grade, but the rest I'll put at a C- rating for my tastes.
There is no food other than packaged snacks such a chips, pretzels and Slim Jims. The brewery is located in the downtown area in a cool old building, and the interior is kind of small and cozy and fitting for a brewpub.
I want to give any new brewery an opportunity to get their beers dialed in to the right taste, and I hope they do. I'll go back when I'm in the area again to see if there is any progress.
1,026 characters
BAD Brewing Company in Mason, MI
4.08
out of
5
based on
16
ratings.