The Owl Farm Bar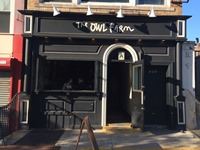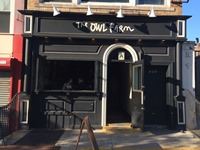 Bar, Beer-to-go
297 9th St
Brooklyn
,
New York
, 11215-3905
United States
(718) 499-4988 |
map
theowlfarmbar.com
Notes:

4.4
/5
rDev
-0.7%
vibe: 4.25 | quality: 4.5 | service: 4.25 | selection: 4.5
This is up there with Proletariat as one of my favorites in NYC. Always an excellent selection of beers that puts you in a tough spot as to what beer to choose. Eventually you say fuck your wallet and just start ordering them all.
Nice glassware is used here and that's always a huge plus. The servers are friendly (one also works at Proletariat or used to) and there's a mellow, low-key vibe to the spot most times.
This place is great to visit on its own or you can make it part of a crawl with Other Half, Mission Dolores, Threes, St. Gambrinus and others.
563 characters

4.66
/5
rDev
+5.2%
vibe: 4.5 | quality: 5 | service: 4.5 | selection: 4.5
This bar, from what I can see, is a hidden gem in Brooklyn. Great selection and really reasonable prices too. Drank with the wife for a few hours, had 7-8 pours between us and only spent 50$. If you've never been here defintely seek this place out. It may not have the notoriety of Torst but you can sit and stand without feeling like a sardine so on a random night I'll take Owl Farm unless I have a reason not to.
415 characters
4.87
/5
rDev
+9.9%
vibe: 4.5 | quality: 5 | service: 5 | selection: 4.75
really only second to Torst as far as brooklyn beer bars go. great selection, great service, not too crowded most of the time. opens at noon on the weekends and is almost always almost empty in the early afternoon.
216 characters
4.93
/5
rDev
+11.3%
vibe: 5 | quality: 5 | service: 4.75 | selection: 5
I consider this among the best beer bars in I've ever been to, and probably the best in Brooklyn. Large (28 taps) selection, and contstant rotation. They always have interesting beers on tap (no BMC if you care). Really beautifully curated selection. They age their own kegs. No cask ale, no outdoor area, but I would come here here every night if I could afford it. Too busy for me on Friday and Saturday nights, though. Best to visit on off hours. Please don't come here, I like it the way it is.
506 characters

4.25
/5
rDev
-4.1%
vibe: 4.25 | quality: 4.25 | service: 4.25 | selection: 4.25
Went here based on the recommendation of a few locals who joined us for Beers For Beasts last Saturday. This will be a short review based on the fact that we (party of 6) came to The Owl Farm Bar after Beers For Beasts, around 5:30 pm with a million samples of SixPoint beers under our belts. For the record, Beers For Beasts 3 was an amazing event.
Had 2 beers, the Kuhnhenn Timmy T's Pale Ale and the Peekskill Eastern Standard American IPA, and both were very good beers. The list was very impressive, especially the number of Mikkeller Single Yeast beers on tap. Not sure of the exact number of beers on tap nor the bottle selection, but recall this place living up to the hype.
Prices were decent and average for the NYC area, and Jen the bartender tolerated our loud and borderline belligerent crew for the hour or so we were there. I will come back to enjoy this place another time and give it a proper (aka sober) review.
933 characters
4.14
/5
rDev
-6.5%
vibe: 4 | quality: 4 | service: 4.5 | selection: 4
On 9th, killing time between lunch & Kelly. Set up across the street, parked, and dealt the (have I mentioned how much I love the) muni meter. Unfed, I contemplated the bagel café a few storefronts down (I wonder what cream cheese they have on tap today?) but passed. I'm closeby to where I need to be, but I don't have a lot of time...
This one is really deep and narrow. The walls of exposed brick & painted plaster white over wood framed lowers, and done up kind of alt; wherever there's brick on one wall, the adjacent wall is plaster, and vice versa. Worn wood plank floorings, a pressed tin ceiling (brown, maybe), with crown, um, moldings, and blended ductwork front to back.
'L' shaped wood plank topped bar to the left with a laminate framed steel, well, it's not a lip as much as it looks to be an extension, vertical wood plank base, & piping foot rail. Seating for 15 on wooden hightop chairs. A row of 28 taps on a long box on the bar, and 2 handpumps aside. Barback is wood counter space with glassware here and tiered booze further down running a good length, and funny mirrored panels above glassware shelved below. The upper part of the bare barback wall is done up with black & white paintings of spy vs. spylike owls, hanging in trees being an owl nuisance. Tap selections (brewery, beer, serving size & price) printed on a pair of vertical boards above the glassware, and another pair of smaller boards further up listing happy hours, specials, & events. Bottles displayed in a cut out shelf inlayed below. I cannot see what they be from here but I can make out (lovely) Orval, as I know her curves. Small candles lit along the bar and on the barback, drop single bulb cone lamps tracing the bar, mounted single bulb wall lamps, and a few strange 4 bulb shorty deals with Xmas bulbs. Unusual. A flat screen in the front corner and rear opposite corner.
Bar counter space seating for a few below the horizontal paneled front window, and a doorway alongside it with a smallish arched window above it. A few hightop roundys and a churchpew bench adjacent to the bar, and a makeshift bookshelf piece to the underside of a stairwell to somewhere. More seating to the rear; 4 low roundys on one wall sharing a bench and a single roundy and a rec each to both sides of a center wood fireplace adjacent. Framed angled mirrors & strung Xmas lighting done in the configuration of a tree, it's kind of cool. Rear corner red rum holds 3 pinball machines (sorry Phil, there will be no Golden Tee play, today).
Did I mention the 10 tap imperial stout take over this evening? No? Well, it's on! 28 beers, collectively ½ of them craft from NY state (Brooklyn Black Chocolate Stout, Captain Lawrence Winter Ale, Barrier Unimperial Session IPA, Empire Cream Ale, Southern Tier Jahva) and regional otherwise (Troegs Sunshine Pils, Victory All Malt Lager, Cottrell Old Yankee Ale, Narragansett Lager, Clown Shoes Vampire Slayer, Allagash White & Bourbon Black, McNeill's Dark Angel Imperial Stout). The other ½ is a mix of craft beyond here (Against the Grain 2 Wheel Death Machine, Laughing Dog the Dogfather, Ballast Point Indra Kunindra Stout, Lakefront Snake Chaser, Green Flash Green Bullet, Great Divide Titan IPA, Founders Cerise & Breakfast Stout, Goose Island Bourbon County Stout, He'Brew Jewbelation Sweet 16 Anniversary Ale), a few imports (Dupont Moinette Brune, Liefmans Goudenband, Evil Twin Ron & the Beast Ryan,
Hitachino Nest Espresso Stout), and a sole cider (Mckenzie's Hard Cider). And 2 handpumps, both live (Breckenridge 471 IPA & Flying Dog Snake Dog IPA).
I drank the Against the Grain 2 Wheel Death Machine (citrusy, piney pale ale) & Troegs Sunshine Pils (I do like this beer), and on return a few days later, drank the Barrier Unimperial Session IPA (was really damn good. I would drink this again except for it's pretty much gone forever), and the Carton Boat (solid & sessionable).
And the aforementioned bottles, 21 in all. 2/3 of them are American craft (4 offerings from Stone, a pair each from Founders & Brooklyn, and random entries from Atwater, DogFishHead, Shmaltz, Perennial, & Full Sail). The other 1/3 is a mix of imports (a $9 Orval, Evil Twin, 't Gaverhopke, Hitachino Nest, Unibroue, a Mikkeller/Stillwater collab), and a few macros.
Jennifer tending on my revisit, doled out samples as was necessary (to me). Good list, and the beer's in good shape. Cool space. I just texted Ben stating, "They have actual owls here. It's fucked". I don't think he's biting, although, he is Ben, so maybe. Actually, 'Owl Farm' was Hunter S Thompson's compound in Colorado (Someone's a fan).
4,678 characters
The Owl Farm Bar in Brooklyn, NY
Place rating:
4.43
out of
5
with
43
ratings