Pivovar U Tří Růží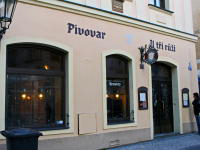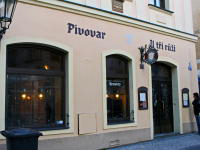 Brewery, Bar, Eatery
Husova 232/10
Praha
, 110 00
Czech Republic
+420 601 588 281 |
map
u3r.cz
Notes:

joaopmgoncalves from Portugal
3.71
/5
rDev
-11.7%
vibe: 4 | quality: 3.75 | service: 3.75 | selection: 3.5
The place is a very cozy one since it's a bit small but is still spaceous enough to gather your favorite group of friends. The only downside is the selection that's really small having just 4 taps of Tri Ruzi and some other bottled stuff from friends.
However, in the end, probably the best beer place I've been to in Prague.
Jul 20, 2017
coldriver from Texas
4.13
/5
rDev
-1.7%
vibe: 4 | quality: 4.25 | service: 4 | selection: 4 | food: 4.5
We visited four brewpubs in Prague and this one was my hands-down favorite. The three beers (out of six available) I tried were all very good and a bit more adventurous than what we saw elsewhere around town. The atmosphere is great and traditional and the food was the best we had in Prague.
Jun 05, 2016
bwood06 from Wisconsin
4.75
/5
rDev
+13.1%
vibe: 5 | quality: 5 | service: 5 | selection: 4 | food: 5
The first micro that I visited and Prague and my favorite of all of them. Small and cozy with a very old feel. There are 2 tvs in the bar, generally with sports on, but the true entertainment is the food, drink, and conversation. Not really a tourist frequented micro but there are a few tourists who make their way here. Awesome food, probably some of the best in the city in my opinion. Beer is limited to 6 selections but the selections are all top notch and lagers for the most part (there was one ale when I visited). Highly recommended.
Nov 30, 2015

EMV from Pennsylvania
3.94
/5
rDev
-6.2%
vibe: 4 | quality: 4.25 | service: 4.25 | selection: 3.25
My wife and I stopped here for a pint or two during a trip to Prague and very much enjoyed U Tri Ruzi. It was one of the few true brewpubs that we found in Prague (granted we didn't spent a ton of time looking) and they had more to offer than just the standard pilsner's. They have a small selection of their own beers to choose from and the quality was excellent. I particularly enjoyed the Vienna Red, and the bartenders were pretty friendly and helpful. The food looked good but we didn't eat here. Nice vibe, would have liked to come back later to hang out more. Maybe next time.
Apr 30, 2015

AllThingsNinja from Massachusetts
4.35
/5
rDev
+3.6%
vibe: 4.5 | quality: 4 | service: 4.5 | selection: 4.5 | food: 4.5
I've paid U Tri Ruze a couple visits on separate business trips, and I must say the restaurant/brewery continues to impress. There are two levels of seating, so don't be discouraged if level one looks full.
This brew pub is quite convienent to Old Town Sq. The ambience is that of a country pub, with some more characterful murals and hanging wall art. The playful illustrations make light of beer's influence on history, and drinking culture in general.
The house brews are excellent. There are typically 6 offerings with one or two seasonal beers, and a a slate of regulars ranging from svetle to cerny with an IPA and some interesting bocks in between. I'm beginning to think that these are the best brewed beers within Prague. Certainly, their christmas ale was the best of the season in 2013.
The food in the restaurant is quite nice. It's czech, and tastes like it was made by a chef and not a microwave.
Mar 29, 2014
NeroFiddled from Pennsylvania
4.08
/5
rDev
-2.9%
vibe: 3.75 | quality: 4.25 | service: 4 | selection: 4 | food: 4.25
Pivovar U Tří Růží / Brewery of the three roses
Charming place. It's small, but with a fairly high ceiling. You step up into it and you're right in the center of the front dining room. There's a row of large 4-top tables to the right, and high top tables to the left. There are fermentation tanks all the way to the left, and the bar is beyond that in the center. There's a back room, which is a bit smaller, and (I believe) a second floor. Unless the weather is great you really don't want to sit near the front door, but it's very busy so you've got little option.
It was one of the first places I wanted to visit, but in Prague at night it's often easier to just wander along than it is to seek something out. By the time we'd arrived it was beyond full, so we simply kept going. The next day we walked past it completely unaware (I think we'd just stumbled out of U Zlatého tygra), but I saw their Monastic Brewery store across the street and called my wife back to check it out. There wasn't much in there, and to be honest, I had already purchased enough beer to lug along to our next stop in Wien that even the most exclusive beer would have had to be left forgone. The woman in the shop, however, mentioned that we could try the beers across the street and then I remembered where we were and all of the pieces fell into place. We were early enough that we were able to get a spot, and we had a good meal.
There were 6 beers on tap:
Lager
Dark Lager
Vienna Red
Christmas Amber
American-style Amber Lager
Monastic Special No 2.
They seem to have three sizes (,25l ,3l ,4l), and for the most part they were 41-Kč for a ,25l glass and 56-Kč for a ,3L glass ($2.75). Specialty beers, of course, cost more; and they do sell bottles as well, seemingly for consumption and to take away.
The food was good. My wife and I chose three appetizers for our luncheon:
Spicy cheese Hermelin au gratin with cranberry sauce 120-Kč
Selection of cold meats from our butcher 160-Kč
Mushrooms roasted with cheese and garlic 120-Kč ($5.90)
All were good, but the mushrooms were small and limited in number. Still, the prices were OK, and given the price for the beer I thought it was a fair deal. Our entire meal with 4 beers was $35.00
I'd certainly suggest a visit to be able to sit and enjoy their beers - I'm not sure how well the bottled versions will translate if you just pick them up at their shop- and as the food was good (which is rare in Prague), you can't really go wrong.
Jan 21, 2014
jlindros from Massachusetts
4.28
/5
rDev
+1.9%
vibe: 4.5 | quality: 4.25 | service: 4.5 | selection: 4 | food: 4.25
My first stop in Prague, looked pretty good. It had a neat atmosphere, cool pictures and murals, etc. For early lunch, about 10:30 it got fairly busy but the people running the bar were great. They had 6 beers on tap, all their own, and a few bottles. Beer was served well, the correct glass that was flushed with fresh cool water, nice sticky head that was scraped, etc. The beers were pretty good, the few that I had. The young bartender was very helpful in describing the beers, helping me pick one, suggesting food pairings, etc. The older bartender, I guessed was the owner, was a little more reserved, was friendly when he talked, but mostly kept to himself. I got a cheese and beer mush platter with toasty, presented nicely and very tasty. Prices were really cheap too, like $2-3 for a 40 cl beer, $5 for a big cheese platter.
Nov 24, 2013
Bierman9 from New Hampshire
4.2
/5
rDev 0%
vibe: 4.5 | quality: 4 | service: 4.5 | selection: 4 | food: 4.25
I honestly hadn't heard of this place before. I was familiar with U Fleku and U Zlateho Tygra, plus new places I wanted to hit, U Med and Pivo Dum, but not this one. Alewife and I found it by accident, first while wandering the old town on 02OCT13. I just happened to stop to check out their menu and noticed the brewed their own bier. So we stopped in for a round or 2 that night. We enjoyed our visit that night, and their food menu looked nice. That being the case, we had dinner there on both 03 and 04OCT13...
It is found in a corner building downtown, at 2 pedestrian alleys, very close to the old square. Enter the ground floor and you'll find a bar to the mid left, with many tables at the front left and along the right. At the rear are stairs leading to floors 2 and 3. The ground floor is basic, with dark wood lower walls leading up to plain, whitewashed plaster above. Artworks and photos adorn the walls. Parts of the upper 2 floors are similar, though there are a couple of walls covered with huge murals of cartoonish characters imbibing biers and enjoying life. The characters reminded me of the stuff in the basement lounge of Redbones. Their own biers offered were a helles, dunkel, Vienna red, rauchbier and a bock. Alewife had the dunkel on all visits; I tried one of the bock, but stuck mostly to the rauch, which was quite nice. The service on all visits was very good. They were right there when needed, and spoke great English. Back in '91, it was an English-free city; now, it's spoken most everywhere. Foodwise, things were super. I had beef in gravy twice, while Alewife had ribs one night then entrecote steak the next. Mmmm!! Probably our favorite spot while in Praha for our 4 days. Prosit!
4.2/5 rDev -1.9%
vibe: 4.5 | quality: 4 | service: 4.5 | selection: 4 | food: 4.25 | $$
266
Oct 23, 2013
Chinon01 from Pennsylvania
4.37
/5
rDev
+4%
vibe: 4 | quality: 4.5 | service: 4 | selection: 4.75
Very much like an American brewpub in selection and atmosphere. Also non-smoking. Beer was very good; and w/ styles like Scotch Ale, U Bock, Belgian style ale and a Vienna Red (w/ a hop bite) the beer is a nice switch up from the ubiquitous Czech pilsner. Did not eat. Would return.
May 17, 2013
Pivovar U Tří Růží in Praha, Czech Republic
Brewery rating:
4.03
out of
5
with
36
ratings