American Pale Ale (for Sainsbury's Taste The Difference Collection)
| Genesee Brewing Co. / Dundee Brewing Co.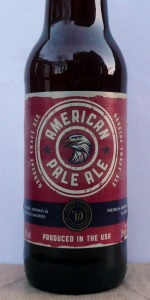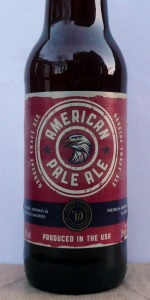 BEER INFO
Brewed by:
Genesee Brewing Co. / Dundee Brewing Co.
New York
,
United States
geneseebeer.com
Style:
American Pale Ale (APA)
Alcohol by volume (ABV):
5.30%
Availability:
Year-round
Notes / Commercial Description:
No notes at this time.
Added by BlackHaddock on 12-08-2012
HISTOGRAM
Ratings: 14 | Reviews: 5
Reviews by wl0307:
3.3
/5
rDev
+4.1%
look: 3.5 | smell: 3.5 | taste: 3.25 | feel: 3 | overall: 3.25
Purchased at my local Sainsbury's supermarket, this beer is said to be brewed by "Tap Room Brewing Company", for the Sainsbury's under the "Taste the Difference" range of products. Coming in a slim 355ml slim brown bottle, BB 09/2013, served cool in a straight beer glass.
A: dark amber in colour, a quickly built-up fluffy/cottony off-white beer head comes with a decent retention, sitting on top of healthy streams of medium-sized fizz-bubbles.
S: lightly citrusy notes on top of sweet barley teas upfront; given a good swirl, mildly spicy notes of hops and light caramel join force with sweet lemons, nectars and overripe pear-ish esters to render an aromatically fruity profile overall. Quite pleasant.
T: very effervescent, to my surprise, the foretaste is citrusy-malty with a light touch of caramel, followed by a lemon-rind-ish bitter-sourness and powdery floral taste as of American hops. A medium-level bitterness lingers in the end, coupling with the dark tea-like tannic feel. A few sips down the line, the finish starts to come with more acidic-sweet nectar-ish undertones.
M&O: the mouthfeel is rendered somewhat too… sharp by the carbonation level, while the body is initially ok but then gradually loses its grip as the palate warms to the flavour, ending somewhat thin-ish after a few minutes into the drink. This contract brew doesn't seem to sparkle, I'm afraid. Now carrying on to try their "Tap Room IPA", to see if it's any better~~
1,479 characters
More User Reviews:

3.06
/5
rDev
-3.5%
look: 3 | smell: 3.25 | taste: 3 | feel: 3 | overall: 3
A 355ml bottle with a BB of Nov 2015. Purchased a while back from Sainsbury's. The label describes it as a genuine craft ale with citrus hop notes.
A: Poured into a cervoise. An orange-amber colour with plentiful floating sediment and light carbonation. Forms a smallish head of white foam that lasts for a minute or so before collapsing and disappearing.
S: Aroma of grainy malt with hints of mild caramel, leafy hops, grass/hay, fruity yeast esters and faint stewed leaves. A touch of diacetyl in the background. Underwhelming.
T: Tastes of light caramel malt with a subtle bitter finish. Notes of grain, mild caramel, grass/hay, leafy hops, fruity yeast esters, faint earthiness, vague stewed leaves and a twinge of diacetyl. Slightly sweet, followed by a restrained bitterness upon swallowing.
M: Mouthfeel is smooth and tingly, with soft carbonation and so-so body. A bit thin and could be livelier. Mildly astringent, accompanied by an aftertaste of harsh stewed leaves, grass, subtle malt and fruity yeast.
O: A pretty subpar APA. Lacklustre looks, while the aroma and flavour hint at a hop character that never really materialises. Wishy-washy caramel malt and yeast notes with some grassy hops. Unimpressive body. In a word - boring. No need to hunt it down.
1,272 characters
3.47
/5
rDev
+9.5%
look: 3 | smell: 3.5 | taste: 3.5 | feel: 3.5 | overall: 3.5
355ml bottle poured into an 'Augustijn' badged goblet on 8th Dec 2012.
Looks OK: light amber body with a thin white covering on top.
The nose was a mixed bag of smells: nothing too strong but notes of both hop citrusness and some mild maltiness.
The blend and mixture carries on into the taste: pleasant balance of flavours again nothing too strong but the malts take centre stage before a slight hop bitterness towards the end of each sip.
Can't pretent this is wonderful but there is nothing wrong with it. Not an expert on APA's so style wise I've no idea if it follows the classic flavours. Pleasant enough, but without setting the world alight.
661 characters
3.05
/5
rDev
-3.8%
look: 3.75 | smell: 3 | taste: 3 | feel: 3 | overall: 3
Amber-tinged gold with lots of fizz and loose white film and the odd trail.
Lagery grain with only the most diluted, children's aspirin-type orangey hops.
Baguette crust and some unripe peach, a sour grain sack hit, and diffuse grass and grapefruit juice hops.
Faint lemondrop finish and dead, slightly tingly linger.
Light, lively, slight cling.
Wow - this makes Red Hook look like Port Brewing. Lager notes left and right in a fairly naked attempt to appeal to the crossover drinker - watery, too carbonated and most Czech lagers probably have more hop presence. A waste of time bringing this across the Atlantic.
Quenching, but that's it.
646 characters
3.66
/5
rDev
+15.5%
look: 4 | smell: 3.5 | taste: 3.75 | feel: 3.75 | overall: 3.5
3.53
/5
rDev
+11.4%
look: 4 | smell: 3.5 | taste: 3.5 | feel: 3.5 | overall: 3.5

3.83
/5
rDev
+20.8%
look: 3.75 | smell: 3.75 | taste: 3.75 | feel: 4 | overall: 4
These TTD beers are usually adequate and tasty, if rarely impressive, but I'm a sucker for a bargain – this was £1.50. Bright golden amber with a short-lived ivory head. Lotsa bubbles. Pretty. It looks refreshing. Smells like a Sierra Nevada PA knockoff, which is to say, good! It doesn't quite present a brick wall of toasty malts and floral-citric hops like you might hope from the style, but they're there – caramel corn, cashews, lemon, tangerine, and a little rose.
Crisp and incredibly balanced, almost to the point of being boring. Almost. Really easy drinkin', with pleasant wheat bread malts and a spank of grapefruity, rosehippy hops. Great mouthfeel with frothy carbonation that helps to bulk out a thin body – sort of like someone dropped a shot of pilsner into it. Quite a tasty (if rudimentary) stab at the style – one I'd be happy to buy again.
869 characters
American Pale Ale (for Sainsbury's Taste The Difference Collection) from Genesee Brewing Co. / Dundee Brewing Co.
Beer rating:
3.17
out of
5
with
14
ratings