Murphy's Law Amber Ale
| Smartmouth Brewing Company
BA SCORE
83
good
13
Reviews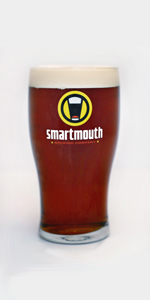 BEER INFO
Brewed by:
Smartmouth Brewing Company
Virginia
,
United States
smartmouthbrewing.com
Style:
American Amber / Red Ale
Alcohol by volume (ABV):
5.80%
Availability:
Year-round
Notes / Commercial Description:
No notes at this time.
Added by clayrock81 on 11-15-2012
Reviews: 13 | Ratings: 62

3.66
/5
rDev
+5.2%
look: 4.5 | smell: 3.5 | taste: 3.5 | feel: 4 | overall: 3.75
Pours a beautiful and clear amber red with a just off white head. Doesn't lace at all. Smells like caramel, sweet bread, a hint of earthiness, and a touch of vanilla, but you have to search for them. Flavor follows almost to a T, and is quite pleasantly smooth and inviting. Medium carbonation and a tasty toasted bread aftertaste make this beer inviting to consume quickly. Cheers!
387 characters
3.6
/5
rDev
+3.4%
look: 3.75 | smell: 3.75 | taste: 3.5 | feel: 3.75 | overall: 3.5
Poured from the can into a nonic pint glass. Oldy… Nov 23rd 2015. drum roll…
Bright yet dark copper bodied, with quite a bit of clarity. Head creation makes a basic two finger tan head, but settles to a simple thin pick and good three millimeter collar.
Simple caramel malt, with a light bready sweetness on the nose. A hint of bitter grain, possibly small acridity kicking in. Manages a bit of warm sweet bakery tones, faint maple syrup but with much less toned sugar sensations. Pretty decent aroma.
Palate goes for a bit more simple tones. Slightly muted caramel, with some hint of wet but not totally washed out mouthfeel on first sip. Mild sensing toast and hint of crackly character. Pith like bitterness of grapefruit on the finish, even slightly steely and ferrous particularly on the aftertaste. An almost dry lingering bitterness like rye catches in as well.
A drinkable decent brew, but the hop angle seems to be a hint of just a little harsh astringency which is surprising at this age, and could use a bit of malt sweetness and depth to counter.
1,074 characters
3.22
/5
rDev
-7.5%
look: 4 | smell: 3.25 | taste: 3 | feel: 3.5 | overall: 3.25
Pours a deep and clear amber red with a light tan head that settles into a slight covering and leaves small soapy lacing. The aroma is mild, almost nonexistent, with just a slight cracker aroma. The taste is even blander. It's not bad but just not much to it. The body has a decent weight with a good amount of carbonation
322 characters
3.71
/5
rDev
+6.6%
look: 3.5 | smell: 3.75 | taste: 3.75 | feel: 3.5 | overall: 3.75
Poured from a twelve ounce can into a nonic glass. Head was average but quickly receded. Some lacing. A nice reddish brown color. Starts a little sweet but ends with a hint of bitterness which will linger between tastes. I almost always keep a six pack of Murphy's Law on hand since it is one of my go to beers when I want something somewhat refreshing but not overpowering. Taste lands somewhere between a lager and a pale ale. I have enjoyed this beer for a long time and will continue to buy it.
508 characters
3.58
/5
rDev
+2.9%
look: 3.75 | smell: 3.75 | taste: 3.5 | feel: 3.5 | overall: 3.5
Poured from a can into a shaker pint, the beer is a deep, vibrant, copper coloring with a filmy, foamy, clingy, off-white head. Aromas of sweet caramel, nutty notes, hints of roast, and cream highlights. Flavors are heavily roasted forward, with tangy caramel and nut sweetness to follow. Very rich and sweet throughout, with a subtle bitterness to clean up the palate a bit. Round and full bodied, but light and drinkable. The aftertaste is a slightly cloying nut and caramel blend, with hints of chocolate. Smooth, light, lingering finish. Not bad, but nothing overly remarkable.
581 characters
4.21
/5
rDev
+21%
look: 4.5 | smell: 4 | taste: 4.25 | feel: 4.25 | overall: 4.25
Poured from a 12 OZ can into a pint glass.
Aroma- Has a slight hop aroma with yeast, faint but inviting.
Appearance- Pours a reddish brown with a small white head.
Taste- Has a rather malty flavor that I enjoy with that is more toasted malt than anything else, there is some hops in the background.
Palate- A light to medium bodied beer with mild carbonation.
Overall- A thoroughly enjoyable beer, I will drink this again.
422 characters
3.9
/5
rDev
+12.1%
look: 4.25 | smell: 3.5 | taste: 4 | feel: 4 | overall: 4
Served on tap at Smartmouth Brewing Company. Pours a nice amber with decent head and lacing. Aroma is not the strongest in the world, but the taste is pretty crisp with decent, dry finish. Overall not a bad amber.
216 characters
3
/5
rDev
-13.8%
12 oz can.
clear medium amber color. thin off-white head that fades. malty sweet aroma, a bit nutty. a bit of butterscotch in the taste, not bad but not real great flavor. medium body and carbonation.
207 characters
3.2
/5
rDev
-8%
a - clear amber
s - slight, slight caramelized malt. not much aroma at all to be honest.
t - caramalized, but actually almost toasted malt flavor. its not dark, but toasted malt flavor is evident, and this doesnt taste much like other ambers(bells would be my comparison here)
m - light bodied.
o - pretty lame, nothing stands out here. im a little confused on the style here too.
380 characters
2.94
/5
rDev
-15.5%
look: 3.25 | smell: 3 | taste: 2.75 | feel: 3.25 | overall: 3
Not one of my favorites. This beer pours a reddish brown color with ok head. This beer overall is weak in flavor,. Wanted more hop bitterness but got a mild malt bitterness that wasnt that great. Seems a little watery and lacks the robust flavor of a good amber ale....Won't revisit, sorry
289 characters
3.16
/5
rDev
-9.2%
look: 3 | smell: 3.25 | taste: 3.25 | feel: 3 | overall: 3
Thanks to my sister for bringing up my first Smartmouth cans, been looking forward to their beers for a while.
Pours a deep brown/red, super clear, little head the recedes quickly and some lasting carbonation. No cap.(Will try different glass next time).
Earthy nose, subtle hops, slight toast.
Malty, dry, roasted and toasted malt with some toffee, hop bitterness, and a bit of a tannic, drying bite.
Medium bodied, mouth filling carbonation. Good, but not great beer. Looking forward to the Rule G.
504 characters

3.68
/5
rDev
+5.7%
look: 3.5 | smell: 3.5 | taste: 3.75 | feel: 3.75 | overall: 3.75
Had this on-tap at the Green Parrot in Virginia Beach. Served in an ice-cold pint glass so the head was fairly suppressed. Nice reddish amber color and some filmy lacing on the glass.
Aroma is fairly mild, some hoppiness and more than a touch of Belgian-type yeast.
I had this with fried oysters and onion rings and the flavor worked well with food. A bit more hoppy than malty but there were elements of both. The yeast thing I noticed in the aroma was more prominent in the taste. Seemed to work well with the other flavors and added a bit of novelty to the taste.
Mouthfeel was crisp with a nice touch of bitterness.
I would order this one again.
653 characters

3.33
/5
rDev
-4.3%
look: 4 | smell: 3.5 | taste: 3 | feel: 3.5 | overall: 3.5
Perhaps I shouldn't preface my review with this statement but I will. Of the three Smartmouth beers I have had, this is the only one I did not really enjoy. I like my amber ales balanced with hops and malts playing an equal part and this is not balanced in my opinion. Poured a clearish reddy brown body with decent head and a blandish aroma of mild hops and little bit of caramel and roasted malts, but all very faint. However, upon drinking I find that the roasted malts overpower everything else. The sweetness from caramel and possible other malts, along with balance and crispness and steady mouthflow that comes from a decent amount of hops are all neutralized. Mostly, it just feels like a dry, roasted, "weak stout". The finish is very dry and I find this less a session beer and more of a sipper.
805 characters
Murphy's Law Amber Ale from Smartmouth Brewing Company
3.48
out of
5
based on
62
ratings.