Continental Lager
| Church Street Brewing Company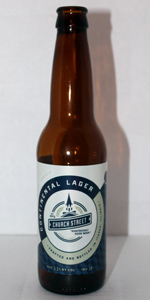 BEER INFO
Brewed by:
Church Street Brewing Company
Illinois
,
United States
churchstreetbrew.com
Style:
German Pilsener
Alcohol by volume (ABV):
5.30%
Availability:
Year-round
Notes / Commercial Description:
No notes at this time.
Added by TMoney2591 on 12-14-2012
Reviews: 9 | Ratings: 42

3.54
/5
rDev
-0.6%
look: 3.75 | smell: 3.5 | taste: 3.5 | feel: 3.75 | overall: 3.5
Pours a clear light golden yellow.
Smell is a slightly sweet malt with a hint of hops.
Taste is sweet grasses and faintly floral.
Aftertaste is a little on the sweet side.
181 characters
3.78
/5
rDev
+6.2%
look: 3.75 | smell: 3.75 | taste: 3.75 | feel: 4 | overall: 3.75
Being one of Church Street's mainstays, I felt the need to try this during a recent beer and food dinner at Church Street's brewery & tasting room. This beer pours a clear copper color with moderate carbonation easily visible. A thin white head dissipates quickly to a thin lacing that is retained. 3.75/5 The aroma is quite sweet and is very interesting with notes of caramel, sourdough bread, dates and apple cider. For a lager, this is a quite complex aroma with interesting notes. Considering the type and amount food that we had at the table, I doubt that the food was interfering with my nose this evening. 3.75/5 The flavor is once again somewhat sweet with light caramel, dates, wheat bread, and apple cider leading the way. I finally get the hops with notes of grass and an herbal undertone that come through on the back end of the flavor. There is a light bitterness but it does not linger on the palate. 3.75/5 As with Church Street's other lagers, this one comes across quite creamy and coating, but not syrupy. A light body and light carbonation tickle are featured with a light drying that does not linger. 4/5 This is one of the more interesting lagers that I have had recently and I quite enjoyed it. Not your typical lager here in the States, but good nonetheless. 3.75/5
1,305 characters

4.16
/5
rDev
+16.9%
look: 5 | smell: 4 | taste: 4.5 | feel: 3 | overall: 4
I've never encountered Church street before. I would say this was a pleasant introduction. Pours a light amber color with a moderate head. Full of malty, hoppy, yeasty flavor. The on-bottle description markets Continental Lager as a Pilsner, however, I fear that either this is mislabeled, or the brewers sought to achieve something different. It almost feels as though too much flavor is packed into too thin a body; the Pilsner vessel is too weak to adequately support such a flavorful profile. Definitely enjoyable, but something to combine the full body of flavors was missing.
581 characters

3.92
/5
rDev
+10.1%
look: 4 | smell: 3.75 | taste: 4 | feel: 3.75 | overall: 4
First up from the latest beer club shipment. We don't get this brewery's products in my state.
Poured from the 12 oz. bottle into a Unibroue Blanche de Chambly stemmed pilsner.
a: Clear gold with a two inch thick white head which receded to even surface foam and spotty lacing.
s: Light biscuit.
t: Bread/biscuit up front with a mild hop bite. Dry finish.
m: Medium, good body and carbonation tingle.
o: A substantial-feeling lager, yet easy drinking and pleasant.
472 characters

2.59
/5
rDev
-27.2%
look: 3.25 | smell: 3 | taste: 2.25 | feel: 2.75 | overall: 2.5
12oz bottle, 5.3%, no freshness date
L - rigorous pour reveals a thinner white head atop a golden colored body
S - sweet grain, spicy noble hop, faint pilsner malt
T - overly sweet, grain, spicy noble hops are present, biscuity, floral, grassy, yeasty; also has a slight medicinal note that lingers on the finish; barely any pilsner malt and sharpness I'd expect from a German Pilsner
F - light-to-medium body, needs more carbonation, odd lingering finish
O - not what I was expecting here. More of a muddled, overly sweet lager beer with some odd Pilsner characteristics. Disappointment to say the least.
605 characters
3.03
/5
rDev
-14.9%
look: 3.5 | smell: 3 | taste: 3 | feel: 3 | overall: 3
From: Binny's, Schaumburg, IL
Date: None on bottle, purchased 12/2013
Glass: Ayinger pilsner glass
Church Street's Continental Lager is a fairly straightforward and clean version of the style, which leads to this feeling a bit one-dimensional with spicy, sharp phenolics and hops atop a basic-tasting pale malt backbone with a bit of hop character. The presence of phenolics is a strange off-flavor in a German pilsner, one that makes me wonder if the bottle is off or not (I was sometimes reminded of a saison while drinking this). I also missed the deeply floral, lemony, grassy, and grape-like flavors that I associate with the versions of the style that appeal to me most. While it's not a bad beer, I don't think I'd pick this up again before trying one very fresh to make sure it's a product I want to further spend money on.
Pours a 2cm tall head of white foam, made up of small-sized bubbles that yield a frothy appearance. Retention is about average, the foam lasting around one minute in a decline to a thick ring around the perimeter of the glass and a large island of ghostly lace atop the body of the beer. Lacing is average, with a modest number of dots and thin lines clinging to the walls of the glass. Beer is a moderately dark golden orange color, with light bringing out much brighter golden orange hues. Carbonation visible through the slightly hazy body (10% opacity), high in number and activity.
Aroma is a fairly uninspiring for a German pilsner, with some sharp phenolics and herbal hop character, but missing the intense floral, grassy, and grape-like scents that I expect from a good version of the style. This makes me wonder how fresh this bottle is, but there's no date on it.
Overall flavor of spicy phenolics and hops, with a bit of bread-like malt sweetness and dried herb, grass, and lemon characters from hops. Front of palate tastes lightly bread-like pilsner malt sweetness with a bit of light phenolic character, lemon and dried grass from hops. Mid-palate of sharp phenolic flavors combined with fairly spicy, clean hop bitterness with a bit of herbal character, and light bread-like sweetness far in the background. Back of palate experiences sharper phenolic flavors, moderate clean hop bitterness, and light herbal and dried grass character. Aftertaste of moderate hop bitterness, lightly bread-like pilsner malt, and dry herb and grass flavors.
Beer is medium-light in body, with carbonation of fairly intensity, producing a slightly fizzy mouthfeel at first, which eventually settles to a foamy (9/10) and lightly smooth (1/10) mouthfeel. The carbonation is within accepted ranges for the style, but could benefit with a bit less to avoid the annoying initial fizziness. Closes dry, with light to medium-light stickiness lingering on the palate and lips.
2,803 characters

4
/5
rDev
+12.4%
look: 4 | smell: 4 | taste: 4 | feel: 4 | overall: 4
12 oz. bottle, with no apparent bottled on date present. Acquired this bottle as part of a mixed six pack at the local beer store. Another lager from Church Street Brewing. I have higher hopes for this one, because I wasn't a big fan of the other one. My bottle lists a 5.30% abv, instead of the 5.70% abv listed on BeerAdvocate.
Poured into a Lagunitas mason jar.
A - Pours a nice bright golden yellow colored body with three big fingers of sticky fluffy white foam for a head. Nice clarity with just a bit of yeast sediment. Looks very nice.
S - Smell is of floral and grassy hops, husky graininess, some honeyed biscuit malts, and some musty yeast funk. Smells nice, I can't wait to try it. There is actually quite a lot of funk present, as the beer begins to really open itself up.
T - Taste is of crisp pilsner malt, grain, corn, husk, some grassy / floral hops, fruity lemongrass, a hint of coiny metallics, and lots of funky yeast, almost brett like. There is actually quite a lot of funk going on here at times, but other times it's more tame and held back.
M - Feel is crisp, clean, light, and refreshing. Mild earthy hop bitterness / bready malt aftertaste.
Overall, a very nice lager. I'm not sure why my bottle was so yeasty at times, but it was quite nice. I don't know if this beer is bottle conditioned or not, but there was a very thin layer of sediment left behind in the bottle, also. Light, crisp, and refreshing. This would be a good go to lager for the summertime.
Church Street Brewing Continental Lager ---4/5.
1,541 characters

4.19
/5
rDev
+17.7%
look: 4.5 | smell: 4.25 | taste: 4.25 | feel: 3.5 | overall: 4.25
Sampled on-site at in the Church Street tap room last week (retyped from my handwritten notes). First impression - a very hop-forward take on the style.
Appearance: Pale gold. Brilliantly clear.
Aroma: Medium hop aroma
Flavor: Slightly sweet, malty. Grainy - but good grainy. Again, hop flavor and bitterness forward - more so than would be expected in a munich helles. But I like very very much. Clean, no fruity esters, no diacetyl.
Mouthfeel: Medium body, medium to medium-high carbonation.
Overall: A unique interpretation of the munich helles. In terms of hop aroma and bitterness, its aggressive for a helles. But who cares - its a really really good beer for a style that difficult to craft/balance. Not sessionable at 5.7%, but I would still drink the hell out of this beer. I'm getting again if I see on tab. If I lived closer to Itasca, it would be come a regular in the growler rotation. Nicely done Church Street.
Side note: Met the owners. Really pleasant/passionate people.
996 characters

4
/5
rDev
+12.4%
look: 4 | smell: 4 | taste: 4 | feel: 4 | overall: 4
Served in a Sam Adams shaker pint glass at the Beer Market in Lincolnshire.
Finally getting a chance to try out this new local brewery's offerings. Right on. This stuff pours a clear pale straw topped by a finger of lightly cream-white foam. The nose comprises grass, flowers, and some very light biscuit in the background. The taste brings in more of the same, with the noble hop-like grassy-ness really shining well. The body is a hefty light, with a light moderate carbonation and a crisp, dry finish. Overall, a very nice lager, one that seems to proudly showcase its hopping without going too far with it. Not bad at all.
629 characters
Continental Lager from Church Street Brewing Company
3.56
out of
5
based on
42
ratings.