West Flanders Brewing Co.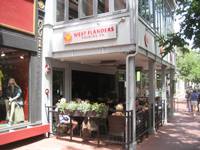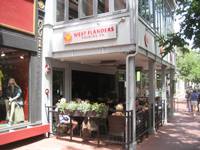 Brewery, Bar, Eatery, Beer-to-go
1125 Pearl St
Boulder
,
Colorado
, 80302-5103
United States
(303) 447-2739 |
map
wfbrews.com
Notes:
3.86
/5
rDev
+6.3%
vibe: 3.5 | quality: 3.75 | service: 4.25 | selection: 3.75
This place is ok at best. They have good beer. Atmosphere is ok. Many ith r better ones in the Denver area. A beautiful setting on a beautiful fall day.
156 characters

4.13
/5
rDev
+13.8%
vibe: 4 | quality: 4.5 | service: 3.75 | selection: 3.75 | food: 5
Nice little place for a laid back happy hour. Great deal on high quality apps to eat. Olives and almonds were sooo good! They had about 8 house taps and 5 guest taps. Although not a ton to choose from, what they had was good and easy to sample. I liked their Mr. Chain Blue Lightning Imperial IPA and Saison the best. The Citra Session IPA was a pretty good session - a deeper citrus flavor than I would expect from a session. Very well done. Service was good, quick and knowledgeable. All in all a good place to stop at if you're roaming Pearl Street and want a good beer mid-day.
582 characters
4
/5
rDev
+10.2%
vibe: 3.75 | quality: 4 | service: 4 | selection: 4 | food: 4.25
Long, narrow room with some seating out on the sidewalk. They have a nice selection of beer on tap with an interesting variety. The service was good. The food was really good, maybe better than the beer. It's worth a stop if you're on Pearl Street.
248 characters

3.9
/5
rDev
+7.4%
vibe: 3.75 | quality: 4 | service: 3 | selection: 4.5 | food: 4.5
Very fine establishment with little to no wait to be seated at a prime time for brewery business in Boulder. Selection of food and drink are outstanding. West Flanders also offers the niche entertainment of various board games (cribbage etc.) while you dine and partake in the fine beer they have on tap. This unique entertainment provided an at home feel and the "european" sense of your waiter not trying to rush you out of your seat to keep business churning. I had some questions on the beer selection that our waiter seemed unsure of, which is the only knock I have against my expeience here. I'm not sure if it was the noise level or lack of knowledge but this waiter was unable to anwser questions (I have had other experiences here with more knowledgable wait staff). Overall fine beer and I will certaintly return.
823 characters
3.86
/5
rDev
+6.3%
vibe: 4 | quality: 3.75 | service: 4 | selection: 3.75 | food: 4
A nice little stop in here prior to Taj Mahal concert. The old BJ's place...
A solid joint. Restaurant mostly it seems, but a nice beer selection. Right off the Pearl St mall gives it atmosphere, scenery and convenience. People are usually nice in Boulder and this place is no exception. Friendly service, perhaps a tad slow, but I think there was a foozball game earlier
Food was good and matched well with the pint I got, along with a flight. Had to. Beers were improved from the last time I had WFB about 9 months before at a festival. Technically more sound, so that's good.
This is a good dinner/beer destination to get you started in Boulder. Mountain Sun would be THE place, but it's small and always packed. This is a nice second
742 characters

3.3
/5
rDev
-9.1%
vibe: 4 | quality: 3.75 | service: 2 | selection: 3.5 | food: 4
I'm not completely sure what to make of West Flanders just yet.
I made my first trip on a pleasant Thursday night. There was a nice crowd and a good atmosphere. The space itself was the home of the Boulder BJ's, until they moved to their big box location. It's relatively small, with multiple floors and a bar area at the back that's also home to the fermentation tanks. So far so good.
Service was the big letdown. As someone else noted, it seemed to take forever for someone to take our beer order. That's not the best way to start things out. The beers themselves were average to above. The Black IPA was the best of the lot, the the Dubbel a close second. Their BSDA begged for more character, while the Triple came across as a good Sour candidate. I was with three friends and we all were pretty much in agreement.
We split a couple of appetizers between us. The portions were small and the prices high. The food itself was quite tasty though. The availability of half pours was a nice touch.
In the end, I wish West Flanders well. Given Boulder's ever expanding number of breweries, I feel that they'll need to up their game to hang with their competition.
1,168 characters
2.18
/5
rDev
-39.9%
vibe: 2.75 | quality: 1 | service: 3 | selection: 2.5
I was in the area eating dinner across the street and stopped off with my wife to sample a few. I've been following all the new breweries opening up in the area and was excited that there was a brewpub brewing Belgian-style beers in Boulder.
We sampled the Angry Monk, Tripple Lutz, and the Canniption Pale Ale. The samples were a good size at 4 oz but they were served in small glass shaker pints...very strange. None of the beers exhibited any foam or head, the carbonation was well below spec nearing flat, and the intended aromas weren't there and also, barely existed in general. We tasted each beer twice and each one of them were highly oxidized. My wife and I couldn't even get down 2 oz of any of those samples before we left.
Maybe it was their draught lines, maybe it was their process. In any case, this should have been rectified before opening or had not been served at all. Given the misspelling of "conniption" in use something tells me there are a few people involved who aren't paying attention to details.
1,027 characters

3.2
/5
rDev
-11.8%
vibe: 3 | quality: 3.5 | service: 2.5 | selection: 3.5 | food: 3.5
Went there during the day on the Sunday before Christmas so it was a little busy but not crazy.
This location has been a brewpub for many years.
If it weren't for the beer selection, it would be just another one as far as food, layout and atmosphere.
They are obviously going for the Belgian connection and all their own beers are belgian-inspired.
I had Daisy Cutter which was a very drinkable Belgian strong ale, 9% abv. I liked it but prefer Avery's Salvation.
I also tried their Trippel Lutz (Lutz is the brew master) which was forgettable, I'm sorry to say.
One of the great things about the place is that they have a long list of other Belgians plus a good list of local brews.
Lastly, the service was slow even though they seemed to have plenty of wait staff. Plus our guy forgot drinks once.
Bottom line though, is that it is probably the best craft beer spot on the Pearl Street mall, but that's not a very high bar.
928 characters
4.08
/5
rDev
+12.4%
vibe: 3.5 | quality: 4 | service: 4.5 | selection: 4
newly reopened in the old bj's location on pearl. the place has been redesigned a little inside, but still fairly commerical looking. absolutely packed when i was there, with maybe seven beers on. the daisy cutter was pretty solid, and apparently all of these beers are belgian inspired ales. the service was epic, i guess they really pushed that. tons of free samples, friendly hostess and server, as well as a few nice bar keeps. the food looked good, listed beer pairings on the menu, but we didnt eat. im not sure how change went down, but this appears to be a major upgrade from bj's, at least as far as i can tell from one visit. the beers will need to speak for themselves of course, but they seem to be off to a good start, i think i pais maybe 7 bucks for my beer, which was pretty strong in terms of abv, but id still say it was a little pricey. the location probably dictates that. i will be back for sure, the beer list looked inspired.
948 characters
West Flanders Brewing Co. in Boulder, CO
Brewery rating:
3.63
out of
5
with
183
ratings