Gold Coin Helles

Backpocket Brewing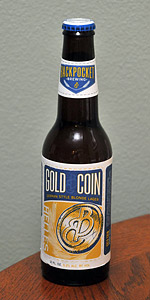 Write a Review
Beer Geek Stats:
| Print Shelf Talker
Style:

ABV:

5.2%

Score:

Avg:

3.64

| pDev:

14.29%

Reviews:

13

Ratings:

From:

Avail:

Year-round

Wants

Gots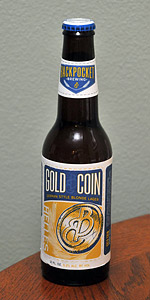 Notes: Light, simple, and drinkable at those special gatherings you sometimes get lucky enough to happen upon - a beautiful golden goodness that's worth gathering about.
3.65
/5
rDev
+0.3%
look: 3.5 | smell: 3.5 | taste: 3.75 | feel: 3.5 | overall: 3.75
Clear light gold color with white cap.
Pleasant aroma of mild malt and floral hops.
Flavor on entry is a touch richer than the scent implies with a small but noticeable bit of sweetness. Relatively low 15 IBU is sufficient to balance the malt and add a bit of dry spiciness. It finishes clean and refreshing with a nice roundness.
Light-medium texture with balancing carbonation.
A low key but satisfying Helles Lager that is worthy of the name.
451 characters

3.67
/5
rDev
+0.8%
look: 4 | smell: 3.75 | taste: 3.5 | feel: 3.75 | overall: 3.75
Look - super clear bear and oddly it has no filter action, good skimming too
Smell - earthy grainy smell
Taste - grainy with slight spice and toast
Feel - smooth easy going with a crisp crab
Overall - not to bad
211 characters

1.78
/5
rDev
-51.1%
look: 2.75 | smell: 1.5 | taste: 1.5 | feel: 3 | overall: 1.75
Not my cup of tea. If you can't say something nice, don't say anything. I have nothing to say about this beer. I won't drink it again. Bought a 6-pack. Tried two. 4 bottles will go in the trash.
Try it, you might like it. I don't.
230 characters

3.55
/5
rDev
-2.5%
look: 3.5 | smell: 3.5 | taste: 3.5 | feel: 4 | overall: 3.5
12oz bottle, no apparent freshness date. Thanks to my uncle Gary for sharing a few bottles with me.
A - hazed pale straw with a white head that dissipates rather quickly
S - earthy, grassy, and spicy hops, pale malt
T - slightly nutty grain, pale malt, honey, trace lemon, with spicy noble hops that have some grass & earthiness to them
M - light bodied, finishes dry and modestly bitter yet very well balanced
O - very refreshing and easy to drink as expected for the style; and this is a good representation of the style.
523 characters

4.28
/5
rDev
+17.6%
look: 4 | smell: 4.75 | taste: 4.5 | feel: 4 | overall: 3.5
I wasn't extremely impressed with this but it isn't really the style i enjoy. Usually back pocket has my attention but I don't know about this. I know this is a flag-ship for them.
180 characters
4
/5
rDev
+9.9%
look: 4 | smell: 4 | taste: 4 | feel: 4 | overall: 4
Sampling right now on 2/11/14, Bottle chilled down to 36 degrees F in my beer cooler and poured into a tulip glass.
Pours a nice honey gold in color with a small white head that settle down to nothing. NO lacing at all either. The aroma is of grains with a hint of sweet bread/yeast. The taste was actually really smooth like the aroma with a very slight hoppy finish that last about 2 seconds. Overall a great beer that goes down easy and would be a great choice for a warm summers day as well.
496 characters
3.9
/5
rDev
+7.1%
look: 4 | smell: 4 | taste: 3.75 | feel: 4 | overall: 4
12 oz bottle poured into a pilsner glass.
5.2% ABV
A - I stopped pouring the beer with less than an inch left in the bottle as sediment began emptying which left the beer a pale golden yellow color with an ever-so-slight particle haze and a fleeting white head.
S - Opening with that classic German lager aroma, Gold Coin already wins points in my book. Light zesty spice is imparted by noble hops and the back end has a simple and delicate pale malt nose with a touch of pils sweetness.
T - Pale malt graininess is laced with a touch of spicy noble hops but this helles is as nuts-n-bolts simple as it gets.
M - Light bodied and crisp with a beautifully drying level of carbonation tickling the tongue.
O - Gold Coin is a terribly simple helles lager but that's no disrespect. Simplicity is it's achievement, finishing with a nice and crisp balance and clean lager smoothness that makes it über drinkable.
912 characters

3.58
/5
rDev
-1.6%
look: 3.75 | smell: 3.25 | taste: 3.75 | feel: 4.25 | overall: 3.25
This German Style Blonde Ale has as the name indicates a nice gold color. Pours out smooth and builds up a one to two finger head that quickly disappears. This is an easy drinking and tasty brew that would be nice to sip on a warm summer day. A solid offering from Iowa's largest production brewery.
299 characters

3.75
/5
rDev
+3%
look: 3.5 | smell: 3.5 | taste: 4 | feel: 4 | overall: 3.5
A - honey gold color. Minimal white head. Coppery highlights.
S - lots of cereal-like grains and delicate caramel. Some very mild herbal hop aroma as well.
T - immediately sweet and a bit tangy up front. Definite pale malt body. Very smooth and rounded. Hints of citrus, spices, and some earthiness.
M - thin body. Very creamy and smooth. Quite drinkable and refreshing. Finish is fairly clean with only a hint of residual sweetness.
436 characters

4.41
/5
rDev
+21.2%
look: 5 | smell: 4 | taste: 4.5 | feel: 4.5 | overall: 4.5
On tap at Tursi's Latin King in Des Moines.
I ordered this because I knew of the brewery from the Iowa Craft Beer Festival and knew their stuff is good. This proved to be on the same level.
It was described as a pilsiner and I was surprised of how dark it was, a light amber color with a thin finger of foam. The aroma had a bit of citrus and malts blended together. The taste, wow, very low bitterness and the flavor seemd more malt-based than others of that style. The body was good and finished clean with a mild, pleasant sweetness left lingering. I'd definitely have this again.
589 characters

3.42
/5
rDev
-6%
look: 3 | smell: 3.5 | taste: 3.5 | feel: 3 | overall: 3.5
Poured a clear golden color with a thin mild head, some light lacing.
The smell is light and bready.
The flavor is very malt centric with toasty and bready munich malt flavors finishing with a light slightly spicy and grassy hop finish.
The body is light with mild carbonation.
Overall a decent Helles, nothing off putting, yet nothing to get excited about either.
369 characters
4.06
/5
rDev
+11.5%
look: 4.5 | smell: 3.5 | taste: 4 | feel: 4.5 | overall: 4.5
Had this on draft today at the Bierstube in Davenport, IA. All three tap handles were branded "Einfach" and the bartender confirmed they were brewed by Old Man River.
The pint of Helles was a hazy unfiltered golden orange. Bright white foam that left arcs of lacing in the glass. Retention was great too, it looked the part of a fresh German lager.
Aroma was mild but lightly sweet and biscuity. Flavor was similarly sweet at first, and finished very clean and dry. A flash of apple, butter cracker, and baked biscuits rolled briefly across the palate. Light bodied, but approaching medium for a Helles lager. It's subtlety works as a positive asset, making it truly sessionable. Certainly fresh and good quality. It hit the spot on an August afternoon in the 80ºs.
770 characters
2.7
/5
rDev
-25.8%
look: 3 | smell: 3 | taste: 2.5 | feel: 3 | overall: 2.5
Had this one as a sample bottle. Poured a decent fine foam whit4e head with no lace. Color is a clear amber. Aroma is malty, a little spicey, a little grass and grain. Flavor is dominated by the sweetness with a hint of hop. Body is ok and carbonation is ok too. Finish is dominated by the sweetness. Not my cup, but I guess it sells well in some places. Bully.
361 characters
Gold Coin Helles from Backpocket Brewing
Beer rating:
82
out of
100
with
72
ratings