The Mitten Brewing Co.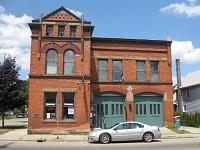 PLACE INFO
Type:
Brewery, Bar, Eatery
527 Leonard St NW
Grand Rapids
,
Michigan
, 49504-4278
United States
(616) 608-5612 |
map
mittenbrewing.com
Notes:
No notes at this time.
Added by liamt07 on 12-28-2012
Reviews: 12 | Ratings: 75

4.68
/5
rDev
+15.8%
vibe: 4.25 | quality: 5 | service: 4.25 | selection: 4.75 | food: 5
Had lunch on a Tuesday the week after Christmas. Was slow when I got there but packed when I left. 20 handles, solid variety. Pizza was amazing, highly recommended
163 characters
4.11
/5
rDev
+1.7%
vibe: 5 | quality: 3.5 | service: 4.5 | selection: 3.75 | food: 5
I loved the tap room with the old school baseball theme. I really enjoyed my the pizza and the service and selection of the beer were also excellent. However, I was not overly impressed with the beer with nothing being really memorable about the beer other than it being rather forgettable.
290 characters
4.1
/5
rDev
+1.5%
vibe: 4.25 | quality: 4 | service: 4.5 | selection: 3.5 | food: 4.75
Fun place with good beer and great food. My only complaints is that it's pretty small and that the beer menu is relatively small... the beer thing is a really small complaint, though, because I really enjoyed all the beers I tried.
231 characters
3.88
/5
rDev
-4%
vibe: 4 | quality: 4 | service: 3.75 | selection: 3.75 | food: 4
Old firehouse re-purposed into a small brewery. Being born and raised in Michigan (I currently live in Ohio), I love the name.
Great vibe, great beer. I expected it to be a little bit larger than it actually is. Pretty good pizza as well.
242 characters

4.11
/5
rDev
+1.7%
vibe: 4 | quality: 4 | service: 4.25 | selection: 4 | food: 4.5
old repurposed firehouse, great pizza, great service, OK to solid beers, pretty extensive line-up. small space, so we had to wait for the first turn to grab a table saturday lunch. by the time we were seated, the bar area was packed.
234 characters
4
/5
rDev
-1%
Somewhat of a small place but very rustic and older feeling, which I like. Very intimate and somewhat dark lighted. Décor is centered around the Detroit Tigers and baseball. Several tvs situated around the room which provides a good angle to watch a game from any seat.
274 characters

3.94
/5
rDev
-2.5%
vibe: 4.25 | quality: 4 | service: 4 | selection: 3.75 | food: 3.75
Located in an old fire station northwest of downtown, many of the patrons walked to the place. People were friendly and had a happy atmosphere. The pizza was above average for Michigan, but not up to Chicago standards. The beer selection was adequate, could use a few more varieties. This was my second try and I could see major improvements from the first time. A worthwhile place to visit.
392 characters
4.3
/5
rDev
+6.4%
vibe: 3.5 | quality: 5 | service: 5 | selection: 3 | food: 4.5
I have been here twice and found it to be an exemplary brewery experience on both occasions.
Let's get the only two potentially negative things out of the way first: it's small and the beer selection isn't great. If you want an overwhelmingly large brewery, you know where Founders is. The Mitten is, after a fashion, the exact opposite in that it lacks pretense and is very non-ostentatious. That said, I found the size of the place perfect and we I was extremely well-accommodated while awaiting a table. There were only four beers on tab both times I have been there so if you are going there for a specific brew, best to call in advance. They change out the kegs regularly so you have to keep your eyes on the board above the bar to keep abreast of what is in an out.
But what is in and out is tremendously good. I've never had a mediocre beer from this place. The only issue they have is they keep making different IPAs to best their Country Strong IPA and can't because Country Strong is so good. I am going to have to go back there, like, tonight and get more of it because I cannot think of a better IPA... and I've had a lot of IPAs. If this seems like hyperbole, I'd recommend you try it to find out for yourself. I had an imperial stout that was very good and the Peanut and Cracker Jack porter is surprisingly complex. I had a maple IPA last time I was there that was great, just not as good as Country Strong. They do have a website you can check prior to venturing out, but based on my limited experience I would not necessarily consider the website gospel.
The employees are all great and will bend over backwards to make you happy. I have not a negative word to say about the lot of them that I have interacted with. Further, they seem more than willing to give honest opinions about the beer and the food. There is zero caginess here. The food is terrific. I went with a group last time and we got three pizzas - a pesto pie, "da' meanthook" and my favorite "the heater". I don't need to bombard you with superlatives. The pesto chicken was delicious, da' meathook was meaty and the heater was very, very hot but the sauce they use is to die for.
Great environment, great product and they do events all the time. So yeah, I like The Mitten a lot. You should go there.
2,287 characters
3.89
/5
rDev
-3.7%
vibe: 4.25 | quality: 4 | service: 3.75 | selection: 3.75
The Mitten is located in an old Firehouse, so the main dining area is just an open room with 15-20 tables lining the walls with more situated in the middle. The bar is small, and only has about 6 seats, but there is a section off to the side of the bar that is for standing room only, no chairs, and has four more tables, perfect for people just hanging and drinking.
I really like the atmosphere at Mitten. It's relaxed, kind of has a good local hang out vibe. They had 4 beers on tap when we were there this last time, and when I stopped by after Winter Beer Fest they may have had the same, if not one less. They are a very small brewing system, 1.5 barrel I believe (maybe 3), so I understand it's hard to keep up with demand.
The beers we had on tap were pretty good, just above average. Everything tasted clean, no off flavors, true to style, and was served in proper, clean glassware. We didn't try any of the pizza, but it smelt wonderful and there were alot of people there munching on the Za.
Mitten is on my short list of must hit stops in Grand Rapids. Not sure what it is, it's just a cool vibe and solid beer. I'll be back!
1,143 characters

3.96
/5
rDev
-2%
vibe: 3.75 | quality: 3.75 | service: 4.25 | selection: 4 | food: 4
Some of my family and I stopped by here today for something to eat and drink. The brewery is located in an old firehouse in a northwest side neighborhood just outside of downtown Grand Rapids. It's easy access to this place just west of an exit from US-131. There is a small parking lot in the rear, plus on-street parking.
The interior has a cool ambiance with brick walls everywhere, exposed wooden ceiling rafters, and a moderate amount of baseball-themed memorabilia hanging on the walls. (Coincidentally, a Detroit Tigers game was showing on the TVs above the bar and around the dining area, and Verlander was pitching a no-no into the 7th inning.)
We ordered a sampler flight which came with seven offerings that looked to be 4 ounce pours. Included were a Cherry Cider (6.5% abv); Ryevalry Ale (9.1%); Triple Crown Brown (4.2%); Vanilla Milk Stout (4.5%); Death to Flying Things (11%); Souless: A "Ginger" Ale (4.9%); and Country Strong IPA (7.2%). Each was very close to style, and we particularly enjoyed the Cherry Cider, the Ryevalry Ale and the Death to Flying Things, which is a BBA stout. (Anything BBA that isn't accidentally infected gets a 5-point rating from me, and this one is right there.) The Country Strong IPA was also exceptional, and seemed like a double IPA, although the 7.2% doesn't quite put it into that category on a technical basis. (We ordered a couple pints of this one.) I didn't really like the "Ginger' Ale, although I have never found a beer with ginger that I likes anyway. Prices for the beers with the lower ABVs were $4/$4.50/$5 per pint, and the two high gravity beers were $6 with only a 12 oz. pour available. The cider was $5 but for a 12 oz. pour. Pitchers are offered on the low-ABV beers.
The food menu consists of appetizers and pizza, so we ordered nachos to munch while our pizzas were being prepared. Everyone in our group liked their pizza, and the nachos were also very good and were nicely loaded with the typical toppings. The food prices were pretty typical for what we've seen at other brewpubs. When we're in the neighborhood we'll visit here again.
2,113 characters

4.18
/5
rDev
+3.5%
vibe: 4.5 | quality: 4 | service: 5 | selection: 3.5 | food: 4
Atmosphere: Mitten Brewing Co is in West GR in a somewhat sketchy neighborhood, although I'm an out-of-towner so I'm just comparing it to the other places I've been in the city. The brewery itself is a former firehouse. Inside it's brick and has a baseball nostalgia/Detroit Tigers theme. Small bar at the right front, standing tables at the left front, and then several small tables in the main part of the hospital. It's not that big, probably holding about 50-60 people total. Four large TVs, but unfortunately the only thing on was tennis. I really liked the theme of the place, and bet it's a pretty cool place to have a drink during a Tigers game.
Quality: I was impressed with the beers I tried. I had the '84 Double IPA which was very balanced and easy to drink. I also tried samples of the Peanut & Crackerjack Porter and the Imperial Stout. All were very good beers in my opinion.
Service: My waitress was very attentive, helpful, knowledgeable about the beer, and friendly. Couldn't have asked for anything more.
Selection: Probably the biggest downside. Only 5 beers on tap. A DIPA, ESB, Brown, Porter, and Stout. They also had a Raspberry Cider and Red Zinfandel wine available if that's your thing. I wish they had more beers available, but understand it's a small brewery AND they did offer a wide variety of different beers to hit just about everyone's taste.
Food: Menu is primarily apps and pizzas. I had a build-your-own pizza with italian sausage and was very happy with it. Pizza was plenty to split between two as well.
Value: My 12oz pour of the DIPA was $6. Each sample of the porter and stout were $1 each. The 12" pizza was about $11. If you wanted to buy a shirt, it'd be $25.
Overall: I was very impressed with this new brewery and would happily return. Although GR is absolutely stacked with great breweries, this is definitely one that should be given a shot and I really hope they continue to do well.
1,938 characters
3.72
/5
rDev
-7.9%
vibe: 3.5 | quality: 3.75 | service: 4 | selection: 3.5
My wife and I visited here the night before Winter Beer Fest. Atmosphere was cozy, not too bright (just right for night) and a cool baseball theme everywhere. Considering we are big baseball fans, this place fit right in for us. The bar has older baseball card prints underneath the lacquer with about 5-7 taps on behind it. Beyond that you can see their tanks they are using to brew with, and they are definitely not that big.
There were three stouts, one IPA and one Extra Pale on. The bartender told us it is usually hoppier beers, but they were experimenting with various stouts, which was right up my alley. I only had one stout, which was 'Bourbon Death to Flying Things' which was a barrel aged stout. Creamy, fluffy, slightly hot, tons of vanilla and a smooth backbone made this beer way too easy to drink at nearly 11%. For about $5.50 a 10oz pour, this beer was well worth it. They also did growler fills with prices on the board for everything, except the beer I was drinking.
We didn't eat any of the food, but it was the normal chips, peanuts, various snacks and pizzas. The pizza smelled incredible and nearly everyone there was eating one.
All in all a great time and well worth the trip.
1,206 characters
The Mitten Brewing Co. in Grand Rapids, MI
3.95
out of
5
based on
193
ratings.