Bog Iron Brewing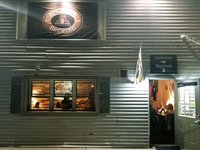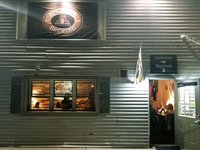 Brewery, Bar, Beer-to-go
33 W Main St Ste F
Norton
,
Massachusetts
, 02766-2711
United States
(508) 952-0555 |
map
bogironbrewing.com
Notes:
rudzud from Massachusetts
4.09
/5
rDev
-1.9%
vibe: 4.25 | quality: 3.75 | service: 4.25 | selection: 4.25
Guess I never got around to reviewing this place. Plenty of parking, place is smaller with bar seating as well as an area by the entrance with more cozier seating as well as chairs by the windows. Good rotatating selection of beers as well as cold brew coffee. Bar tenders seem to be alert and attentive every time I've been there as well as able to answer questions about the beers. I do wish there was some consistency between quality of beer on draft vs in cans/bottles as almost every beer I've had from them in cans was an absolute shell of what it is on draft and the bottles have not been that much better. Very strange and wish that would be addressed.
Sep 05, 2019
jbeerd from Antarctica
4.34
/5
rDev
+4.1%
vibe: 3 | quality: 5 | service: 5 | selection: 3.5
They only carry their own beers there, but their beers are really good. So what more could you want?
Oh, plus the bartenders are cute and the regulars are friendly. Bonus points.
Jul 27, 2018
LMSMITH from Rhode Island
2.42
/5
rDev
-42%
vibe: 1.75 | quality: 2.75 | service: 1.75 | selection: 3
8/6/16 Extremely packed, to the point that I do not believe the fire dept. would approve. Had to juggle holding paddle and tasting without them getting knocked to the floor. Only two guys behind the bar so the line is always long. Looks like the regulars take all the seats and never move.
Aug 17, 2016

LeRose from Massachusetts
3.49
/5
rDev
-16.3%
vibe: 3.5 | quality: 3.25 | service: 3.5 | selection: 3.75
It's a small tasting room and very busy with growler fills. There is also a bar - I guess about nine or ten seats that were clearly occupied by locals with the "you ain't from around here" look to them. Haven't experienced that in quite a while, so it was a bit of a bummer. I don't know how the poor servers can keep up with the growler fills, flights, and full pours. Two people in a crowded station - but they did a decent job with the time-consuming growlers and even refused to fill a couple of dirty ones that were swapped out. The tasting flight was nothing special - below average to good beers in my opinion. This is a very local brewery and has cultivated a strong local following - I sincerely hope they improve and work out the service issues. They do a ton of community service work which is very cool.
Jun 06, 2016

JohnnyB from Massachusetts
4.97
/5
rDev
+19.2%
vibe: 4.75 | quality: 5 | service: 5 | selection: 5
First time visiting today. Nice place, easy to find and can be part of a tour that includes some great Massachusetts breweries. Brian and one of his co-workers were working the taps and the is a mini bar there with snacks. Very nice selection with samples or full pints if You'd like. Brews are very reasonably priced and very tasty. Looking forward to my next trip. As a side note: They were holding a fundraiser for an in town Family that lost everything from a fire. This is something that I have been noticing more and more in the craft brew community. We all have two things in common..We love to help and we love great brews!!
Feb 14, 2016
hudsonvalleyslim from Massachusetts
3.86
/5
rDev
-7.4%
vibe: 4 | quality: 4 | service: 4 | selection: 3.5
I'm a sucker for these small local breweries. This one is an hour drive, so can't do it too often. I've visited twice recently and think some older issues seem to have been addressed. It is a small cozy room, and got quite busy with growler fills and all on the Saturday I visited, but I had no problem getting a pint at the bar as there were 2 to 3 folks attending matters at any given time. Love the Stinger IPA, tried 2 others but that was the pick of the litter for me. Tight quarters, but I really like this place.
Jan 20, 2016
WillieThreebiers from Connecticut
4.08
/5
rDev
-2.2%
vibe: 4 | quality: 4.25 | service: 3.75 | selection: 4.25
Tiny joint with a nine seat bar tucked in the back. Steady flow of growler fill customers keeps the one guy behind the bar pretty busy. Solid beers and selection.
Jan 17, 2016

Drinky_Time from Massachusetts
4.36
/5
rDev
+4.6%
vibe: 4.5 | quality: 4.5 | service: 4.5 | selection: 4
Enjoy the hand-built tasting room and the friendly service in the tiny area of the brewery carved out for this. Open only two days a week for a few hours, its worth the trip. Need food? visit the food truck out front. Fun place.
Aug 06, 2015
djbrown13 from Massachusetts
2.77
/5
rDev
-33.6%
vibe: 4 | quality: 2.75 | service: 2 | selection: 3
I've visited Bog Iron four times, typically following the release of a new beer, with the hope they finally nailed one. I live in the same town and happily support the few local businesses that interest me, so I will keep coming back, but unfortunately the Bog is middling at best. A couple decent beers, but I have yet to be inspired to buy a growler (which says a lot considering I live 5 minutes away and own numerous growlers from other breweries much further away).
But they are expanding and the place is always busy so they've at least found a niche and cultivated a loyal following, so good for them. Being busy really hurts the service, however, as it's not uncommon to wait quite a while for a pint while they fill growlers. They should dedicate one person to growlers and let another person tend bar only.
Jul 16, 2015
Levich from Massachusetts
3.72
/5
rDev
-10.8%
vibe: 3.5 | quality: 3.75 | service: 4 | selection: 3.5
ORIGINAL JUNE 2015 - I seriously can not fathom how this brewery gets such a high rating. Maybe it's due to people having a hyper local bias. I really wanted this place to be great, too. Hell, I'd even take good. But they just aren't. Their beers are inconsistent at best. I've been back a number of times hoping that I am wrong and they've improved, but I always find myself choking down a beer that would be a drain pour at home. The bar itself is quite nice and the guys that own the place seem to be nice. The beer just doesn't cut it. If you must go, make sure the Dunkelweiss is on tap. Is the only one that is worth a visit. For whatever reason people like them and they seem to be doing good business so here's to hoping they get better at brewing.
UPDATE FEB 2017 - This place has gotten leaps and bounds better. I have been back a few times now and their beers have gotten very consistent and are really quite good. I still would not say they are world class or are breaking into new territory with their beers, but they are definitely worth the trip if you are in the area. Their IPAs have really improved and the dark beers are quite good. Kudos to them for pushing through and improving their product. I will be back frequently and you should go too.
Jun 23, 2015

portia99 from Massachusetts
3.91
/5
rDev
-6.2%
vibe: 3.75 | quality: 4.25 | service: 3.5 | selection: 4
Small place with a nice little bar. Can get pretty crowded on weekend afternoons. Lots of 20 somethings (most likely Wheaton college students, etc), but good mix for the crowd usually.
Typically 3-4 beers on tap, although on busy days I've seen all but one of the taps run dry...luckily it is usually the IPA that is left which is what I tend towards anyway.
Service is typically subpar and the biggest area of improvement. Too many people packed into a small area and lots of them getting growler fills to go...bar staff/the brewers can't keep up. A little patience works though...a little bit of a long wait at times, but never to the point where I would think of leaving. This is a small place ...hard to staff adequately for peak crowds.
I wouldn't say I've had beers here that just blow me away and I need to come back to again and again, but across the board and for the styles I have tried, all of the beers are solid and well made. Nothing mind blowing, but hard to find a bad beer in the lineup.
Definitely a plus that they are located across the street from Wendals...best wings in the area and you can bring your food into the tasting room to enjoy with the beers. The hot dog cart outside (at least during warmer weather) is a nice plus also for more food options.
Glad to have a place like this down the street from my house for a good go-to local spot.
Mar 10, 2015
jlindros from Massachusetts
4.5
/5
rDev
+7.9%
Well, for some reason I haven't reviewed the actual brewery visit. I guess since I'm kinda biased for being friends with the brewers/owners. I'm sure I'll re-review it once their full bar goes in, but for now here's a quick review of their actual current place.
First, all three guys are great. They're very knowledgeable and friendly, also fun to hang out with if you go there and talk with them for, oh, a few hours. They make some great beers, also so-so beers, but a good mix of different ones to try. I do love how they don't try to make just the same 3-4 basic styles that every brewery makes, but also expand to different unusual styles, like mild, bocks, rauchbier, dunkel, etc.... and brew what they like and what they want to brew. I'm also really glad they started making more modern hop forward IPAs rather than the C's or older style IPAs, as Stinger is a good beer, but not quite level with many of the modern IPAs which Middle Child really connects with. However, whatever the style, their beers are usually solid and well made.
Growlers are filled correctly, inspected, cleaned/rinsed, purged, and filled to the very top. The current place is smaller, but should be a lot bigger soon, but still nice and clean, well maintained, and they will usually be happy to give you a little tour. A fun place to visit with great beers. Just wish I lived a lot closer so I could visit a lot more often than once every few months. Also wish they more hours so when I happen to be in the area I don't have to wait for the specific time on Saturday, but I totally understand that this is just their fill in job and they all have a real job with this being their hobby made into reality. Keep up the good work guys!
Dec 08, 2014
Bog Iron Brewing in Norton, MA
Brewery rating:
4
out of
5
with
409
ratings