Banner American Ale
| Banner Beer Company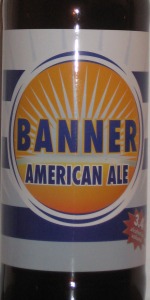 BEER INFO
Brewed by:
Banner Beer Company
Massachusetts
,
United States
bannerbeercompany.com
Style:
American Amber / Red Ale
Alcohol by volume (ABV):
3.40%
Availability:
Year-round
Notes / Commercial Description:
No notes at this time.
Added by Todd on 03-21-2013
Reviews: 9 | Ratings: 33
3.21
/5
rDev
-7.5%
look: 3.5 | smell: 3 | taste: 3.25 | feel: 3.25 | overall: 3.25
Appearance: tan in color, 1/4 inch head, clear, moderate carbonation
Smell: light toasted malt and citrus hops
Taste: nutty toasted malt and light citrus hops
Mouthfeel: light bodied, medium carbonation, sweet with slight bitterness
Overall: Not as impressed with this offering from Banner as I was with their rye beer. It is a nice, clean, and malty brew, but otherwise nothing jumps out. I could session this, but I could just as easily pass on it.
454 characters

2.95
/5
rDev
-15%
look: 2.75 | smell: 2.75 | taste: 3 | feel: 3.25 | overall: 3
Seemingly new cans showed up in the area by Banner in four varieties that I haven't seen before. Picked them all up in a mixed-six and will give this brewery a go, at least of the flagships for now.
A- Poured from the can to a can-shaped glass with a clear, light amber body and it appears filtered (or just damn well separated). A small white head forms to about a finger high with a frothy and creamy texture. The retention of the cap is poor as it dies to a bubbly ring. Lacing forms with just some spottiness at the top of the glass.
S- Fairly balanced between hops and malts with the grains getting an edge for me. Malts lend caramel, toasted and fresh cracked cereal grain hints. Hops are floral and a bit spicy. Overall strength is low and forces me to take huge whiffs to get my notes.
T- As with the nose I would classify the overall flavor as on the mild side but not necessarily a bad thing. Malts provide a base to the beer with caramel, biscuit, cereal grain and slightly toasted notes. Hops balance this out lending floral, earthy and spicy tones. Slight amount of light fruits and bread from the yeast.
MF- Light bodied with a silky and slightly creamy texture. Carbonation towards the high side with bubbles agitating the palate just a bit. Slight bitterness in the finish.
Mild overall brew that leaves you wishing for just a bit more. No off flavors or truly bad things happening so you have to give it some credit for that.
1,447 characters
3.5
/5
rDev
+0.9%
look: 4 | smell: 3.25 | taste: 3.75 | feel: 2.75 | overall: 3.5
Bottle courtesy of Yamar 18. Thanks, Kevin!
It pours a hazy light gold with a huge head of foam. Shrinking slowly, it leaves some lacing behind.
It has aromas of hops and big grain notes. he hops come across to me as floral.
The grain I got in the smell is much tamer taste wise. There's a nondescript type of bitterness going on; I think I detect some lemon zest but mainly, it's just bitter. What malt I get, comes briefly in the after taste.
Medium bodied, which is nice, but the carbonation level is way too high, imho.
I nice brew for only being 3.4%abv, if only the carbo was lower....
596 characters

3.08
/5
rDev
-11.2%
look: 4 | smell: 3.5 | taste: 3.5 | feel: 1 | overall: 2.5
A-Light orange with an awkwardly tall collection of doughy foam. Foam, go away. Speckles of lace.
S-Has more aroma that I would have guessed. Hops are of clementines and florals. A humble, sweet dough and caramel malt duo.
T-Flavor is fairly impressive for the ABV. No surprises in the flavor. Slender citrus and floral hops. Some caramel and bread.
M-This is where the beer failed. Was there some sort of unintended secondary fermentation in the bomber? The carbonation is feral and it explodes and expands in my moth. A tidal wave of uncomfortable carbonation. Like a hive of buzzing bees.
O/D-It was a quaint little brew with some kick to it, until I was offended by its molesting carbonation.
701 characters
3.98
/5
rDev
+14.7%
look: 4 | smell: 4 | taste: 4 | feel: 3.75 | overall: 4
Poured from a 22oz bottle into a mug glass.
A: The beer is a light amber color, with a large foamy off-white head that fades slowly and leaves a spotty lace on the glass.
S: The aroma contains caramelized malts, floral hops and some citrus.
T: The taste starts out with mildly sweet flavors of caramel and citrus. Then a hearty but not too heavy malt character comes in. The hops presence is decent for the style and brings a good balance. The after-taste is slightly bready and slightly sweet.
M: Crisp and smooth, medium body, medium carbonation, finish is slightly sticky.
O: Tasty, goes down very easily, not too filling, very mild kick, good representation of style, this is a very sessionable and flavorful beer worth pounding down for a long time.
759 characters
3.88
/5
rDev
+11.8%
look: 4.25 | smell: 3.75 | taste: 4 | feel: 3.75 | overall: 3.75
Decent bar poured head. Settles to a thin layer of bubbles but leaves a blanket of lace. Gold color and nearly clear.
Starts with a flowery hop nose. There are some raw grain smells in the background.
More of a biting bitter hop to the taste. The graininess is still present in a mild way. Light on the body but not watery. High carbonation, too. An excellent session beer.
377 characters
3.79
/5
rDev
+9.2%
look: 3.75 | smell: 3.5 | taste: 3.75 | feel: 4.25 | overall: 4
22oz bottle purchased as a single from somewhere localish. Label stamped with date of 032213, and 001. Looks like I have batch one and it's pretty new.
Poured into an imperial pint glass, formed a short-lived 1/4" beige head over the clear light copper brew. Lace is surprisingly long-lasting. Aroma is sedate and somewhat non-descript.
Taste is lightly sweet to start, moderate citrus presence in the middle, balances with reasonably bitter close. Mouthfeel is smooth, and drinkability is way easy. This brew would make for a great session brew.
548 characters
3.77
/5
rDev
+8.6%
look: 4 | smell: 3.75 | taste: 3.75 | feel: 3.75 | overall: 3.75
This beer poured a surprisingly dark tan body with a white head.
Nose was a nice mix of fresh roasted malts.
Taste is suprisingly bold for a 3.4% ABV beer. The fresh malts are big with a nice vienna and toasted malt flavor, and the hops are also in your face with a firm bitterness and nice fresh hoppy taste. If you didn't tell me this was low alcohol, I'd be hard to pressed to say it was any lower than 5%. Well done.
When it comes to low alcohol beers with real flavor, this beer is a solid homerun. Lots of other brewers have tried it, and they always end up tasting watery or as if something is missing, but this... this nails it. A solid offereing if you're looking for a session beer.
695 characters
4.24
/5
rDev
+22.2%
look: 4 | smell: 4.25 | taste: 4.25 | feel: 4.25 | overall: 4.25
Pours an airy fizzy 1/2 finger head that fades semi slowly with light lacing, mostly clear slightly darker honey orange colored beer.
Nose has some light floral grassy hops, a touch spicy and even a hint if fresh green pepper, I think centennial hops, touch of a toasty caramel malt and malty grain aroma.
Taste starts with a mix of hops and malts. Malts bring a light sweetness with some caramel malts and light toasty amber, as well as a straight up malt flavor. Hops come through with the grassy slightly spicy profile, like an Americanized noble hop, again a cascade centennial like hop. The hips are fairly bitter at first bit lighter overall, but eventual get quote bitter, and being a light resin and hint of citrus and pine. Finish is quite bitter and goes on its way to astringent ad it dries and the malts disappear, but doesn't quite get astringent, lingering spicy earthy grassy hops.
Mouth is med bodied, nice carb.
Overall pretty good, just about what I would expect for an American pale, apa, nice grassy spicy hops with increasing bitterness, just enough malts to balance and disappear on the finish to let the hops really come through. And extremely sessionable which is great to have a few tall pints of this at a bar and be on good shape.
1,261 characters
Banner American Ale from Banner Beer Company
3.47
out of
5
based on
33
ratings.