Camden Cream

Full Tilt Brewing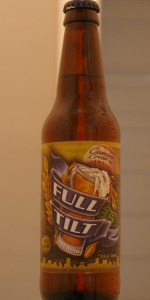 Write a Review
Beer Geek Stats:
| Print Shelf Talker
Style:

ABV:

4.8%

Score:

Avg:

3.74

| pDev:

12.03%

Reviews:

8

Ratings:

From:

Avail:

Year-round

Wants

Gots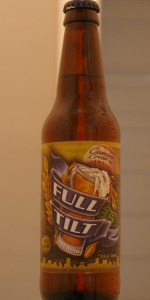 Notes:
cyclonece09 from Wisconsin
3.44
/5
rDev
-8%
look: 3.5 | smell: 3.25 | taste: 3.5 | feel: 3.5 | overall: 3.5
Poured into a pint glass. Pours straw color with a tiny head. Smells of cereal grain. Tastes of cereal grain, but stronger than adjuncts, with just a tad of hop bite. Beer is heavily carbonated, light bodied, easy drinking. Overall, a slightly above average beer.
Nov 14, 2015
AdmiralBaltimore_29 from Maryland
4.53
/5
rDev
+21.1%
look: 4.5 | smell: 4 | taste: 5 | feel: 4 | overall: 4.5
Baltimore knows it's brewing and this one is a good one. It has an excellent taste and feel... it makes you feel like you are Camden Yards enjoying an Orioles game. I'm very pleased with overall texture when it hits the palette. This is definitely one of those beers that you want to have a pizza or chicken wings with.
I like it a lot and will more than likely get more in the future. It's a grand slam.
Aug 23, 2015
delta490 from Virginia
3.71
/5
rDev
-0.8%
look: 4 | smell: 3.5 | taste: 3.75 | feel: 3.75 | overall: 3.75
Pours a deep clear gold with a moderate amount of creamy white head. The head has decent retention and leaves solid small lacing. The aroma is light, with most it's most distinctive quality being dried grain. The taste Is also light but it has a little more punch to it, with more robust biscuit flavors and a nice clean hops. The body, too, is a light but not watery and has a nice clean finish. A solid, easy-drinking beer.
Aug 08, 2015
BeerAdvocate from Massachusetts
3.75
/5
rDev
+0.3%
look: 3.75 | smell: 3.75 | taste: 3.75 | feel: 3.75 | overall: 3.75
From BeerAdvocate Magazine #90 (July 2014):
Clean, Grainy, Sessionable, Fresh
Sometimes beer just wants to be a beer, no fancy parading here but rather a super drinkable Cream Ale. A no brainer, just knock'em back. Proof that fizzy yellow(ish) beer can be of the "craft" ilk and taste great. This is the kind of session beer we want to grab liter mugs and throwdown!
STYLE: Cream Ale | ABV: 4.8% | AVAILABILITY: Year-round
Jul 07, 2015

woodychandler from Pennsylvania
4.21
/5
rDev
+12.6%
look: 4.25 | smell: 4.5 | taste: 4.25 | feel: 3.75 | overall: 4
I am in the process of clearing out some of therom the interminable backlog here at Chez Woody and it suddenly struck me that I have most, if not all of Full Tilt Brewing's beers, held in abeyance awaiting approved pics. This site has really sped up the process, but for a while, it was slow and once a beer went on the back burner, it became forgotten. My thanks to The Friendly Greek Bottle Shop for being an ongoing resource of singles!
From the bottle: ""Full Tilt Brewing's Camden Cream [# 5] is our 5th release, but our 1st truly sessionable beer. Camden Cream was brewed with the light, creamy grain bill of 2-Row Pale, Bohemian Pilsner, Vienna, and Carahell malts and gently hopped with Amarillo and Northern Brewer hops. Finally, lager yeast is pitched and fermented at ale temps to your palate's delight. Crack one open and enjoy ... but why stop now? You still have 9 innings to go."; "Full Taste. Full Pride. Full Tilt."
After Pop!ping the cap, I commenced an aggro pour, resulting in two, fizzy, foamy fingers of off-white head with limited retention. Color was a gorgeous Golden-Amber (SRM = > 5, < 7) with NE-quality clarity and of course, my old friends, Mammon, Midas and Croesus showed up for a taste. They have become much more civilized and so while they partook, I took a sniff. It was just like I remember Genny Cream in my youth! It had a honey-like sweetness along with a slightly nutty breadiness. Mouthfeel was medium. The taste was definitely honey-like, but accompanied by a grassy hoppiness. Finish was semi-dry and I could easily envision crushing some of these during an outing at the ballpark.
Mar 29, 2015
tone77 from Pennsylvania
3.47
/5
rDev
-7.2%
look: 3 | smell: 3.5 | taste: 3.5 | feel: 3.5 | overall: 3.5
Poured from a brown 12 oz. bottle. Has a pale yellow color with a 1/2 inch head. Smell is of cream, malts, grains. Taste is smooth and easy drinking, grains, light hops, some cream. Feels medium bodied in the mouth and overall is a good session beer.
Nov 08, 2014
ThisWangsChung from Maryland
3.25
/5
rDev
-13.1%
look: 3.25 | smell: 3.25 | taste: 3.25 | feel: 3.25 | overall: 3.25
12 oz bottle into a pint glass.
A: Pours a clear straw color. The head is about a finger high and white in shade. I'm actually fairly impressed with the decent retention for the style. A frothy ring of lacing is left behind.
S: Has all the typical cream ale notes: cereal grain, butter, and crackery malts. Only a kiss of piny hops balance out the maltiness. This style isn't very exciting aromatically, but it smells well made.
T: The hop profile surprised me - it's not in IPA territory, but there is a subtle kiss of melon-y flavor at first. Near the back end, the more standard flavors of cream, cereal grain, and white bread come through. There are vague hints of white wine here and there. It's sweet, but not overly sweet the way most cream ales can be.
M: Surprisingly rich for the style. While it's sweet finishing, it's not oppressively so. Drinkability is good but not insane - that just means it's a nice one to savor. The carbonation isn't overly fizzy.
O: Not bad. It's not the most drinkable cream ale, though. For the style standards, though, it's quite good - its just hoppy enough to balance out the sweet notes. Also, it gives me another excuse to drink local (I wouldn't seek this out personally, though).
Jun 05, 2014

u2carew from Massachusetts
2.99
/5
rDev
-20.1%
look: 3.75 | smell: 2.75 | taste: 3 | feel: 3 | overall: 3
12oz longneck
A) Pours with a finger thick head, settles to a thin lacing at the edge of the glass. Clear golden body. Semi-sticky lacing on the drink down.
S) Mellow grainy aroma.
T) Sugary sweet taste. Slightly grainy. Taste fades quickly leaving a subtle bitter taste in the finish.
M) Light bodied. Creamy. Dry and tannic in the finish.
O) An okay beer. Nothing really sets this apart from other cream ales.
Apr 23, 2014
Camden Cream from Full Tilt Brewing
Beer rating:
84
out of
100
with
42
ratings